Trustly Brokers 2022 - Which Brokers Accept Trustly?
Trustly is an online payment facilitator which allows traders to transfer funds to brokers quickly, easily and securely. It is available specifically to European customers. This eWallet allows you to make deposits from your bank without needing to leave your online trading platform. Several simple steps enable you to transfer funds and get trading.
Due to its ability to offer secure payments, as well as customer identification, Trustly is a popular payment option offered by trading platforms, especially those with a significant European customer base. In many ways, Trustly provides the same simplicity which you would expect from an online bank account.
In this article, we examine the trading platforms and brokers that accept Trustly, and run you through the various advantages and disadvantages of using this method as your eWallet when trading.
Overview
Trustly started life known as Instantbank, and was founded in 2008. After their brand name change – representing their commitment to instilling trust in the consumer – they have grown to offer their services to traders in the following countries: Austria, Belgium, Bulgaria, Croatia, Cyprus, Czech Republic, Denmark, Estonia, Finland, Germany, Greece, Hungary, Ireland, Italy, Latvia, Lithuania, Luxembourg, Malta, Netherlands, Norway, Poland, Portugal, Romania, Slovakia, Slovenia, Spain, Sweden and the United Kingdom.
Integrated with over 6,000 banks, The brand is operated by Instant Payment Services Ltd (Malta).
Advantages
Among the main benefits of trading with Trustly are:
Safe and secure transactions
Instant transactions
Enables mobile transactions
No direct charges or fees
Enables withdrawals as well as deposits
No registration or account needed
Disadvantages
– Not all banks in all served countries are eligible to carry Trustly, which means depending on their bank account, traders may be limited. For this reason, it is always wise to check on the officical website to see if your bank can be connected with the platform.
– No coverage outside of Europe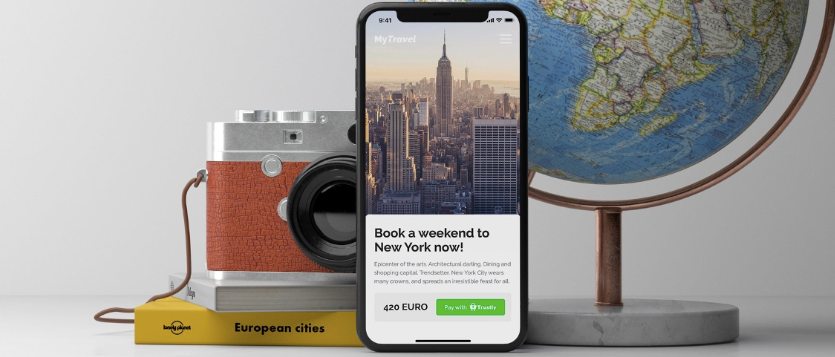 Speed Of Trustly Payments
Transactions – whether deposits or withdrawals – with Trustly will take a few minutes at most. And because there is no registration or account needed to get the ball rolling, the payment process has become even quicker. In fact, this facility is recognised as one of the fastest eWallets available today.
Security
Naturally, it is a major concern that traders are able to deposit and withdraw funds safely and securely. Trustly can certainly proclaim itself to be a safe payment system, as it can guarantee the encryption of each and every transaction.
The service is licensed by the Swedish Financial Market Authority, meaning that the security of its payments system benefits from strict supervision.
Getting to the technical details, Trustly's direct bank e-payment system utilises 2048-bit RSA encryption to safeguard the security of trader's payments.
Deposits And Withdrawals
It should be noted that when you make deposits and funds are transferred to your trading platform account, you will have to contact the trading platform if you wish to ask for a refund, rather than Trustly themselves.
You can also make withdrawals from your trading account to your Trustly account, but it is worth ensuring that this option applies in the country where you reside.
Fees Or Costs
You can rest assured that there are no fees charged for either making deposits or withdrawals. Trustly does not guarantee that there won't be any charges made by your bank, or by the trading platform itself.
Money Transfer
You can use Trustly to make money transfers to and from your bank, as long as it is one of the 6,000+ banks which the service is integrated with. At the time of writing, there appear to be no plans for a native Trustly app – rather, the service is linked to other platforms and your bank as a payment facilitator.
Inactivity Fee
There currently is no inactivity fee which applies to users, meaning that traders can still use their accounts even if they do not use the service for an extended period of time.
How To Use Video
Is Trustly A Good Choice For Traders?
If your country, and your bank, are eligible for Trustly, there is no reason why you shouldn't use it as a payment facilitator when trading. Quick, easy, and perhaps most importantly very secure, you can use the service to make your withdrawals and deposits simpler.
You should note that at present, you can pay with the following currencies – Euro, Polish Złoty, Swedish Krona and Danish Krone.
So if you are a trader who holds bank accounts in any of these currencies, Trustly can make sense on a number of levels. Also, remember that with this eWallet, you will be able to pay for other products and services, aside from funding your trading account.
FAQ
What do I need to use Trustly?
To trade using Trustly, you must have a private bank account which you can make bank transfers with.
Your balance must not be credit from the bank, and it is also a stipulation that the bank account currency must be in local currency.
Can I get a refund on my deposit?
Because Trustly is a payment method, it facilitates the transfer of funds to your trading platform – it is important to note that it does not hold any funds, but rather, forwards them to the trading platform.
So if you need to request a refund, you will need to take it up with the trading platform which is holding the funds.
How long does it take to withdraw funds into my bank?
The time which withdrawals take usually comes down to the particular trading platform.
In many cases, the withdrawal process can be instant, although processing can take up to two working days.
You should check with your trading platform for clarification on withdrawal times.
How should can I contact Trustly?
If you have any questions, or even complaints, which you wish to address directly to Trustly, you can contact them via:
The Trustly support page – https://trustly.net/support
Or on +46 8 655 26 37