Swissquote Launches 'Invest Easy' To Combine Investing With Saving
The Switzerland-headquartered bank and online broker has brought out an integrated trading and saving service. The latest product provides access to bonds, Swiss-based investments and real estate. It is available through Swissquote's online banking accounts.
Earn Interest On Cash Deposits
Invest Easy offers competitive interest payments on cash deposits. The rate varies depending on the customer's base currency (rate correct on 4 July 2023):
Swiss Franc – 1%
Euro – 1.5%
US Dollar – 1.75%
British Pound – 2%
The key benefit of the savings account is the passive income opportunity for traders. Users also aren't confined by time periods or withdrawal limits, operating like traditional savings accounts.
Different Strategies To Suit Different Objectives
There are four strategies available to prospective clients:
Savings – Cash strategy with no fees and automated interest payments
Prudent – Geared towards long-term investments with a focus on bonds and real estate
Balanced – Weighs returns with higher-risk investments and a greater stock allocation
Ambitious – Concentrates on riskier investments from emerging markets to commodities and cryptocurrencies
The free calculator is useful for projecting returns based on your deposit amount, frequency and investment plan: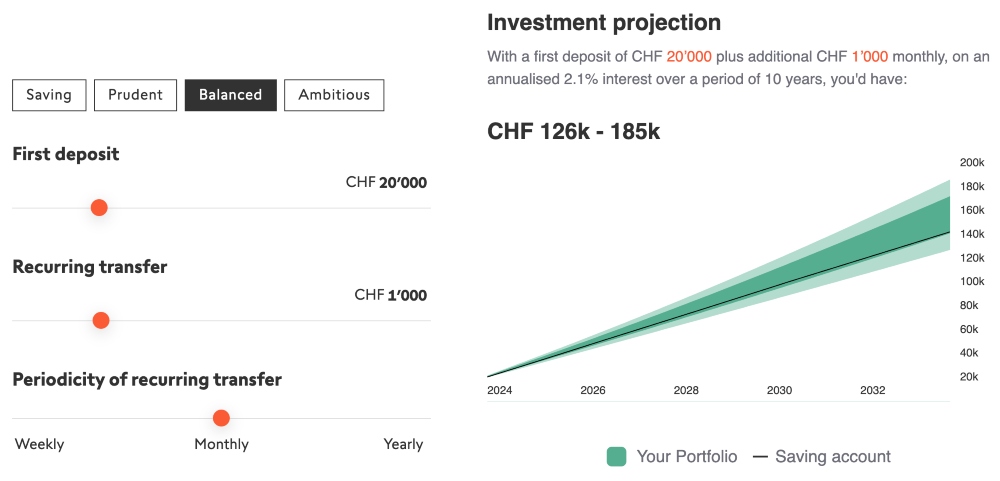 The firm's Chief Sales and Marketing Officer, Jan De Schepper, commented on the new solution: "Invest Easy offers noteworthy savings interests and return-packed opportunities combined with competitive investment fees and fee-free savings. Our four professionally predefined strategies make investing and saving easy, convenient, and intuitive."
About Swissquote
Swissquote is a hugely respected broker and bank, listed on the Swiss stock exchange.
The firm has made strides to integrate investing and savings products in recent years, and Invest Easy is the latest evolution.
Clients of the firm can trade hundreds of instruments spanning popular asset classes, including stocks, bonds, ETFs, CFDs, futures and forex.
Fees are low but the $1000 minimum deposit and sophisticated trading tools mean Swissquote is the best fit for seasoned traders and investors.
Register with Swissquote today to integrate investing with savings.

Swissquote is a Switzerland-based bank and broker that offers online trading and investing. The company has a high safety score and is listed on the Swiss stock exchange. The firm offers a huge range of products, from stocks, ETFs, bonds and futures to 400+ forex and CFD assets. Hundreds of thousands of traders have opened an account with the multi-regulated brokerage. Clients can get started in three easy steps while 24/7 customer support is available to assist new users.