SquaredFinancial is the first multi-asset broker to offer iQbyQi from Quant Insight. Previously only available to institutional traders, retail customers can now use the cloud-based artificial intelligence brain that analyses millions of market data points in real-time. Find out how it works.
Quant Insight (Qi)
The leading quantitative financial market analytics platform scans the market to identify opportunities and risks, which it then distributes to users in the form of tailored analytics. The software essentially uses artificial intelligence, machine learning and data science to provide investors with cutting-edge insights.
Quant Insight was founded by a former UBS options trader and portfolio manager at Bluecrest Capital Management, Mahmood Noorani. Professor Michael Hobson and Professor Ryan Prescott-Adams are also part of the company.
Importantly, the platform's technology and analytics have been validated by machine learning experts from Cambridge, Harvard and Princeton.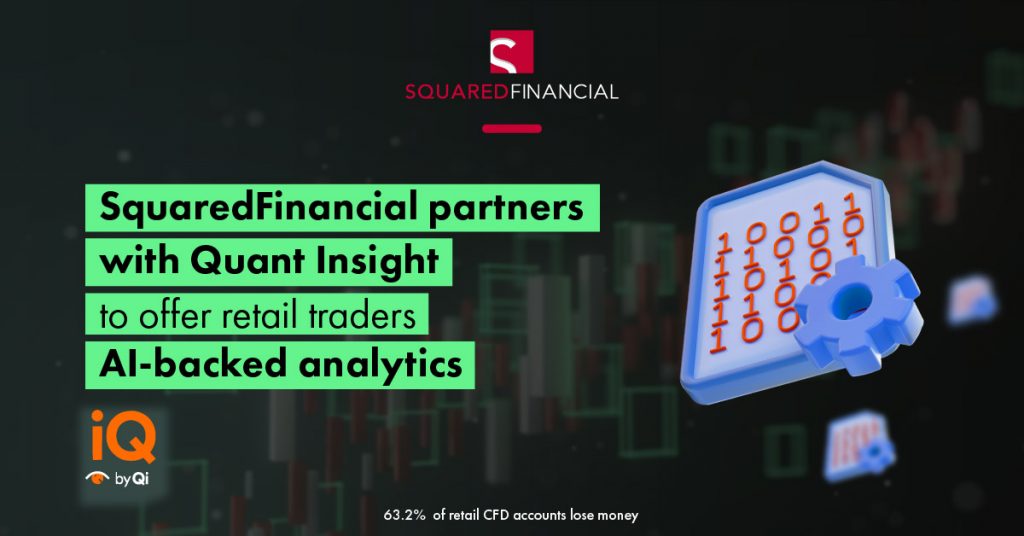 Squared Financial CEO, Husam Al Kurdi, commented on the new partnership: "An informed decision is always a better decision, which is why we believe education is the key to healthy trading. We chose Quant Insight as our strategic partner because together we can offer unique impartial insights to our retail traders. The technology provided to SquaredFinancial clients by iQbyQi offers astute detail into the macro factors driving the prices of all the assets available to trade on our website."
CEO of Quant Insight Europe also added: "We are proud to partner with our first online broker, SquaredFinancial, who believed in our vision of empowering the retail trader with insights that weren't available, until today, to every retail trader in Europe and the Middle East. iQbyQi is the antidote to a world where retail traders are swamped by countless subjective opinions leading to nothing but confusion; an antidote based on the power of data science, Ai and machine learning for better investment decisions."
About SquaredFinancial
SquaredFinancial is a CySEC-regulated forex and CFD broker launched in 2005. The retail investing brand offers leveraged trading opportunities on forex, precious metals, energies, stocks, cryptos, ETFs and futures.
Investors can speculate on the financial markets using the MetaTrader 4 and MetaTrader 5 platforms. Both terminals are free to download on desktop and mobile devices and offer advanced charting, one-click trading plus pending order types. A comprehensive educational package, SquaredAcademy, is also available.
New clients can get started with a $100 minimum deposit and can fund accounts using credit and debit cards, wire transfers, plus e-wallets like Neteller, Skrill and AliPay. Follow the link below to start trading today.