Simpler Trading Review 2023
Simpler Trading is an educational platform founded by high-profile trader John F Carter, author of 'Mastering the Trade'. The mission of the company is to transform lives through trading, by delivering high-quality content via customised membership options. Our Simpler Trading review will cover gold membership fees, login requirements, day trading room features, course download options and more.
What Is Simpler Trading?
Simpler Trading LLC is an educational platform condensing 100+ years of combined professional trading experience into courses for retail traders. Founded in 1999 by John F Carter, a group of seasoned mentors now makes up the team that has expertise across various tradeable assets. The evolution of the company has seen various name changes, from Trade the Markets to Simpler Options and as it stands today under CEO Brittany Burns – Simpler Trading.
The course provider offers a range of custom-crafted membership plans to suit traders with varying goals and skill levels. Their aim is to offer simple strategies, proven tools, and access to high-quality live data. Today, the platform has 10,000+ members within the US.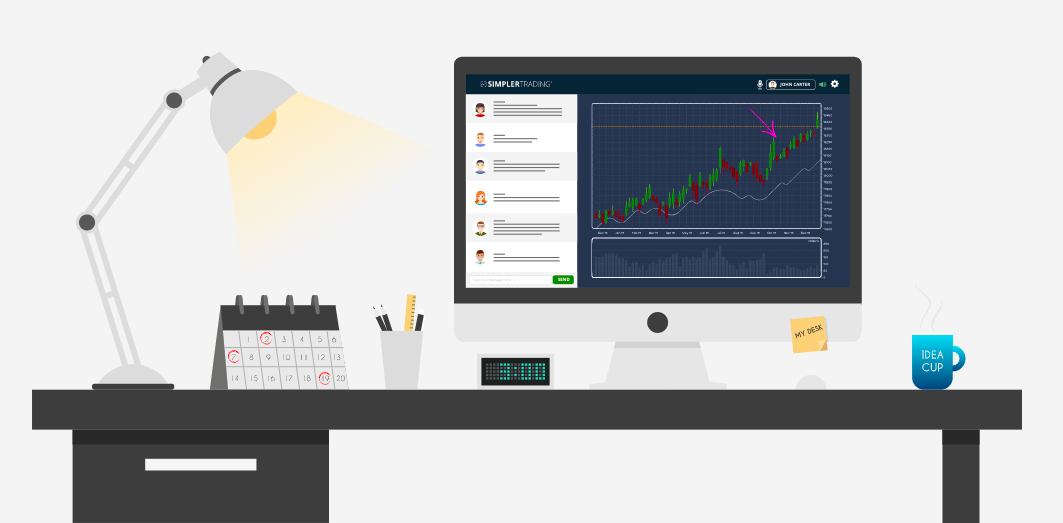 What Services Does Simpler Trading Offer?
Simpler Trading offers a vast list of membership options. Each subscription service is designed to meet the needs of all traders, from complete novices to experienced investors. In particular, memberships can be selected based on trading skill level or a specific asset. We outline some of the Simpler Trading memberships and courses below:
Memberships
Simpler Foundation
The foundation membership is an excellent way to build a solid understanding of trading, by focusing on the core skills required for long-term success. Together with the Simpler Trading Community, users can access the basics of day trading or use the information as a refresher course. The membership includes access to Simpler Tech (the central location for all technical information), the training room (where users can ask traders questions in a live market environment), and the learning centre (a collection of trading video tutorials).
Options Membership
The options membership provides both intraday and swing trade setups. Customers have access to strategy demonstrations from Simpler Trading experts including John Carter and Danielle Shay. Additionally, membership includes live trading chatroom access, trade alerts, a premium newsletter subscription, weekly watchlist and more.
Futures Membership
The futures membership is designed to demonstrate easy-to-understand strategies within the busy futures trading market. Subscribers have the opportunity to trade with experts including Raghee Horner and David Starr, as well as access to all the extras provided in the options membership.
Simpler Day Trading
The Simpler Day Trading membership focuses on both futures and options trading in a fast-paced environment, where all trades are closed within 24 hours or less. Access includes free premium weekly videos, access to the learning centre and chatroom.
B.I.A.S
The BIAS membership (Bruce's Income Accumulation System) was created by income expert Bruce Marshall. Bruce's aim is to create a variety of income positions that can generate income in any market conditions. The membership is most suited to traders who are looking for low risk, consistent returns.
Fibonacci Membership
With this membership, traders have the opportunity to learn and apply the Fibonacci analysis method. The subscription explains how traders can use triggers based on support and resistance levels. Membership access includes daily chart portfolios, trading room archives, live chart updates, trade alerts and access to the live chatroom.
Courses
Simpler Trading courses can be purchased via a one-off payment plan. Led by a choice of mentor, these progression pathways are specific to a topic of interest. Featured courses include the Multi-10x Indicator with John Carter, and Compound Growth Techniques with Taylor Horton.
Simpler Trading also offers courses that are available to purchase on external websites, including the 'Bullseye System Professional Package' and 'Haystack Options Method'. As a bonus, customers sometimes have the opportunity to trial additional courses included as part of the package, such as the Options Foundation.
Mastery
The Simpler Trading mastery programmes are focused courses that aim to teach a single trading concept or strategy. Access includes interactive Q&A sessions, monthly live trading demonstrations and real-time trade alerts. Topics include:
Simpler Trading Small Account Mastery – follow a proven plan and gain ongoing guidance from a seasoned trader
Profit Recycling Mastery – ideal for traders seeking consistent weekly gains with limited time and capital investment
Sector Secrets Mastery – designed for new traders to master options on ETF strategies by sharing trades in real-time
Stacked Profits Mastery – master the formulas behind Danielle Shay's directional butterfly options strategy and learn to endlessly leverage a small account for big gains
Simpler Trading Moxie Indicator Mastery – stay informed with actionable stock selections, learn entry and exit strategies without wasting time or capital on false moves
Tools
Indicators
Simpler Trading offers a range of indicators designed to enhance trading performance by identifying signals and trends. Indicators include the Multi-10x (an add-on for the 10x Bars), the Multi-squeeze Pro and the RAF Pro. Traders can filter on indicators by platform compatibility, for example, ThinkorSwim or TradingView. The cost of a single indicator starts at $297, however, they can also be purchased as part of a bundle and are often subject to discount.
Free indicators designed by the Managing Director of futures trading, Raghee Horner, include GRaB Candles, Darvas 2.0 and Propulsion Dots. These can be downloaded from platforms such as ThinkorSwim and Ninja Trader.
Indicator reviews are mixed on sites such as Trustpilot and Reddit, but traders should remember that purchasing an indicator does not result in automatic profits. Understanding how they work and applying appropriate risk mitigation is key.
Scanner System
The Scanner System provides traders with access to proprietary scans used by the Simpler Trading team, thereby preventing the need to manually search charts for trading ideas. Features include multi-timeframe analysis, intraday scans, voodoo lines and nested squeeze.
Simpler Edge
Simpler Edge is a service that provides customers with exclusive access to institutional data in real-time. It boasts information that is not usually accessible to retail traders without significant cost, with hedge funds typically paying $100k+ per year to access similar data. The short interest data and analysis is available for just $127 per month, making this tool competitive.
Mastering The Trade
Mastering the Trade is the bestselling trading book written by John F Carter. The Simpler Trading website provides free videos that summarise each chapter, with a voice over from John Carter himself. Topics include 'Market Internals', 'Trading the Squeeze' and 'TTM Trend'.
MEM Edge Report
Simpler Trading mentorship expert Mary Ellen McGonagle writes a bi-weekly trading report where she shares her market insights. This includes entry and exit recommendations that are backed up by an impressive track record.
Strike Zone
Simpler Trading leader Joe Rokop leads monthly interactive lessons on current market trends in the Strike Zone private briefings. In particular he targets intraday returns of between 100% and 300%. Outside of the live session, Joe records his trades in a spreadsheet that allows traders to see what he has opened and when.
Free Resources
A comparison of Simpler Trading vs Warrior Trading showed that both companies offer a good variety of resources for free.
These can be accessed directly via the website or on a mobile device. Assets include daily YouTube videos, an expert trader blog, downloadable PDF pages, newsletters, free webinars and weekly e-books.
The John Carter Simpler Trading webinars are particularly popular, including the 'Small Accounts Secret' talk which covers how to generate a reliable weekly income from smaller amounts. Traders can also view the webinars at a later date online if they were unable to join live.
The free training covers trading tips and tricks, watchlists, step-by-step case studies and market updates. Subjects include an introduction to forex trading, understanding the ready aim fire and trend spark indicators, and implementing an overnight profit strategy. The blog posts cover more general trading topics, such as a review of the Tastyworks trading platform.
Mobile Application
Simpler Trading offers a mobile application which is free to download on iOS and Android devices. The app enables users to view live presentations from a portable device and receive real-time alerts as push notifications. Overall the mobile app is full of content, yet easy to navigate.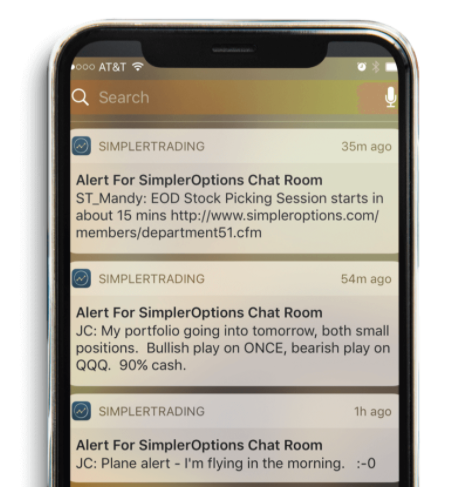 Pricing
So what sort of fees can you expect when signing up to a Simpler Trading membership? All in all, the service offers 10+ different groups of trading membership options, led by their team of experts. The Options Gold Monthly membership costs $247 per month and the quarterly equivalent is priced at $679 per quarter, which provides access to all tools and courses. Alternatively, data subscriptions or specific mastery courses can be purchased from $79 per month. Members are free to cancel their subscription at any time.
Additionally, Simpler Trading offers a free trial option. This account provides a one-week all-access membership to try out the day trading tools and courses available. Simply create an account on the website to get started.
Pros
Simpler Trading offers a number of advantages:
Intuitive mobile app
One week trial period available
Numerous membership pricing structures
Courses, tools and membership subscriptions
Services suitable for beginner and advanced traders
Multiple customer support options including telephone and email
Cons
Simpler Trading also has some disadvantages:
Negative reviews of refund accountability
Selecting the best membership option or course can be overwhelming
Customer Support
Users can contact the Simpler Trading team via the below customer service options:
Email – support@simplertrading.com
Headquarters phone number – 512-266-8659
Address – 4300 N Quinlan Park Rd, Austin, Texas, TX 78732
There is also a comprehensive FAQ section on the Simpler Trading website with advice from the team. Additionally, service updates and news can be found on social media channels including YouTube, Twitter and Facebook.
How To Sign Up
Opening an account with Simpler Trading is quick and easy, with the sign up process taking just a few minutes. Requirements include personal information such as name, email address and proof of residency. New customers will also have to select their recurring payment frequency: monthly, quarterly or annually. Users must be 18 years or over.
At the time of writing Simpler Trading did not offer any promo or discount code options for reduced membership fees. However, offers are available periodically so look out for upcoming coupons on the website.
Simpler Trading Verdict
Simpler Trading offers an impressive variety of courses, free services and educational content, suitable for beginners and more experienced investors alike. Fees are competitive and resources are available for all budgets, though utilising the free content first is recommended. Remember, no training course or professional mentor can tell exactly what is going to happen in the volatile day trading market.
FAQ
Is Simpler Trading Legit?
Simpler Trading has been offering educational content and membership subscriptions since 1999, from a variety of proven traders. However, as with all trading, the information is only guidance and no mentors can predict precise market moves.
Which Technical Indicators Does Simpler Trading Offer?
Simpler Trading offers educational content on various technical indicators such as propulsion dots, vscore and the early in and out indicator. Additionally traders have the option to purchase indicators to use on their chosen platform.
Is Simpler Trading The Same As Simpler Options?
The company originated under the trading name Trade the Markets. It then became Simpler Options and today operates as Simpler Trading LLC.
Does Simpler Trading Offer Any Free Services?
Simpler Trading does offer free tools and education. This includes access to blog posts, weekly newsletter insights and free webinars.
How Many Simpler Trading Mentors Provide Services?
Today there are 15+ Simpler Trading mentors. The team of experienced day traders have strengths in different trading tools and categories. The team includes Bitcoin and crypto analyst Taylor Letterman, and commodities and equity expert, Joe Rokop.
Simpler Trading is a top-rated course provider for new and seasoned investors. The platform offers a range of subscription options and pricing models to suit client needs.