Robinhood Review 2023
We do not recommend trading with Robinhood. Their business practices have harmed traders and their "free" trading offer has been criticized for actually costing their traders millions of dollars.
Please see the
list of similar brokers
or the
Best Brokers List
for alternatives.


Available in United States
Robinhood is aimed at traders looking for stocks and crypto investing opportunities with additional perks. However, the brokerage's recent business practices mean the brand isn't a good option if you want a reliable and trustworthy broker.
- Daytrading Review Team
Robinhood is an American stock broker and financial services firm based in California. The broker offers commission-free stocks, cryptos and ETFs, plus other products such as cash cards and retirement accounts. Despite its robust US regulation, Robinhood has been involved in numerous scandals and security breaches since 2020. We urge investors to exercise caution.
$0
Own
Crypto, Stocks, Options
-
Credit Card, Debit Card, Google Wallet, Apple Pay, ACH Transfer
and
1 more
Stock Trading
Robinhood offers thousands of stocks, ETFs and options, as well as fractional shares and IPOs. However, investors should take care when investing in stocks with this broker.
Crypto Trading
Access 18 crypto assets through the Robinhood app with no commission fees, including access to Bitcoin. On the negative side, the selection is not as wide as other brands and security is weak.
✓ Pros
Crypto trading available with no commission fees and a low minimum deposit of $1
Intuitive mobile trading app with 24/7 live support and in-app stock market news
Robinhood's 'Snacks' newsletter offers bite-sized financial news updates suitable for beginners
Interesting podcast hosted by the CEO and co-founder, covering topics such as blockchain and financial empowerment
Robinhood Cash Card offers weekly bonuses invested into stocks and crypto, as well as cashback on popular brands
Receive NFTs on the Polygon and Ethereum network and connect to decentralized applications via your Robinhood wallet
✗ Cons
Not available outside the US
Limited research and education tools compared to other brands
Previous lawsuits and negative press surrounding the firm's controversial business practices
Despite the actual app showing quote data in real-time, data may be delayed by up to 20 minutes
Robinhood does not support advanced order types or options trades, while limit orders are collared up to 5%
The broker falls short in terms of in-depth analysis and research tools, which may deter novice traders
Concerning history of security breaches
Robinhood is a streamlined trading brokerage that has gained serious traction for bringing online day trading to the masses through its free app. Specifically, it offers stocks, ETFs and cryptocurrency trading. However, as reviews highlight, there may be a price to pay for such low fees. With that being said, this review of Robinhood will examine all elements of their offering, including platforms, mobile app, customer service and accounts, before concluding with a final verdict.

A Brief History
Robinhood founders Vlad Tenev and Baiju Bhatt were Stanford University students in 2013 when they launched the brokerage company. Their straightforward approach to trading the markets earned them $3 million in investments before product launch. Since then Robinhood has gone global and raised an impressive $176 million.
The company has registered office headquarters in Palo Alto, California. Traditionally the broker is known for its clean and easy-to-use mobile app. However, as the number of users and revenue has grown, the exchange decided it would launch a web-based platform in 2018.
February 2018 also saw Robinhood introduce cryptocurrency trading in:
Bitcoin (BTC)
Ethereum (ETH)
On top of that, they will offer support for real-time market data for the following digital currency coins:
Ethereum Classic (ETC)
Bitcoin Cash (BCH)
Bitcoin Gold (BTG)
Dogecoin (DOGE)
OmiseGO (OMG)
Monero (XMR)
Litecoin (LTC)
Qtum (QTUM)
Dash (DASH)
Ripple (XRP)
Stellar (XLM)
Zcash (ZEC)
NEO (NEO)
Lisk (LSK)
To begin with, Robinhood was aimed at US customers only. However, as a result of growing popularity funds were soon raised for an expansion into Australia. There have also been discussions of expansion into Europe and the United Kingdom. Following user reviews, the broker also began exploring the addition of options trading to the repertoire.
Popular Alternatives To Robinhood
Minimum Initial Deposit
There is no initial deposit minimum for Robinhood's standard account. However if you have a Gold margin account you will need $2000, as is the regulatory minimum. Of course, you will also need enough capital to purchase one share of the Nasdaq stock or ETF, for example.
Such low minimum deposit requirements are a real bonus to this broker, as many competitors require upwards of $1,000 to open an account.
Spreads, Commissions & Leverage
Not only is there zero commissions on in-application trades, but Robinhood has implemented a transparent fee structure for their Gold margin accounts. While many exchanges charge a confusing annual interest rate, Robinhood uses a monthly fee based on the amount of equity you borrow. For example, with an account balance of $5,000 plus $2,000 in margin, your monthly fee would be $10.
As a result of this pricing framework, Robinhood is one of the cheapest online brokers around.
Other Trading Fees
User reviews happily point out there are no hidden fees. There are zero inactivity, ACH or withdrawal fees. Having said that, there is a $75 ACAT outgoing transfer fee.
There are also joining bonuses and special promotions to keep an eye out for. For example, at times Robinhood offer a referral deal where you can get free stocks when you bring a friend onto the network.
Head over to the official website to see what special offers are currently running.
Robinhood Trading Platform
Since the web platform release date was announced for 2018, an impressive 640,000 customers swiftly signed up to the waiting list.
Once you log in, the online platform will be more robust than the mobile app, but still lacking when compared to competitors. From the menu, users will be able to access:
Analyst ratings and market commentary from Morningstar
Price data and current share price of a given security, such as Japanese stocks, for example
Ticker profiles will offer a list of recently bought stocks and index funds, which could help users identify potentially profitable assets.
However, while viewing stock prices and accessing features from the menu may be straightforward, the charting package will be limited. Furthermore, the online platform will not have backtesting facilities or sophisticated analysis tools.
Having said that, Robinhood was quick to announce it will provide guides on how to use the new web-based platform. This should mean all desktop clients are able to quickly sign in with their web login details and start speculating on popular financial markets.
Mobile App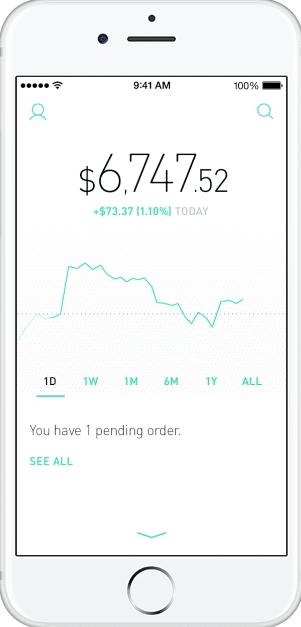 Trading platform reviews are divided when it comes to Robinhood's mobile app offering, which until 2018 was the only way users could place trades. Firstly, it's worth noting they offer apps for both iPhone and Android users that can be downloaded from their respective app stores in just a couple of minutes.
Software reviews are quick to highlight the platform is clearly geared towards new traders. As a result, the user interface is simple but effective.
You won't get screeners, backtesting tools or advanced features. In addition, not everything is in one place. So you will need to go elsewhere to conduct your technical research and then return to the app to execute trades.
Having said that, it isn't too sparse. For example, you can still:
Execute trades
Check watch lists
Keep up with news
Pull streaming stock prices
Deposit or withdraw funds
Alter your security settings
View charts with basic metrics
Conduct basic market research
On top of that, information pops up to help walk you through getting the most out of the app. Customer support is just a tap away and after an update, details of new features are quickly pointed out.
How To Use Robinhood App
Reviews of the Robinhood app do concede placing trades is extremely easy. You can access the trade screen from a ticker profile. Alternatively, if you swipe left on a ticker when in a watchlist, a 'Buy' button will appear. You can also delete a ticker by swiping across to the left.
iOS and iPhone app reviews do note there are several things you cannot do. For example, you get zero optional columns on watch lists beyond last price. Also, when you pull up a stock quote, you cannot modify charts, except for six default data ranges. Furthermore, you cannot conduct technical analysis. Finally, there is no landscape mode for horizontal viewing.
App Verdict
It is great Robinhood offers free stock trading for Android and iOS users. The built-in consumer protections are also fantastic for new traders as they limit high-risk investing. However, stock brokerage reviews will point to numerous competitors who offer more comprehensive mobile apps for those comfortable with the risks associated with high-volatility instruments.
Methods of Payment
Once you sign up for a Robinhood account, you will need to deposit funds before you can start trading. Fortunately, you can link your bank account directly to Robinhood to make both deposits and withdrawals. Plus, verifying your bank account is quick and hassle-free.
Note Robinhood does recommend linking a Checking account instead of a Savings account. This could prevent potential transfer reversals.
Following customer reviews, the broker is also considering supporting alternative funding methods, including PayPal and virtual wallets.
Robinhood Accounts
Robinhood offers three different account types:
Standard account – When you register you will automatically be given this account. It grants you access to instant deposits. On top of that, you won't have to wait for your money to process when trading stocks and making deposits of up to $1,000.
Gold account – This upgraded account gives you extra buying power, greater instant deposits, plus extended trading hours. Because it is a margin account, you will need to hold a minimum balance of $2,000. Gold reviews are positive, with customers enjoying the benefits that come with a margin account and more trading hours. Gold account price will vary depending on which tier you select. You will pay a flat monthly fee based on margin. It's worth noting trading on margin can be risky. In fact, you may lose more than your initial investment.
Cash account – The cash account enables you to place commission-free trades in equities, without instant deposits and settlements. Note you can also downgrade to a cash account from the standard Robinhood account and Gold account.
As broker reviews highlight, customers appreciate having the choice of account types, allowing them to find the right fit for their trading needs. Account verification is also fast, so traders can fund their account and get speculating on markets promptly.
Demo Account
Whether you're trading forex, the S&P 500 or penny stocks, practising on a demo account first can help you craft effective strategies before you risk real capital. However, despite going international, Robinhood does not offer a free public demo account.
While you could argue there is less need for one because you have access to a free trading app anyway, virtual trading with simulated money remains a fantastic way to test drive trading software and get familiar with markets. Until a practice account is introduced, reviews will continue to highlight this as a significant drawback to the Robinhood system.
Additional Features
Robinhood investment reviews are quick to highlight the lack of research resources and tools. Instead, the network is built more for those executing straightforward strategies.
Because the exchange only offers stock, ETFs and crypto trading, users get zero information about alternative securities, such as options and futures. Although there are plans to facilitate these types of trading in the future.
Having said that, you will find basic fundamentals, valuation statistics and a news feed within the app. Although for comprehensive news coverage you may be better off turning to the likes of Yahoo Finance. Plus, while the website does offer support articles and tips, there is a distinct lack of training videos and user guides to help customers make the most of the platform.
The limited resources is a real downside to the broker's offering. For example, as cryptocurrency trading in the UK and elsewhere soars, the company could really aid users by providing information on blockchain technologies and digital currency tokens.
Regulation & License
Recent years have seen an increase in hacking and promises of riches from unscrupulous brokers. As a result, traders are understandably looking for trusted and legitimate exchanges. Fortunately, as account reviews highlight, Robinhood is a member of both FINRA and the SIPC. Furthermore, the SIPC promise insurance of up to $500,000 per client, with a $250,000 sub-limit for cash claims.
On top of that, additional insurance is guaranteed through Lloyds and a number of other London Underwriters. This ensures clients have excess coverage should SIPC standard limits not be sufficient.
Trading Hours
Robinhood trading hours will depend on the asset you are trading as they generally follow the markets. Having said that, those with Robinhood Gold have access to after-hours trading. As a result, users can trade for an extra 30 minutes before the market opens, as well as two hours after it closes. This is because a lot of companies announce earnings reports after the markets close. But the downside of buying and selling during after-hours sessions is reduced liquidity, which can result in bid/ask spreads being higher.
Contact & Customer Support
The Robinhood Financial company offers numerous ways of getting in touch, including:
Phone
Email
Twitter
Facebook
Google+
LinkedIn
However, as user reviews are quick to point out, these resources are not available 24/7. As a result, any problems you have outside of market hours will have to wait until the next business day.
Despite the limited options, customer reviews show support staff are relatively knowledgeable and can assist you if your platform's not working or the website is down. They can also help with a range of account queries.
Robinhood does also try to push users towards their online help center and FAQ page, where most users' questions and queries have been answered in detail.
Note customer service assistants cannot give tax advice. Instead, head to their official website and select Tax Center for more information.
Safety & Security
On top of insurance, Robinhood has multiple layers of security to keep personal data and information secure, including TPS encryption. Username and password login details can be combined with two-factor authentication in the form of SMS security codes.
Alternatively, if you have fingerprint ID for your iOS or Android device, you can sign in with touch ID. This makes accessing and exiting your investing app quick and easy.
Robinhood Verdict
If low cost is your priority then you can't beat Robinhood's free trading service. But while the broker offers just enough for users to trade comfortably, it is perhaps best suited to beginners looking for a simple, user-friendly design. As product and platform reviews highlight, experienced traders may want to look elsewhere for sophisticated tools and additional resources.
Accepted Countries
Robinhood only accepts traders from United States.
Payment Methods
Robinhood Details
| | |
| --- | --- |
| Minimum Trade | $10 |
| Regulated By | SEC |
| Islamic Account | No |
| Mobile Apps | iOS, Android and Windows |
| Margin Trading | No |
| Margin Rate | 2.5% |
| Volatility Index | No |
| Spot Trading | No |
| Perpetual Swaps | No |
| ELWs | No |
| REITs | No |
| AI / Machine Learning | No |
| Robo Advisor | No |
| P2P Trading | No |
| Negative Balance Protection | No |
| VPS Hosting | No |
| Tournaments | No |
| Demo Competitions | No |
| Managed Accounts | No |
| Market Maker | No |
| Social Trading | No |
| Guaranteed Stop Loss | No |
Cryptocurrency Trading Details
Crypto Spread
0%
Crypto Lending

No

Crypto Staking

No

Crypto Mining

No

Crypto Auto Market Maker

No

Crypto Coins

BCH
BTC
BTG
DASH
DOGE
ETH
LSK
LTC
NEO
OMG
QTUM
SOL
XLM
XMR
XRP
ZEC
Top 3 Alternatives to Robinhood
Compare Robinhood with the top 3 similar brokers that accept traders from your location.
Interactive Brokers – Interactive Brokers is a leading global brokerage that provides access to a comprehensive offering of stocks as well as forex, futures, metals, bonds and cryptos. The firm has over 40 years experience in the online trading industry and is heavily regulated by SEC, FCA, IIROC, and SFC. Day traders can use the proprietary Trader Workstation and can access powerful tools and data feeds as well as comprehensive educational resources.
Go to Interactive Brokers
IG Group – IG is an award-winning broker that has an excellent reputation globally. The brand-US offers spread betting, CFD and forex trading across a comprehensive suite of markets. IG is also multi-regulated, provides a great trading app and has 50 years experience.
Go to IG Group
Webull – Webull is a US-regulated trading app that offers stocks, options, forex, cryptos, ETFs, fractional shares and more. The firm is authorized by the SEC and FINRA with a strong trust rating. Low fees, no minimum investment and generous welcome bonuses have made the discount broker popular with online investors.
Go to Webull
Robinhood Comparison Table
Compare Robinhood With Similar Brokers
Robinhood
Interactive Brokers
IG Group
Webull
Rating
0.9
4.3
4.4
4.4
Markets
Stocks, Crypto
Forex, Stocks, Commodities, Crypto
CFDs, Forex, Stocks, Indices, Commodities, ETFs, Futures, Options, Crypto, Spread Betting
Stocks, ETFs, ADRs, OTCs, options, cryptos, forex, fractional shares
Demo Account
No
Yes
Yes
Yes
Minimum Deposit
$0
$0
$0
$0
Minimum Trade
$10
$100
0.01 Lots
0.00001 (Fractional Share)
Regulators
SEC
SEC, FCA, IIROC, SFC
FCA, ASIC, NFA, CFTC, DFSA, BaFin, MAS, FSCA
SEC, FINRA
Bonus
–
–
–
Up to 12 free fractional shares when you deposit $100
Education
No
No
Yes
Yes
Platforms
Own
AlgoTrader, OmniTrader, eSignal, TradingCentral
MT4, AutoChartist, TradingCentral
Desktop App, Web Terminal
Leverage
1:2
1:50
1:30 (Retail), 1:250 (Pro)
1:4
Payment Methods
6
11
6
3
Visit
Visit
Visit
Visit
Visit
Review
–
Interactive Brokers
Review
IG Group
Review
Webull
Review
Compare Trading Instruments
Compare the markets and instruments offered by Robinhood and its competitors. Please note, some markets may only be available via CFDs or other derivatives.
Compare Robinhood Trading Instruments

| | Robinhood | Interactive Brokers | IG Group | Webull |
| --- | --- | --- | --- | --- |
| CFD | No | Yes | Yes | No |
| Forex | No | Yes | Yes | Yes |
| Stocks | Yes | Yes | Yes | Yes |
| Commodities | No | Yes | Yes | No |
| Oil | No | No | Yes | No |
| Gold | No | Yes | Yes | No |
| Copper | No | No | Yes | No |
| Silver | No | No | Yes | No |
| Corn | No | No | No | No |
| Crypto | Yes | Yes | Yes | Yes |
| Futures | No | Yes | Yes | No |
| Options | Yes | Yes | Yes | Yes |
| ETFs | Yes | No | Yes | Yes |
| Bonds | No | Yes | Yes | No |
| Warrants | No | Yes | Yes | No |
| Spreadbetting | No | No | Yes | No |
| Volatility Index | No | No | Yes | No |
Robinhood vs Other Brokers
Compare Robinhood with any other broker by selecting the other broker below.
Customer Reviews
There are no customer reviews of Robinhood yet, will you be the first to help fellow traders decide if they should trade with Robinhood or not?
Visit
Robinhood is an American stock broker and financial services firm based in California. The broker offers commission-free stocks, cryptos and ETFs, plus other products such as cash cards and retirement accounts. Despite its robust US regulation, Robinhood has been involved in numerous scandals and security breaches since 2020. We urge investors to exercise caution.