NiceHash Review 2023


Available in United States
NiceHash is a cryptocurrency mining provider, hash power marketplace and crypto exchange with competitive pricing and a wide range of tokens.
€1
Own
Crypto
-
EUR
Bitcoin Payments
Crypto Trading
NiceHash marketplace supports trading in over 40 cryptocurrency pairs against Bitcoin and Tether.
NiceHash is a DeFi software exchange that supports crypto mining and hosts a hash power marketplace. This review will cover the concept of building a NiceHash mining rig, how to withdraw funds, the popular Bitcoin and Ethereum mining methods, suitable GPU settings, QuickMiner vs Miner, how to join a pool and more.
NiceHash Headlines
NiceHash Ltd was founded in 2014. Today, the platform has more than 250,000 active miners. It plays an important role in the cryptocurrency environment, providing new coin creation and transaction validation on several blockchains. The company has attracted the interest of crypto enthusiasts across the world thanks to its low fees and ease of use, making it suitable for new and existing investors.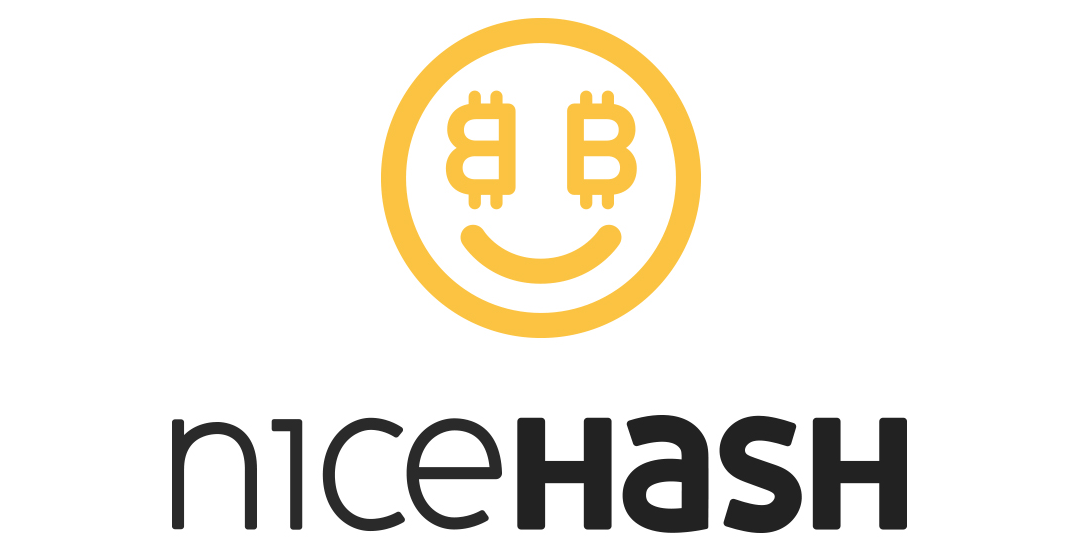 The company strives to create and develop next-generation tools and algorithms for cryptocurrency miners and traders with the best possible user experience and security.
NiceHash Explained
NiceHash is a crypto mining pool, hash power marketplace and cryptocurrency exchange. Hash power is a measure of a computer's ability to solve crypto proof-of-work algorithms that validate blockchain transactions.
Cryptocurrency Mining
Mining cryptocurrency is a way to utilise computer processing power to generate profits from digital tokens. It refers to confirming transactions on the blockchain, therefore securing the decentralised network and ensuring all transactions are legitimate. NiceHash provides miners with algorithms and software that they can use to leverage their computer's hardware to validate transactions themselves. Successful mining operations are rewarded with Bitcoin tokens.
Hashing Buyers
There are several options when it comes to mining cryptocurrencies, from building a mining rig (expensive) to simply ordering the hashing power required. Buyers participate in an open marketplace where you can select the cryptocurrency to mine, a pool on which to mine, set a willing payment price and place the order.
Users can purchase from any pricing algorithm supported. NiceHash currently offers 30+ different algorithms, including ZHash, ERGO, Scrypt and Kawpow. Orders are fulfilled by NiceHash Miner Legacy miners. Buyers are not required to run complex operations or invest in hardware.
Hashing Sellers
Sellers or miners can run NiceHash software and connect hardware (ASICs) or PCs to stratum servers to access buyer's orders. Hashing power is forwarded to the pool chosen by the buyer. For each valid share submitted, buyers get paid in Bitcoins for the price that is determined by the current weighted average, which is refreshed every minute.
The NiceHash service currently operates servers in Amsterdam, Japan, San Jose, Chennai and Sao Paulo. You should select the server location closest to you for the best performance, though you can easily change algorithm selections or server locations. The whole process is automatic so complex technical skills are not required.
Trading Platform

There are three miner systems available, each created with simplicity in mind. None of the systems require a deep technical knowledge of cryptocurrency mining and each solution comes with an intuitive user interface.
Buyers select the algorithm and speed, while users or miners fulfil orders by mining/hashing (providing the computer power to the network). A NiceHash comparison table is available to compare which miner you should use.
NiceHash QuickMiner
The most secure and easy-to-use miner. This is recommended for NVIDIA drivers like Jetson Nano. It also supports Intel mining and AMD CPUs. Features include:
Automatic updates
Game Mode overclocks
Auto location picker based on share latency
OCtune allows users to use other overclocking methods
Auto-recovery to keep on mining even after drive crashes or issues
Autotune the best core clock for memory to lower power consumption
Changes memory timings on 1000 series GPU's and increase performance up to 50%
Improves stability with Message Signalled Interrupts (MSI), though this is disabled as default
NiceHash Miner
Utilises third party miners for automatic algorithm switching. It is available to use via all major web browsers or to download to iOS and Android devices. Features include:
Access to Rig Manager
Start mining with one click
Control all devices from one interface
A simple dashboard with a clear information overview
Access the best plugins available to install third party miners
Precise benchmarking to determine the most profitable algorithms
Set up of NiceHash Miner and Quick Miner is simple. Users are directed to the GitHub page to download the miner installer or zip version with password protection.
You may need to whitelist whichever mining tool you use on your antivirus software as there are often issues with crypto mining tools being blocked.
NiceHash OS
NiceHash OS is a system that loads directly from a USB flash drive and runs from computer memory. It is free to use and allows users to connect an unlimited number of mining rigs. Pricing comparison vs alternative competitors like HiveOS is impressive, with many using a monthly payment scheme per number of rigs.
Required computer operating systems for use include Mac OS, Windows and Linux. Users must simply create a bootable USB flash drive with the NiceHash OS Flash Tool. Benefits include:
Automatic updates
Access to Rig Manager
Infinite rigs with no cost
Easy to navigate rig statistics page
View rig history & projected statistics
Installs in less than 10 seconds directly from a USB
NiceHash Exchange
As well as three mining systems, NiceHash offers a crypto exchange platform called TradeView. Clients can deposit crypto such as ZCash or fiat like Euro (EUR) to make trades. This eliminates the need to transfer funds to alternative exchanges such as Binance to begin mining, reducing the sometimes costly blockchain transfer fee requirements.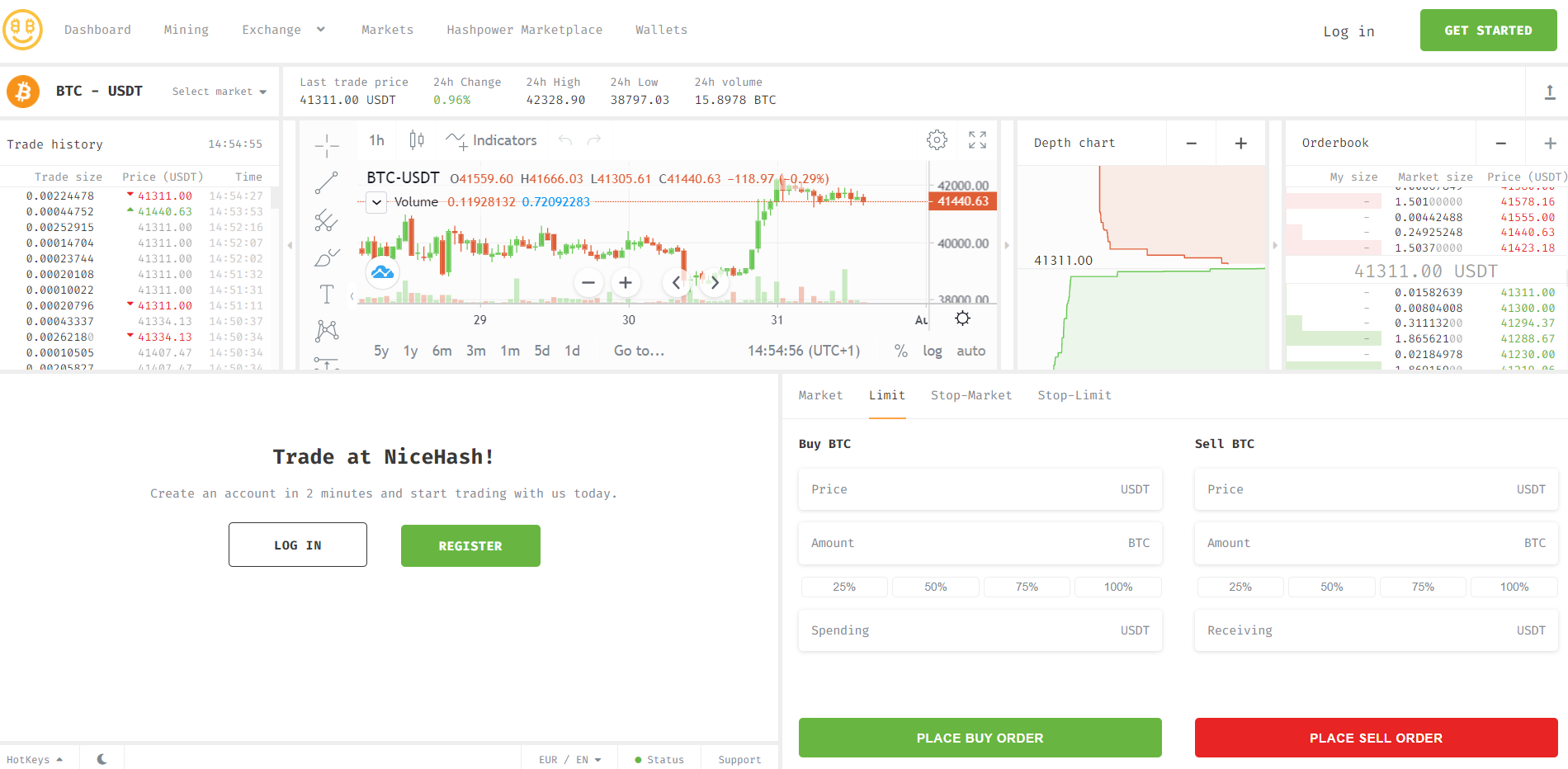 NiceHash exchange supports trading with more than 50 cryptocurrency cross pairs, including XMR/BTC, BTC/USDT, ETH/BTC and XRP/USDC.
Fees
NiceHash exchange has a simple maker and taker fee structure that depends on lifetime trading volume. Maximum exchange fees begin at 0.5% maker and taker charges for traders up to €1,000, which reduce to 0.01% maker and 0.03% taker fees at the highest trading volume level.
Fiat currency exchange fees are also applied at a rate of €1.45 for EUR to BTC and BTC to EUR exchanges from €25 to €100. Exchanges between currencies worth more than €100 will incur a 1.45% fee.
There are no fixed subscription plans at NiceHash but service fees apply to buy or sell hashing power.
Buying
Non-refundable new order fee – 0.00001 BTC
Amount spent on orders for buying hash power – 3%
Selling
Fees apply for miners using NiceHash Miner, NHOS, Custom NiceHash Firmware or NiceHash stratum servers. Payouts are executed every four hours if your unpaid balance is at least 1000 Satoshis. Otherwise, unpaid balances are paid every eight hours via the payout in progress Pay Per Share scheme.
Payouts to NiceHash wallet – 2%
Payouts to external wallet less than 0.1 tokens – 5%
Payouts to external wallet more than 0.1 tokens – 3%
Mobile App
The exchange offers the mobile NiceHash application available for free download to iOS and Android devices. This app allows clients to access their NiceHash account and manage transactions while on the go. Mobile dashboard interfaces include:
Wallet – deposit & withdraw, view transactions
User Profile – manage and amend personal details
Rig Manager – manage mining rigs and monitor your status
Notifications – enable push notifications to receive real-time information
Hash-Power Marketplace – place new orders, check the status of current orders or cancel existing orders
This is good to see vs alternatives such as T-Rex and Honeyminer, though Minerstat and Titan do currently offer similar mobile applications.
Payments
Deposits
Deposits can be actioned via your NiceHash primary wallet address, which is created upon account opening. Fiat currencies, except for the Euro, are not accepted to fund trading accounts. The minimum deposit amount is €1 and users must have a national document from supported countries to add a EUR bank account to a wallet. This includes the UK, Germany and France.
Deposits to a NiceHash wallet are subject to the following fees.
Euro (EUR) – no fee for deposits over €1
Litecoin (LTC) – more than 0.003 LTC incurs no charge, less than 0.003 LTC incurs a 0.001 fee
Ethereum (ETC) – more than 0.0009 ETH incurs no charge, less than 0.0009 ETH incurs a 0.0003 fee
Bitcoin (BTC) – more than 0.0005 BTC incurs no charge, between 0.00001 and 0.0005 BTC incurs a 0.00001 fee
Remember, cryptocurrency transactions to the wrong address are irreversible!
Withdrawals
Removal of funds from a NiceHash account is subject to a withdrawal fee. Minimum withdrawal amounts and processing times vary by cryptocurrency. You may also withdraw to a bank account in Euros at no charge. Withdrawal options include over 40 coins, including:
Euro (EUR) – to a bank account, minimum €10, no fee
Litecoin (LTC) – to any LTC wallet, minimum 0.01 LTC, 0.00001 LTC fee
Ethereum (ETH) – to any Ethereum wallet, minimum 0.01 ETH, 0.00523367 ETH fee
Bitcoin (BTC) – withdraw to any BTC wallet, minimum 0.001 BTC, 0.000001 BTC fee or more based on blockchain conditions. Free via Lightning Network or to Coinbase
Internal NiceHash wallet transfer of funds will be executed via the local blockchain, subject to applicable fees. Connection to the NiceHash lightning wallet network node comes with no fees for Bitcoin (BTC) transactions. This applies to both deposits and withdrawals.
Demo Account
NiceHash offers a free demo tool called QuickMiner. No registration is needed for the try-out version, which enables users to get a basic idea of the miner's experience. This is advantageous vs unMineable, BetterHash and Ethermine, who only host demo tutorials. The NiceHash demo download is currently only available to Windows users. Look out for the latest platform news for game mode settings potentially being released in the future for Mac devices.
Promotions
At the time of writing, there were no live promotions or financial incentive programmes. NiceHash however does run a referral scheme. Simply refer a new customer and receive 5% of the revenue share. This is an ongoing programme so you can continue to receive pay-out from referrals indefinitely.
Regulation
NiceHash is registered under the laws of the British Virgin Islands and operates across many global jurisdictions, including the UK, Poland, France and Greece. Regulation is limited due to the nature of the cryptocurrency market. CoinGecko and Reddit reviews suggest that the service is reasonably safe with a secure platform for all crypto mining and trading needs.
Remember, you are responsible for personal tax compliance on profits made via mining.
Additional Features
There are several guides and much forum content available to make your NiceHash journey straightforward. This includes how to use the NiceHash marketplace, current pricing and algorithms and lists of all compatible pools with fee information and reward systems. Several educational videos can also be found on the YouTube channel. Covered topics include using zombie mode and NiceHash OS features.
The NiceHash blog is a good page to refer to throughout your mining experience for the latest update information and service efficiency issues. Information can also be found regarding how to increase virtual memory and reduce mh/s hash rate drops, reasons that cryptocurrencies like XLM, XMR and BTC withdrawals are currently disabled, API documentation, Windows defender interference and why the service may not be detecting GPU settings.
A comprehensive support page is also available on the website. This is a go-to platform for issues on account settings, including if your profile keeps crashing or logging you out. Other topics include how to rig offline, transfer funds to a wallet, accepted or rejected speed and the failed benchmark error.
Profitability Calculator
The platform integrates a GPU/CPU and ASIC mining profitability calculator to check or compare the potential earnings of hardware. The estimator allows users to view service gains or profitability drop indicators over a 1 day, 1 week, or 1 month timeline. A Stratum Generator allows users to direct hash-power to NiceHash via 3rd party miners, ASIC machines or other mining software. Simply search by the desired algorithm and closest location.
Private EndPoint Solution
The NiceHash private endpoint solution is a network interface that connects users securely to Stratum servers using a private IP address. This avoids the latency caused by DDOS protection. It is suitable for medium to large mining farms from €200 per month per location.
Getting Started
Account registration is required before you can begin using NiceHash services. Select 'Get Started' via the website and provide personal details like an email address and password. It is free to sign up and create an account. Once your account has been verified, you can log in and view the NiceHash dashboard for mining status, my wallets and recent activity.
Benefits
Referral programme
Easy to use mining software
Payouts as low as 0.001 BTC
Earn Bitcoins for every share
Integrated exchange platform
QuickMiner demo account available
Trade cryptocurrencies from within the platform
Additional security features are available to add to accounts
Maker and taker exchange fee structure with clear organisation by trading volume
Drawbacks
Limited customer contact options
Miners can only receive payment in Bitcoin
Not available in all global jurisdictions due to legal reasons
Withdrawal and deposit fees applicable for some currencies and minimum values
Trading Hours
As with all cryptocurrency trading, NiceHash Miner, QuickMiner and NiceHash OS mining are available 24/7. Algorithms are managed by software tools that will ensure the most profitable coin is being mined during the active period, even when mining farms are unmanaged. You will require optimal mining settings to reduce the likelihood of failing hardware, this includes accepted fan speed, low-temperature settings and overclock failures.
Contact Details
NiceHash customer support is not particularly conventional. Traders are directed to self-help FAQ pages split by categories; general help, mining, exchange help and hash power. Utilise these methods for specific details on why mining a mining rig keeps stopping, hardware (HW) error logged, or how to understand a hotspot sensor temp. Alternative contact options include Twitter, Discord and GitHub. There are no email or telephone contact details.
Security
NiceHash offers a reasonably safe trading environment, with various limits and restrictions that can be added to account settings. 2-factor authentication (2FA) can be enabled during account setup as an additional security step when logging in, withdrawing funds or placing orders. An eight-digit backup code can be used in the case of 2FA not working or if you have forgotten the six-digit Google authenticator code. Traders may also use the Yubico OTP device, a one-use, encrypted password. Tutorial videos are available to install.
All mining activity through NiceHash is anonymous. Know Your Customer (KYC) is not mandatory but is recommended to further secure an account. Ensure you download software from trusted sources to your install location.
In 2017, the service experienced a security hack that damaged its established reputation. Fortunately, the founder confirmed that all users affected by the breach had been fully reimbursed.
NiceHash Verdict
The NiceHash service is a great example of an easy-to-use platform introducing beginners to the environment of cryptocurrency mining. With automation, a fair pricing structure and an integrated exchange service, NiceHash offer a comprehensive experience. We would recommend utilising all available security protocols and withdrawing funds as often as possible to ensure the safest experience.
FAQs
What Is NiceHash OCTune?
NiceHash OCTune is a web-based interface that communicates with NiceHash QuickMiner. OCTune is used to modify clocking, fan profiles, memory timings, voltage and more.
NiceHash Is Indicating An Error During Benchmark, Why Is This?
A benchmark error is a message that NiceHash Miner shows when it cannot benchmark or has no available algorithms. Reasons may include a job clean in progress, illegal memory access was encountered or a GPU/CPU error.
What Is The Difference Between NiceHash Miner Vs QuickMiner?
NiceHash Miner is software that lets you connect your device to the hash power marketplace to rent your computing power, using third party miners and plugins like Z-Enemy. NiceHash QuickMiner integrates the hash power marketplace and the company's own Excavator mining tool to maximise profit potential. Excavator reached speeds in Daggerhashimoto comparable to many other miners that have expensive developer fees. All these tools are easy to use with no technical understanding so you don't have to worry about mining systems not working, status errors or no compatible devices found. NiceHash QuickMiner is only useable with NVidia graphics cards.
What Is The Difference Between NiceHash Local Vs Actual Profitability?
NiceHash actual vs local profitability refers to the online dashboard display. Actual profitability is based on the number of shares submitted in a certain period. Local profitability is based on the hashing speed of your miner. Low profit will relate to a decreased value of Bitcoin in the global market.
Why Does NiceHash Only Pay Miners In Bitcoin?
Put simply, miners at NiceHash get paid in Bitcoins because buyers place orders in Bitcoins. There is a direct transfer from the buyer to the seller (miner). There are currently no plans to open a marketplace when buyers can purchase hash-power with any other cryptocurrency and you will see an invalid wallet request message for any attempts. This includes trying to get paid in Ethereum (ETH).
My NiceHash Account Has Rejected Shares With A Job Not Found Error Message, Why Is This?
Many factors can cause this error, including network latency to the server or chosen miner software. Troubleshooting can be carried out by exploring the NiceHas support site or forums.
Accepted Countries
NiceHash accepts traders from Australia, Thailand, Canada, United States, United Kingdom, South Africa, Singapore, Hong Kong, India, France, Germany, Norway, Sweden, Italy, Denmark, United Arab Emirates, Saudi Arabia, Kuwait, Luxembourg, Qatar and most other countries.
Payment Methods
NiceHash Details
| | |
| --- | --- |
| Minimum Trade | 0.0001 BTC, 1 USDT |
| Regulated By | BVIFSC |
| Islamic Account | No |
| Mobile Apps | iOS & Android |
| Margin Trading | No |
| Volatility Index | No |
| Spot Trading | No |
| Perpetual Swaps | No |
| ELWs | No |
| REITs | No |
| AI / Machine Learning | No |
| Robo Advisor | No |
| P2P Trading | Yes |
| Negative Balance Protection | No |
| VPS Hosting | No |
| Tournaments | No |
| Demo Competitions | No |
| Managed Accounts | No |
| Market Maker | No |
| Social Trading | No |
| Guaranteed Stop Loss | No |
Cryptocurrency Trading Details
Crypto Spread
Variable
Crypto Lending

No

Crypto Staking

No

Crypto Mining

Yes

Crypto Auto Market Maker

No

Crypto Coins

1INCH
AAVE
AERGO
ANT
AOA
AST
BAND
BCH
BNT
BTC
BTG
CHZ
CRV
CVC
DASH
DATA
DOGE
ELF
EOS
ETH
FET
FTM
GTO
HOT
KEY
KNC
LBA
LINK
LOOM
LTC
MATIC
MITH
MKR
MTL
NEXO
OCEAN
OMG
POLY
POWR
PPT
RDN
REP
RVN
STORJ
SUSHI
SXP
UNI
USDC
USDT
WBTC
XLM
XMR
XRP
YFI
ZEC
ZRX
Compare NiceHash
Compare NiceHash with similar brokers that accept traders from your location. Among available brokers these are the most similar to NiceHash:
IG Group – IG is an award-winning broker that has an excellent reputation globally. The brand-US offers spread betting, CFD and forex trading across a comprehensive suite of markets. IG is also multi-regulated, provides a great trading app and has 50 years experience.
Go to IG Group
Just2Trade – Just2Trade is a reliable multi-regulated broker registered with FINRA, NFA and CySEC. The company has 155,000 clients from 130 countries and stands out for its huge suite of instruments and additional features, including a social network, robo advisors and a funded trader programme.
Go to Just2Trade
Kraken – Kraken is a leading cryptocurrency exchange with a proprietary trading terminal and a list of 220+ tradeable crypto tokens. Up to 1:5 leverage is available with stable rollover fees on spot crypto trading and up to 1:50 on futures. The exchange also supports crypto staking and has an interactive NFT marketplace.
Go to Kraken
NiceHash Comparison Table
Compare NiceHash With Similar Brokers
NiceHash
IG Group
Just2Trade
Kraken
Rating
2.5
4.4
3.5
3.9
Markets
Crypto
CFDs, Forex, Stocks, Indices, Commodities, ETFs, Futures, Options, Crypto, Spread Betting
Stocks, ADRs, ETFs, Futures, Options, Commodities, Bonds
Cryptos
Demo Account
Yes
Yes
Yes
Yes
Minimum Deposit
€1
$0
$100
$10
Minimum Trade
0.0001 BTC, 1 USDT
0.01 Lots
0.01 Lots
Variable
Regulators
BVIFSC
FCA, ASIC, NFA, CFTC, DFSA, BaFin, MAS, FSCA
CySEC, NFA, FINRA, Bank of Russia
FCA, FinCEN, FINTRAC, AUSTRAC, FSA
Bonus
–
–
Up to $2,000 for professional accounts
Lower fees when trading volume exceeds $50,000 in 30 days
Education
No
Yes
No
Yes
Platforms
Own
MT4, AutoChartist, TradingCentral
MT4, MT5, TradingCentral
AlgoTrader
Leverage
–
1:30 (Retail), 1:250 (Pro)
1:20
–
Payment Methods
1
6
20
6
Visit
Visit
Visit
Visit
Visit
Review
NiceHash
Review
IG Group
Review
Just2Trade
Review
Kraken
Review
Compare Trading Instruments
Compare the markets and instruments offered by NiceHash and its competitors. Please note, some markets may only be available via CFDs or other derivatives.
Compare NiceHash Trading Instruments

| | NiceHash | IG Group | Just2Trade | Kraken |
| --- | --- | --- | --- | --- |
| CFD | No | Yes | Yes | No |
| Forex | No | Yes | Yes | No |
| Stocks | No | Yes | Yes | No |
| Commodities | No | Yes | Yes | No |
| Oil | No | Yes | Yes | No |
| Gold | No | Yes | Yes | No |
| Copper | No | Yes | No | No |
| Silver | No | Yes | Yes | No |
| Corn | No | No | No | No |
| Crypto | Yes | Yes | Yes | Yes |
| Futures | No | Yes | Yes | Yes |
| Options | No | Yes | Yes | No |
| ETFs | No | Yes | Yes | No |
| Bonds | No | Yes | Yes | No |
| Warrants | No | Yes | No | No |
| Spreadbetting | No | Yes | No | No |
| Volatility Index | No | Yes | No | No |
NiceHash vs Other Brokers
Compare NiceHash with any other broker by selecting the other broker below.
Visit
NiceHash is a cryptocurrency mining provider, hash power marketplace and crypto exchange with competitive pricing and a wide range of tokens.