Merrill Edge Review 2023


Available in United States
Merrill Edge is one of the best online brokers for investors in the United States.
$0
Own
Stocks, Mutual Funds, ETFs, Options, Bonds
$600 Transfer Bonus
USD
Wire Transfer, Cheque, Automated Customer Account Transfer Service
Stock Trading
Merrill Edge offers margin trading on stocks and shares with competitive rates.
Awards
#1 for ESG & Sustainable Investing
#1 for Banking Services
#1 for Client Experience (Self-Directed)
Merrill Edge is a leading investment broker in the US that offers trading on stocks and shares, ETFs, funds and options. Competitive features such as after hours trading, access to a robo advisor and zero commission fees make Merrill Edge a competitive online brokerage. This review will cover many aspects of the platform's investment services, including trading charges, account types and mobile app options. Read on to find out if you should sign-up with Merrill Edge.
Merrill Edge Headlines
Merrill Edge is the digital trading platform offered by wealth management firm, Merrill. The company has been around since 1914 but was sold to the Bank of America during the 2008 financial crisis. Two years later in 2010, the newly acquired company launched Merrill Edge to facilitate online investment through its website.
Merrill is a sizeable investment firm with over $3 trillion of client assets under management. Registered in the US with the SEC and FINRA, investing with Merrill Edge is only available to US citizens. This notably excludes those living and working in the US without full citizenship.
Trading Platform
In addition to a solid web-based solution, to provide the best experience for clients, Merrill Edge has developed a trading platform called MarketPro. The terminal is designed to facilitate intuitive and straightforward trading of stocks and shares, ETFs and options contracts.
MarketPro can be significantly customised to suit a specific user's preferences with a wide range of tools and layouts available. Provided at no extra cost for clients, extensive charting features and inbuilt options analysis make MarketPro a leading solution for trading. Key features include:
26 customisable chart windows with up to 25 saveable layouts
Customisable options chains with over 59 column selections
Depth Meter showing detailed Market Maker quote activity
Over 104 technical indicators and 25 drawing tools
NASDAQ Order Book and Level II pricing
Easy to understand strategy tools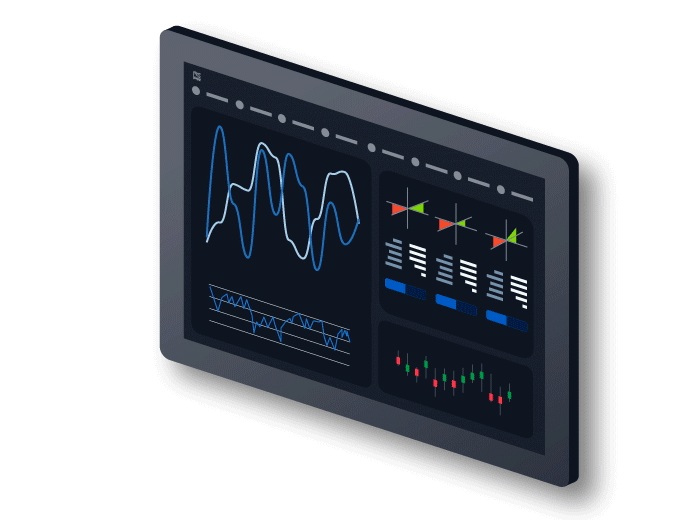 Products
A range of investment options is available when trading with Merrill Edge, whether clients are looking to facilitate long-term growth or short-term gains through day trading.
A Merrill Edge brokerage account offers access to stocks, mutual funds, ETFs and high yield savings such as bonds. Included in Merrill Edge's trading options are trader favourites such as index funds and penny stocks. Merrill Edge allows dividend reinvestment into fractional shares but does not allow clients to purchase partial shares directly.
Merrill Edge does not support forex or single commodities trading, though some commodity ETFs are available. A strong anti-cryptocurrency stance has also been adopted by the broker, which doesn't allow traders to purchase crypto ETFs. However, both margin trading and options contracts are supported by Merrill Edge, who have optimised their MarketPro platform to enhance these forms of trading.
Fees
Trading fees are a significant factor for many when choosing a trading or investment broker. Potential clients will be happy to know that, with a Merrill Edge self-directed trading account, there is zero commission when making trades.
As well as its unlimited free trades, Merrill Edge also takes no commission on options contracts, charging traders a flat $0.65 fee per contract. ETFs and funds will, as with all brokers, have their own associated annual administration fees. Combined with a lack of account management fees, the brokerage operates a very competitive fee structure for independent traders.
Merrill Edge also offers robo advisor and human advisor services with different fee structures. Broker-assisted options contracts, plus stock and ETF purchases can cost up to $29.95 per trade. Merrill Edge managed accounts charge anywhere from 0.45% to 0.85% as an annual management fee. This rate is subject to reductions for Bank of America customers, but is still not as affordable as some competitors.
Leverage & Margin
As a subsidiary of the Bank of America, Merrill Edge has significant amounts of margin available for traders to borrow. The platform offers margin above $100,000, with scaling interest rates based on the amount of margin borrowed:
For amounts up to $25,000, Merrill Edge charges 3.375% interest on top of their base lending rate of 5.25%. This totals a margin rate of 8.625%.
When borrowing between $25,000 and $99,999, the broker adds 2.25% on top of their base lending rate, totalling 7.5% interest.
For access to a margin of over $100,000, traders need to contact Merrill Edge directly. Preferential borrowing rates are likely to be offered for larger amounts of margin.
In terms of traditional leverage, the company offers up to 1:100 leverage on stocks through its options contracts, with pre-leveraged ETFs also available for day trading.
Mobile App
As well as the desktop app, Merrill Edge has invested in feature-packed mobile trading platforms, which run on both the Android and iOS ecosystems.
With much of the functionality offered by their web-based and standalone trading platforms, the mobile app allows traders to set up custom alerts to notify them about changes in the markets. Traders can also access real-time market data, news and quotes, plus heat maps and interactive charts. Additionally, clients can integrate Bank of America financial accounts into their Merrill Edge app to create a more complete fiscal picture.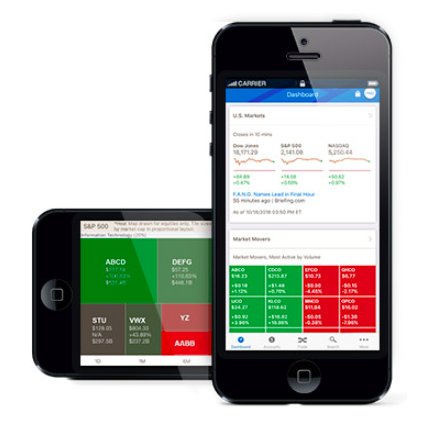 The Merrill Edge app is well-reviewed on iOS, but a few Android users have reported some instability and crashing on their platform.
Payments
Transferring money in and out of trading or investment accounts is fast and straightforward with the best brokers. As a service backed by the Bank of America, it's unsurprising that Merrill Edge supports many US banks when depositing or withdrawing funds.
Indeed, transfers from a Bank of America account are instantaneous. Transactions with other banks can take up to three working days. Wire transfers are facilitated and take place on the same day but cost a flat wire transfer fee of $24.95 per transaction. However, clients are unable to transfer capital via credit or debit cards.
Merrill Edge has no minimum deposit and with a self-directed trading account, clients can leave their balance at $0 for as long as they like without begin penalised. There are also no deposit and withdrawal fees for methods other than wire transfer.
Demo Account
Merrill Edge does not offer its clients a demo account to practise trading. However, the website is full of educational content and tutorials to help new investors understand trading fundamentals.
Without a demo account, less experienced traders should take time to establish trading techniques, risk management strategies and research markets before committing to trades.
Promotions
Traders are often on the lookout for a sign up bonus or other offers from brokers like Merrill Edge. Fortunately, the company offers a new account bonus promotion in which traders can earn up to a $600 transfer bonus when opening a self-directed trading account. The bonus available to investors scales with the level of qualifying deposit:
Traders that deposit over $20,000 worth of total assets into their new account will receive $100 cash.
A $50,000 total deposit is rewarded with $150 cash.
For traders that invest $100,000 or more, Merrill Edge offers a $250 cash bonus.
The highest level of bonus is $600, which is awarded for deposits of $200,000 or more.
To qualify for these rewards, traders must meet these deposit amounts within 45 days of opening their account and then maintain their balance for at least 90 days. Traders must also enter the offer code in the online application upon initial account opening.
These rewards are on the smaller side, especially compared with the funds required to achieve them. However, if you have a significant amount of capital to invest, these promotions can be a pleasant, catch-free bonus for investors to take home.
For the brokerage's guided investment accounts, an annual management fee discount applies based on your total assets held in Merrill Edge or Bank of America accounts:
There is a 0.5% discount for clients with between $20,000 to $49,999 of assets.
A 1% discount is offered to those who have invested $50,000 to $99,999.
The highest level of discount available is 1.5% for clients with over $100,000 in total assets.
Regulation
Traders need not worry about the legitimacy of Merrill Edge. The company is a trustworthy broker and investment provider owned by the Bank of America.
The financial services firm is regulated in the US by the Securities and Exchange Commission (SEC) for options trading and the Financial Industry Regulatory Authority (FINRA) for general trading. The brand is also a member of the Securities Investor Protection Corporation (SIPC), which provides coverage on brokerage accounts in the case of insolvency.
Merrill Edge does not allow citizens of other jurisdictions, including the UK, to open an account with them and is therefore not regulated anywhere else.
Live Accounts
Merrill Edge offers traders many investment options when it comes to specialist accounts, including vehicles for health, education and retirement saving. With all of their accounts, management fees and account minimums will vary depending on the management strategy.
General Investing
The most straightforward variant is the general investing account. This Merrill Edge brokerage account grants clients unlimited, 0% commission trading as well as options contract capabilities. When trading is self-directed, this account has no annual management fees or account minimum. Funds can be transferred in and out of a general investing account freely, but clients are liable to capital gains tax on any earnings.
Margin Trading
To access Merrill Edge's margin trading facility, traders need to open a margin trading account or upgrade a basic account. This account allows clients to borrow capital to invest in shares or engage in advanced options trading and short selling. A Merrill Edge margin account is subject to fees of up to 8.625% on borrowed capital and subject to requirements including a minimum account level of $2,000.
It is worth mentioning that margin is not available on retirement accounts, UTMA/UGMA accounts or accounts that utilise the broker's guided investing services.
Retirement Accounts
Commonly referred to as IRAs, Merrill Edge offers a range of individual retirement arrangements for its clients. Traditional IRAs, Roth IRAs and Rollover accounts are available with the company, as well as SEP and simple IRAs for self-employed and small business clients.
Clients saving for retirement can "rollover" their 401k into a Merrill Edge IRA to consolidate their savings. Traders can even set up an automatic investment plan on retirement accounts, which enables automated contributions regularly.
Education And Health Savings
For parents looking to save for their children's college tuition, Merrill Edge offers a 529 account as well as a custodial account that can be used to fund any future expenses. Merrill Edge's life services also include an HSA account to leverage pre-tax earnings for medical expenses.
Asset Management Choices
The broker also provides three methods of managing their accounts. These services can be utilised in conjunction with several account types.
Self-Directed – In a Merrill Edge self-directed account, traders independently manage their trades and investment options. This independence comes with many benefits such as no account minimum, no trading or options commission and zero management fees.
Guided Investing – Merrill Edge's guided investing facility uses a robo-advisor to choose investments based on preset goals and time frames. In exchange for managing your investments, this wealth management solution charges annual account fees of 0.45%. However, this rate is subject to a discount of up to 1.5% depending on an investor's total assets. This account also comes with a $1,000 minimum fund amount and a $29.95 fee for assisted trades.
Guided Investing With An Advisor – If looking for a human advisor who can provide bespoke advice, Merrill Edge provides a human advisor service. This advisor is available for periodic meetings to discuss individual goals and strategies and will consider assets held in accounts outside Merrill Edge for goal tracking.
For these services, clients are required to pay an annual management charge of 0.85%, though the broker's human advisor accounts are also subject to a reduction of up to 1.5% for qualifying clients. This account has a minimum account level of $20,000 and charges a $29.95 fee per assisted trade.
Additional Features
Merrill Edge offers clients several additional features, such as calculators for retirement and margin borrowing, enhanced Bank of America account integration and interconnectivity, plus curated news and educational content for traders.
The Merrill Edge retirement calculator allows investors to ascertain the financial requirements for their specific retirement plan as well as the age at which they can achieve their goals. Merrill Edge also provides a calculator for working out potential margin trading gains and losses, offering investors a clearer picture of risk and reward.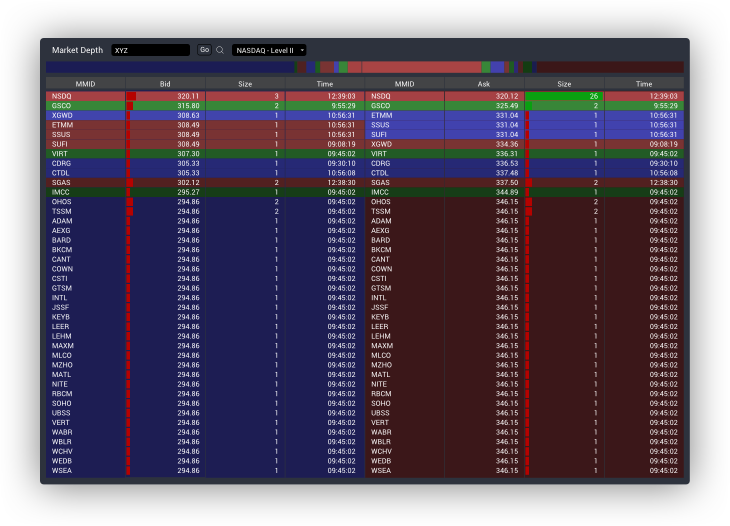 The Bank of America integration of Merrill Edge allows instant transfers between accounts as well as the ability to view your investments and financial accounts in one place.
The broker's educational section boasts a plethora of content including a podcast, videos, webinars, virtual events and an idea builder tool to support newer investors in navigating the markets. Merrill edge excels in its stock research and news, providing ratings and reports from over a dozen providers through their website.
Benefits
Here are some of the main reasons traders may want to open a Merrill Edge account:
Unlimited Zero Commission Stocks And Options – Day traders and investors alike can benefit from Merrill Edge's zero commission policy when purchasing stocks and options contracts.
Reputable And Safe – Merrill Edge is a legitimate and well-regulated broker that manages over $3 trillion in customer assets. Clients can trade with peace of mind.
Great Trading Platform – The company's trading platform – MarketPro, provides access to advanced tools and indicators at no extra cost. The platform can be user-customised to provide an efficient and intuitive trading experience.
No Account Fees – For those who are comfortable trading independently, the broker's self-directed account has no account fees or minimum balance requirements.
Access To High Margin – As an institution backed by the Bank of America, the broker is able to offer margin in excess of $100,000 to traders.
A Range Of Investment Options – Merrill Edge offers US citizens several investment options for retirement, healthcare or college saving. Accounts with margin capabilities or advisors are also available.
Drawbacks
There are a few reasons why Merrill Edge may not be the perfect broker for some traders:
Limited Markets – Traders looking to trade forex, commodities or cryptocurrencies should look elsewhere. The brokerage is limited to trading stocks, ETFs, options and mutual funds.
High Robo Advisor Fees – The Merrill Edge guided investment account comes with high account management fees for its class. Even with the full 0.15% discount for holding over $100,000 in assets, this fee is still higher than many competitors.
Non-US Citizens Excluded – Only those who have full US citizenship can open an account with Merrill Edge. Those who live or work within the US but do not have citizenship are also excluded.
No Credit Or Debit Card Support – Transactions both to and from a Merrill Edge brokerage account cannot be made by credit or debit card. E-wallets are also not supported. Traders must use bank wire transfers or cheque payments instead.
Trading Hours
A Merrill Edge trading or investment account can be accessed round the clock. In addition to normal market hours, the brokerage supports after hours trading for its clients, allowing limited trading outside of normal market opening times. These hours run from 4:01 pm to 8:00 pm ET, Monday through Friday. Buy or sell orders for funds can be placed at any time and usually take place at the end of the trading day.
Traders can also benefit from pre-market trading which is available Monday to Friday on days when markets are open, from 7:30 am to 9:30 am ET. Note that extended hours trading may be delayed or unavailable without prior notice.
Customer Support
Help from the Merrill edge customer support team is available 24/7, through their telephone helpline – 888.637.3343. In-person consultations are also available, with many Bank of America branches offering this facility for added accessibility. A comprehensive online help section also helps guide traders through any uncertainties or questions they may have.
Security
Security of customer funds is a priority for Merrill Edge, which uses a secure login to ensure that accounts can only be accessed by clients. The platform offers the additional security of two-factor authentication or 2FA encryption to protect their clients' accounts. Merrill Edge runs a dedicated fraud telephone line as well as an email address to report suspicious messages:
Phone number – 637.7455
Email address – abuse@bankofamerica.com
Merrill Edge Verdict
Many traders reading this review of Merrill Edge may be wondering whether to open an account. As a large and reputable broker, Merrill Edge is a good choice for traders and investors alike. The platform's self-directed brokerage account offers zero commission trading and no account management fees as well as a variety of different investment options.
High fees on their robo advisor service could put some investors off, as could the lack of forex, commodities or cryptocurrency trading. All things considered, Merrill Edge is a solid broker with varied investment options and specialised accounts to help clients trade and invest comfortably.
FAQs
Should I Open A Merrill Edge Account?
Zero commission trading and no account management fees make Merrill Edge a competitive choice for investors and traders. The self-directed account has no minimum deposit, so opening an account comes with no obligation. For those who wish to speak to an advisor before committing, Merrill Edge also offers a robust customer service help desk.
Can A Non-US Citizen Open A Merrill Edge Account?
Unfortunately, Merrill Edge only offers its investment and life services to US citizens. Those living and working in the US without full citizenship, as well as people living outside of the US, are not permitted to open a live account.
What Is A Merrill Edge Financial Solutions Advisor?
With a Merrill Edge guided investing account, clients gain one-on-one access to a financial advisor. An advisor will help clients to set achievable goals and decide on strategies, as well as provide access to higher-risk investment options.
What Is A Merrill Edge IRA Account?
An Individual Retirement Account allows traders to save their earnings for retirement whilst receiving tax benefits. Merrill Edge offers a range of IRAs, including Traditional, Roth and Rollover IRAs, which you can review on the brand's website.
Does Merrill Edge Offer A Sign Up Bonus?
Depending on how much they deposit into their new Merrill Edge brokerage account, clients can take advantage of a $600 maximum cash offer. There are three levels of sign up bonus offered: $150, $250 or $600.
How Much Money Do You Need To Open A Merrill Edge Account?
While the Merrill Edge self-directed account has no account minimum, services with either a robo advisor or human advisor require clients to have a minimum amount of assets in their account. A robo-advisor guided investment account has a $1,000 minimum while a guided investment with an advisor account has a significant minimum payment of $20,000.
Accepted Countries
Merrill Edge only accepts traders from United States.
Payment Methods
Merrill Edge Details
| | |
| --- | --- |
| Minimum Trade | 0.01 Lots |
| Regulated By | SEC, FINRA |
| Islamic Account | No |
| Mobile Apps | iOS & Android |
| Margin Trading | Yes |
| Margin Rate | 8.625% |
| Volatility Index | No |
| Spot Trading | Yes |
| Perpetual Swaps | No |
| ELWs | No |
| REITs | No |
| AI / Machine Learning | No |
| Robo Advisor | Yes |
| P2P Trading | No |
| Negative Balance Protection | No |
| VPS Hosting | No |
| Tournaments | No |
| Demo Competitions | No |
| Managed Accounts | No |
| Market Maker | No |
| Social Trading | No |
| Guaranteed Stop Loss | No |
| Commodities | |
Compare Merrill Edge
Compare Merrill Edge with similar brokers that accept traders from your location. Among available brokers these are the most similar to Merrill Edge:
IG Group – IG is an award-winning broker that has an excellent reputation globally. The brand-US offers spread betting, CFD and forex trading across a comprehensive suite of markets. IG is also multi-regulated, provides a great trading app and has 50 years experience.
Go to IG Group
Just2Trade – Just2Trade is a reliable multi-regulated broker registered with FINRA, NFA and CySEC. The company has 155,000 clients from 130 countries and stands out for its huge suite of instruments and additional features, including a social network, robo advisors and a funded trader programme.
Go to Just2Trade
M1 Finance – M1 Finance is a US brokerage that allows users to build a customizable investment portfolio from a range of 6000+ stocks and shares, ETFs and cryptocurrencies. The innovative 'pie' based portfolio management system allows traders to build several portfolios with different aims, and the brokerage supports machine-learning tools that can provide automated portfolio management.
Go to M1 Finance
Merrill Edge Comparison Table
Compare Merrill Edge With Similar Brokers
Merrill Edge
IG Group
Just2Trade
M1 Finance
Rating
2.8
4.4
3.5
3.9
Markets
Stocks, Mutual Funds, ETFs, Options, Bonds
CFDs, Forex, Stocks, Indices, Commodities, ETFs, Futures, Options, Crypto, Spread Betting
Stocks, ADRs, ETFs, Futures, Options, Commodities, Bonds
Stocks, ETFs, OTC stocks
Demo Account
No
Yes
Yes
Yes
Minimum Deposit
$0
$0
$100
$100
Minimum Trade
0.01 Lots
0.01 Lots
0.01 Lots
$1
Regulators
SEC, FINRA
FCA, ASIC, NFA, CFTC, DFSA, BaFin, MAS, FSCA
CySEC, NFA, FINRA, Bank of Russia
SEC, FINRA
Bonus
$600 Transfer Bonus
–
Up to $2,000 for professional accounts
M1 Finance Plus free for 3 months on new accounts
Education
No
Yes
No
Yes
Platforms
Own
MT4, AutoChartist, TradingCentral
MT4, MT5, TradingCentral
Own
Leverage
–
1:30 (Retail), 1:250 (Pro)
1:20
–
Payment Methods
3
6
20
3
Visit
Visit
Visit
Visit
Visit
Review
Merrill Edge
Review
IG Group
Review
Just2Trade
Review
M1 Finance
Review
Compare Trading Instruments
Compare the markets and instruments offered by Merrill Edge and its competitors. Please note, some markets may only be available via CFDs or other derivatives.
Compare Merrill Edge Trading Instruments

| | Merrill Edge | IG Group | Just2Trade | M1 Finance |
| --- | --- | --- | --- | --- |
| CFD | No | Yes | Yes | No |
| Forex | No | Yes | Yes | No |
| Stocks | Yes | Yes | Yes | Yes |
| Commodities | Yes | Yes | Yes | No |
| Oil | Yes | Yes | Yes | No |
| Gold | Yes | Yes | Yes | No |
| Copper | No | Yes | No | No |
| Silver | Yes | Yes | Yes | No |
| Corn | No | No | No | No |
| Crypto | No | Yes | Yes | Yes |
| Futures | No | Yes | Yes | No |
| Options | Yes | Yes | Yes | No |
| ETFs | Yes | Yes | Yes | Yes |
| Bonds | No | Yes | Yes | No |
| Warrants | No | Yes | No | No |
| Spreadbetting | No | Yes | No | No |
| Volatility Index | No | Yes | No | No |
Merrill Edge vs Other Brokers
Compare Merrill Edge with any other broker by selecting the other broker below.
Visit
Merrill Edge is one of the best online brokers for investors in the United States.