Finvasia Review 2023


United States not accepted.
See the Top 3 Alternatives in your location.
Finvasia is an Indian-headquartered trading broker offering popular financial assets alongside powerful investing tools.
$1
Own
Stocks, indices, commodities, forex, mutual funds, futures, options
-
INR, HUF
Wire Transfer, Cheque
Forex Trading
Finvasia offers leveraged forex trading on multiple currency pairs, including with INR.
Stock Trading
Finvasia is a top-rated Indian stock broker offering access to the NSE, BSE and MCX.
Finvasia is an established Indian discount broker. Trading services are offered across various asset classes including currencies, commodities and mutual funds. The company also offers zero-fee brokerage services on equity products across five innovative platforms. Our 2023 review will cover the unlimited free trading plan, margin funding, API Python solutions, trading tools and more. Find out whether to sign up with Finvasia today.
Company Details
Finvasia was established in 2009 by ex-Wall Street professionals. Registration as an equities stockbroker under the authorisation of the Securities and Exchange Board of India (SEBI) was granted in 2011. Incorporation as a clearing member of the NSE and MCX was completed in 2013, since which, the broker's services have been available to traders globally.
Recently, the broker received foreign direct investment funding of 1.5 billion INR, facilitating the company's expansion plans for low-cost, technology-driven investing solutions. The company also recently acquired the major social trading network, ZuluTrade. In addition, the pledge by CEO and founder Tajinder Singh, was completed in December 2021, increasing the organisation's share in the investment market and adding to its suite of services spanning investing, saving, spending and lending.
Today, the broker is one of India's fastest-growing FinTech companies offering a range of financial products. Operating from headquarters in Mohali, India, services include a lifetime zero-fee pricing model for unlimited trading opportunities.
The firm has additional offices in Canada and the UK. Foreign portfolio traders can use the company as a base for direct Indian market investments.
Platforms
There are various platforms and software available to Finvasia customers. These include proprietary terminals Shoonya and ScalperT and third-party platforms such as NEST and NSE NOW.
Our review found Shoonya was the platform of choice, promoted heavily across the website. We outline the functionality and applicable charges of the terminals below.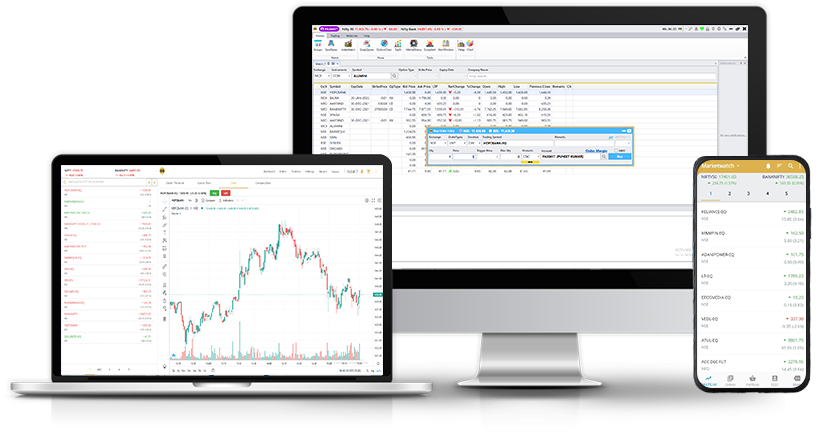 Shoonya
Shoonya is a multi-asset trading platform developed in-house by Finvasia. It is available for free download as a desktop app or it can be used as a web trader via all major browsers. The terminal is suitable for both new and experienced traders and aims to simplify investing by offering intuitive tools.
The platform provides 100+ technical indicators, option chains, customisable watchlists and access to historical trading data. The Shoonya terminal also offers advanced charting features and 15+ analytical screeners with price modification alerts.
Accepted order types include; MIS, GTT, margin order and bracket order. Useful platform download guidance and help can be found on the broker's YouTube channel or within the FAQ section of the website.
Omnesys Nest
An established and well-recognised investing solution trusted by Indian investors for 20+ years. Nest is a third-party, front-end software available to Finvasia traders. It can be downloaded to desktop devices only, with no web trader option.
A fixed monthly fee applies, varying by the exchange. Typical fees are Rs 49 per month to execute trades on the BSE, MCX and NSE. Features include lightning speed execution times, a market sentiment tool plus various trading calculators such as an option margin calculator and implied volatility calculator.
ScalperT
ScalperT is an alternative web-based platform developed by Finvasia. The terminal provides access to real-time market updates, customisable watch-lists and 40+ technical indicators. Users can trade directly from charts with the option to view up to four diagrams in one interface. Choose drawing objects, overlays and chart styles to suit your investing requirements.
Symphony Presto
A popular automated investing third-party terminal, the platform supports trading algorithms on MCX, BSE and NSE. This tool is suited to more advanced investors, with a monthly fee of Rs 1599. A custom strategy builder is also available. Alternatively, new traders can implement pre-approved strategies.
Additional features include custom API users (.NET and JAVA), auto trading orders via charts and paper trading tools to test strategies. Note, NISM or NCFM certifications are required to use this platform.
NSE NOW
NSE NOW is an online platform created by the National Stock Exchange (NSE). The terminal is available for free download or it can be used via major web browsers. A Rs 150 per month fee is applied for trading on exchanges other than the NSE.
The platform allows users access to analytical graphs and charts, plus customisable market watch and net-position reporting. Reviews highlight this terminal is not particularly user-friendly with limiting design features and a clunky interface which may not be suitable for beginners.
Prism
Prism is the broker's client portal. Customers can view and analyse investments from a single login and interface.
Within the Finvasia customer centre, available actions include tax report downloads, identity verification uploads, leverage plan amendments, view charges calculators and access the online live chat support.
Products
Finvasia offers a range of instruments available on the NSE, BSE, MCX and NCDEX exchanges. These are suitable for various short-term trading and long-term investing strategies.
Clients can take positions on:
Stocks – Trade equities on major players on Indian stock exchanges
Mutual Funds – Leverage existing pools of money to capitalise on stocks, bonds and more
Forex – Speculate on price movements between global currency pairs, including the INR
Commodities – Take positions on precious metals and energies with competitive trading conditions
Futures & Options – Futures and options contracts are available on multiple financial markets. A futures contract is an agreement to buy or sell a quantity of the asset at a fixed price on a particular date and an options contract is where parties are not obligated to fulfil the terms of the agreement
Fees
Finvasia was India's first commission-free trading app. This includes zero brokerage fees on all intraday and delivery trades on MCX, BSE, NCDEX and NSE. Additionally, there are no account opening charges, Shoonya platform charges, call fees or clearing rates regardless of volume. This is highly competitive vs Zerodha, Upstox and 5 Pasia, with account maintenance charges of up to Rs 500 per year applicable.
Although a zero-commission fee broker model is promoted, there are some external charges to be aware of. Governmental and statutory charges apply when investing with Finvasia. These include SEBI charges, GST, STT/CTT and stamp duty. Fortunately, clients can view expected margin, government charges, and taxes by asset and volume before placing a trade. These vary by asset class and we outline some examples below.
F&O Charges
SEBI Fees: ₹5 per trade
Stamp Duty: 0.002% per trade
Brokerage Charges: ₹0 per trade
GST: 18% applicable on exchange transaction charges only
STT: 0.01% on sell-side for equity futures and 0.05% on sell-side for equity options
Transaction Charges: BSE ₹1 per trade on buy and sell, NSE 0.0021% per execution
Forex Charges
SEBI Fees: ₹5 per trade
Stamp Duty: 0.0001% per trade
Brokerage Charges: ₹0 per trade
GST: 18% applicable on exchange transaction charges only
Transaction Charges: NSE 0.0021% per trade for currency futures and 0.044% for options
It's also worth being wary of hidden intraday fees including the depository participating (DP) charge of Rs 9 per script. These may not be as apparent as the governmental fees outlined above but they can quickly impact profit margins.
Note, a helpful brokerage calculator can be found on the company website.
Leverage
Finvasia offers low leverage rates compared to other brokers:
Stocks: Up to 5x
MXC futures: 1x
Currency futures: 1x
Equity cash: Up to 5x
Options buying and selling: 1x
Equity delivery and equity futures: 1x
As per SEBI regulations introduced in 2021, intraday leverages have been reduced to ensure 100% of the required margin is collected for all equity and derivative positions. The minimum margin for intraday trades is 20% of the trade value based on the volatility of the stock. This means users can access up to 5x day trading leverage rates.
Note, the Finvasia intraday square off time will be given once the MTM loss reaches 50% of the available margin. Clients can reduce positions or submit fresh margin funding to square off the hedge position. Positions will be squared off once the MTM reaches 80%. Collateral margin is available on equity holdings, ETFs, mutual funds and bonds.
Mobile Apps
All platforms are available as mobile applications. Clients can download the Shoonya Beta and ScalperT mobile trading apps for free, compatible with iOS and Android devices. Active clients can manage accounts, open and close positions, check live pricing and view charts while on the move.
Nest and NSE NOW also have mobile app compatibility although peer review sites indicate basic navigation functionality versus desktop solutions.
Payments
Deposits
The broker does not have minimum or maximum deposit limits. Account maintenance charges (AMC) are also not applied. Finvasia accepts several account funding options including bank wire transfers, UPI, cheques and NEFT/RTGS/FT/IMS. Payments made via the Shoonya trading platform will be reflected in your live account instantly.
Available deposit methods include:
NEFT/RTGS/FT/IMPS: No charge
Cheque: No charge. Up to five working days for processing
UPI No charge. Instant processing if funds are received through a primary bank account
Platform Payments Rs 7+GST per transaction. Funds accepted from all mapped primary and secondary bank accounts
Tutorials and account funding guidance are also provided on the broker's website.
Withdrawals
Finvasia only accepts withdrawals to the primary bank account linked to a live investing account. Fortunately, there are no withdrawal or fund transfer charges. With that said, withdrawing balances consider margin requirements of all open positions and the payout may be rejected if there is insufficient margin.
Fund withdrawal requests are processed the same day if received before 5 PM with longer wait times on weekends or exchange holiday dates.
Note, platform balances are live, however, the back office portal balance valuation is updated once daily on the financial ledger web page.
Demo Account
The broker does not currently offer a free demo account. Retail traders can, however, access the trading platforms without having to fund an account. Prospective clients can request demo facility login details via the customer care team. The virtual account and demo platform provide access to live market pricing and data, however, simulated trades cannot be placed.
Promotions
At the time of writing, Finvasia did not offer any financial incentives, including a sign-up bonus. Instead, a refer and earn scheme is available. A 50 point reward plan is available for every successful new account referral. Points can be collected and exchanged for gift vouchers to be used at established merchants. A minimum deposit threshold does apply with this promotion.
Always make sure you understand bonus terms and conditions before signing up.
Regulation
Finvasia is regulated by the Securities and Exchange Board of India (SEBI). SEBI is an established and recognised regulatory body with stringent compliance procedures including KYC protocols. The broker is also a depository participant (DP) of the Central Depository Services Ltd (CDSL), providing registered depository services to active clients (DP ID 84300).
Although the company has membership with the BSE, NSE, MCX, and NCDEX, it is not a listed organisation on these exchanges. As shares of the company are not traded on the stock market, Finvasia has no obligation to post financial data and performance results to the public.
Additional Features
As a discount broker, additional services are limited. The Finvasia group does not offer any educational content or trading tips for new investors. It was good to see some YouTube tutorials, however, these had a clear emphasis on system downloads and user guides only. Videos include the Demat account opening process, plus client base login and problem-solving for common platform issues.
With that said, some of the terminals do offer latest news streams to capture major economic events. There are also a few other tools available to retail clients to enhance the investing experience:
API: Cutting edge technology via a full suite of application programming interfaces to enhance trading capabilities
SMART: A simplified mutual fund analyser for research and trading, the portal is designed to help clients find the right investment opportunities based on trading needs and goals
Algo: Automate strategies to analyse multiple markets and execute orders based on market conditions. Traders can also utilise automated investing strategies without coding knowledge
FoxTrader
Live Accounts
Finvasia offers three account types; the Online Trading Account, the Demat Account and the 2-in-1 Account (Trading and Demat). Note, most customers sign up for the 2-in-1 account as it provides flexibility to easily switch between assets.
Demat Account: Hold paperless securities, bonds and mutual funds
Online Trading Account: Trade currencies, commodities and equities on NSE, BSE and MCX
It is quick and easy to open an account online. The process takes five minutes to complete with eKYC verification. Simply scan and upload identity verification documents. It can then take up to 24 hours to receive login credentials. It's also worth noting that in-person verification (IPV) may be required in some instances. But importantly, account opening is free and there are no minimum deposit requirements.
Separate wealth management solutions are provided to high-net-worth individuals based in India (HNI's) or overseas customers (NRI's). Custom investment and revenue solutions can be provided using research and analysis. Fees may apply.
Benefits
Reasons to open a Finvasia account include:
Free mobile app
Intuitive platforms
Market research reports
Transparent leverage plans & changes
Quick account registration with e-KYC
Instant and free deposits and withdrawals
Limited financial exposure through margin calls
Several customer contact options including live chat
Access to additional trading tools including API and Algo
Regulation by the Securities and Exchange Board of India (SEBI)
Drawbacks
Downsides of trading with Finvasia include:
No demo account
3 in 1 account not available
No pooled account services
Limited educational content
Limited advisory services
Third-party platform fees
Governmental and statutory charges
Opening Hours
Finvasia trading hours vary by instrument. Typically, forex and commodities markets are available 24 hours per day. Indian stock market trading hours generally run from 9:15 AM to 3:30 PM on weekdays.
A session timetable is also available on the broker's website so you can stay up to date with upcoming public holidays, daily break sessions and securities market closures.
Customer Support
Finvasia offers several customer contact options. This includes an international customer care telephone number (no toll-free number), online contact form and email address. Business helpline hours for technical support and dealer desk are 9 AM to 11 PM (IST).
Key contact details are as follows:
Email: Info@finvasia.in or contactus@finvasia.in
Telephone customer support helpline: +91 1726 750 000
Live chat: Located in the contact options section of the website
India head office address: Plot No D-179, Finvasia Centre, Phase 8b, Industrial Area G F Sector 74, Sas Nagar Mohali, Mohali 160054, Punjab
We were pleased with the comprehensive FAQ section available on the Finvasia website. Topics were clearly organised into categories for simple navigation. Self-help queries include how to open a Demat account, the zero brokerage plan explained, why a user ID may be blocked, plus hidden charges and passwords not working.
Note, social media channels including Facebook, Twitter and LinkedIn are also updated with live broker news.
Security
Personal and financial data is exchanged between Finvasia and other terminals using the latest encryption technology. It is also good to see two-factor authentication (2FA) can be added to trading platforms, including ScalperT. This added layer of security uses a verification code every time you sign in to your online account via an authenticator app or email address prompt.
Finally, a fully compliant e-KYC and Aadhar eSign process ensures a legitimate and fast account opening process.
Finvasia Verdict
Finvasia boasts a wide range of platforms, tools and trading instruments. The highly competitive zero-fee trading model is particularly popular with Indian investors. However, don't be caught out by the governmental and statutory charges.
Overall, Finvasia is a great option for experienced Indian investors, however, beginners may prefer more intuitive platforms with additional training materials.
FAQs
Is Finvasia Safe?
SEBI regulation, responsive customer support and security protocols are promising signs that Finvasia is a secure broker. The number of live clients also exceeds 20,000 which is a good indication of reliable service. Still, it is always worth reading user reviews online for insights into complaints and issues.
Is Finvasia A Good Broker?
Finvasia is an excellent discount broker offering a highly competitive trading environment. With that said, advisory services and education are lacking, as with all discount brokerages, so the firm may not be suitable for new and inexperienced investors.
Is Finvasia Regulated?
Yes, Finvasia is regulated and authorised by the Securities and Exchange Board of India (SEBI). The group is also a registered depository participant (DP) of the Central Depository Services.
Does Finvasia Allow A Mutual Funds Pledge?
Yes, you can pledge mutual funds to get collateral margin via the CDSL Easiest facility. Head to the broker's website to get started.
Does Finvasia Own FxView?
The Finvasia group acquired FxView in June 2021. FxView is a leader in retail forex and CFD trading. The move is part of the firm's plan to strengthen its presence in Europe.
Accepted Countries
Finvasia accepts traders from Australia, Thailand, Canada, United Kingdom, South Africa, Singapore, Hong Kong, India, France, Germany, Norway, Sweden, Italy, Denmark, United Arab Emirates, Saudi Arabia, Kuwait, Luxembourg, Qatar and most other countries.
Traders can not use Finvasia from United States, Iran, Korea.
Payment Methods
Finvasia Details
Minimum Trade
$1
Regulated By
SEBI
Account Types
Islamic Account

No

Mobile Apps
iOS & Android
Margin Trading

Yes

Volatility Index

No

Spot Trading

Yes

Perpetual Swaps

No

ELWs

No

REITs

No

AI / Machine Learning

No

Robo Advisor

No

P2P Trading

No

Negative Balance Protection

No

VPS Hosting

No

Tournaments

No

Demo Competitions

No

Managed Accounts

No

Market Maker

No

Auto Trading
Yes, via 3rd party software
Social Trading

No

Guaranteed Stop Loss

No

Stock Exchanges

Bombay Stock Exchange
National Stock Exchange Of India

Commodities
Forex Trading Details
| | |
| --- | --- |
| GBPUSD Spread | Floating |
| EURUSD Spread | Floating |
| EURGBP Spread | Floating |
| Assets | 10+ |
Top 3 Alternatives to Finvasia
Compare Finvasia with the top 3 similar brokers that accept traders from your location.
IG Group – IG is an award-winning broker that has an excellent reputation globally. The brand-US offers spread betting, CFD and forex trading across a comprehensive suite of markets. IG is also multi-regulated, provides a great trading app and has 50 years experience.
Go to IG Group
Interactive Brokers – Interactive Brokers is a leading global brokerage that provides access to a comprehensive offering of stocks as well as forex, futures, metals, bonds and cryptos. The firm has over 40 years experience in the online trading industry and is heavily regulated by SEC, FCA, IIROC, and SFC. Day traders can use the proprietary Trader Workstation and can access powerful tools and data feeds as well as comprehensive educational resources.
Go to Interactive Brokers
Just2Trade – Just2Trade is a reliable multi-regulated broker registered with FINRA, NFA and CySEC. The company has 155,000 clients from 130 countries and stands out for its huge suite of instruments and additional features, including a social network, robo advisors and a funded trader programme.
Go to Just2Trade
Finvasia Comparison Table
Compare Finvasia With Similar Brokers
Finvasia
IG Group
Interactive Brokers
Just2Trade
Rating
2.5
4.4
4.3
3.5
Markets
Stocks, indices, commodities, forex, mutual funds, futures, options
CFDs, Forex, Stocks, Indices, Commodities, ETFs, Futures, Options, Crypto, Spread Betting
Forex, Stocks, Commodities, Crypto
Stocks, ADRs, ETFs, Futures, Options, Commodities, Bonds
Demo Account
No
Yes
Yes
Yes
Minimum Deposit
$1
$0
$0
$100
Minimum Trade
$1
0.01 Lots
$100
0.01 Lots
Regulators
SEBI
FCA, ASIC, NFA, CFTC, DFSA, BaFin, MAS, FSCA
SEC, FCA, IIROC, SFC
CySEC, NFA, FINRA, Bank of Russia
Bonus
–
–
–
Up to $2,000 for professional accounts
Education
No
Yes
No
No
Platforms
Own
MT4, AutoChartist, TradingCentral
AlgoTrader, OmniTrader, eSignal, TradingCentral
MT4, MT5, TradingCentral
Leverage
–
1:30 (Retail), 1:250 (Pro)
1:50
1:20
Payment Methods
2
6
11
20
Visit
–
Visit
Visit
Visit
Review
–
IG Group
Review
Interactive Brokers
Review
Just2Trade
Review
Compare Trading Instruments
Compare the markets and instruments offered by Finvasia and its competitors. Please note, some markets may only be available via CFDs or other derivatives.
Compare Finvasia Trading Instruments

| | Finvasia | IG Group | Interactive Brokers | Just2Trade |
| --- | --- | --- | --- | --- |
| CFD | No | Yes | Yes | Yes |
| Forex | Yes | Yes | Yes | Yes |
| Stocks | Yes | Yes | Yes | Yes |
| Commodities | Yes | Yes | Yes | Yes |
| Oil | Yes | Yes | No | Yes |
| Gold | Yes | Yes | Yes | Yes |
| Copper | No | Yes | No | No |
| Silver | Yes | Yes | No | Yes |
| Corn | No | No | No | No |
| Crypto | No | Yes | Yes | Yes |
| Futures | Yes | Yes | Yes | Yes |
| Options | Yes | Yes | Yes | Yes |
| ETFs | No | Yes | No | Yes |
| Bonds | No | Yes | Yes | Yes |
| Warrants | No | Yes | Yes | No |
| Spreadbetting | No | Yes | No | No |
| Volatility Index | No | Yes | No | No |
Finvasia vs Other Brokers
Compare Finvasia with any other broker by selecting the other broker below.
Customer Reviews
There are no customer reviews of Finvasia yet, will you be the first to help fellow traders decide if they should trade with Finvasia or not?
Visit
Finvasia is an Indian-headquartered trading broker offering popular financial assets alongside powerful investing tools.