CFD Trading Strategies
Effective use of CFD trading strategies can make or break a trader's profits. Speculating with no strategy leaves you vulnerable to losing all your capital quickly. This guide will explain what a CFD strategy is and how one works, before running through some of the best strategies and tips for traders at every level of their learning journey.
What Is A CFD Trading Strategy
Firstly, a CFD is a contract-for-difference, a financial derivative product that allows investors to speculate on the price movement of assets from a range of markets, including forex, commodities, indices and shares, without owning the underlying asset.
This means that you can easily take a position on rising and falling markets. CFDs are a leveraged product, which allows you to put down a small amount of money, known as a margin, and trade with a larger sum.
CFD trading strategies are essentially game plans. You can think of it as the instructions that the manager of your team would give out before a big match.
Strategies are designed to play to your trading strengths, as well as those of the market itself.
How CFD Trading Strategies Work
CFD trading strategies work by establishing a set of rules and procedures that you, the investor, must follow while trading. Some strategies can have loosely designed rules, while others are stricter.
Let's take some CFD trading strategy examples. Rangebound (range) trading has a very defined set of rules that act mechanically, meaning they can even be programmed to run automatically.
With range trading, there are two rules to set for any CFD. When the value hits X, buy, and when the value hits Y, sell. This is one of the most straightforward trading strategies.
Another example is dividend CFD trading strategies. CFDs, like traditional shares, have the added benefit of dividend income. This is calculated at the close of trade the day before the stock's ex-dividend date.
One strategy to use here is to go long on the shares on the day before they go ex-dividend and sell the contracts immediately afterwards.
Provided the price does not drop by the entire dividend amount, the investor stands to gain from this.

Top 5 CFD Trading Strategies
Here, we will run through some of the best and most popular CFD trading strategies and tips.
News Trading
One of the most popular CFD trading strategies, following the news involves simply following a comprehensive economic and financial calendar. This will keep you aware of upcoming events that could impact the value of the underlying asset.
This approach splits into two main CFD trading strategies, either investing before a statistics release or just after. The first option aims to try to understand and predict the reactions to the release.
This is the riskier of the two approaches as it can be difficult to know how the market will respond, though investors stand to make a larger profit this way.
The second option is to go with the flow and trade after the statistic or news release. This way, you can see initially which way the market moves in reaction to the release and follow it.
There are still risks with this method as prices can rapidly change direction, therefore it is important to implement stop loss and take profit orders when trading to protect your capital.
Technical Analysis Trading
Using technical analysis is the foundation of many CFD trading strategies, each with its own combination of indicators and graphical tools.
The approach involves studying available historical data and charts to make analytical predictions. The key here is to make a note of all past trends.
If you are a day trader, look at the daily and intra-day charts. If you are going to hold for longer, study 3-month to year-long charts instead.
Setting up useful indicators can be a massive help with technical analysis CFD trading strategies. Investors can set support levels that are equal to established lows and resistance levels that are equal to established highs.
Trends
Trend lines are another simple and easy indicator to use. These involve drawing a straight line between two points on your chart.
To show an increasing trend, draw a line between two lows and to show a decreasing trend, draw a line between two peaks. Once a trend line has been touched three times, it has been validated.
Another indicator to help your technical analysis CFD trading strategies is the oscillator. Oscillators indicate overbought or oversold conditions in markets. They show whether the asset has either risen or fallen too far and that a change is imminent.
Using all these indicators combined with the study of historical data is one of the most popular CFD trading strategies.
Pair Trading
Pair trading is one of the more popular CFD trading strategies for stocks, although it can also be used with currencies and commodities.
This strategy can be used with both high or low market volatility and the direction of movement is not important.
Pair trading involves investing in two CFDs that are within the same industry, one with a long position and one with a short.
Correlation is essential, measuring the relationship between the price movements of the two assets. The two assets need to be those that are usually highly correlated but have started to become less correlated.
With pair-focused CFD trading strategies, investors take advantage of the divergence of the asset's values. The first thing is to decide which is the weaker asset and which is stronger.
Then, open a short position on the stronger asset and go long on the weaker asset. The direction of the market does not matter, as you will be winning with one position and losing with the other.
Profit is based on the relative movement of the assets, so the more they diverge, the more you win.
Hedging
Hedging is slightly different from other CFD trading strategies, it is more like a form of insurance.
This strategy works best when you already have a diverse portfolio of stocks or CFDs that you are holding for the long term. Investors often use hedging to protect against short term drops in value.
Let's say an investor owns Pfizer stocks. They believe that the sector is weakening and the value of the stocks is going to fall. They do not want to sell their Pfizer stocks to protect against this, as they believe in them for the longer term.
Instead, the investor opens a short position on a CFD for Pfizer stocks. This way, you will benefit from the short-term decrease in the stock value without losing the asset.
Hedging is often used in conjunction with other, primary CFD trading strategies.
Check your broker allows hedging prior to trading.
Swing Trading
The CFD swing trading strategy is all about finding markets that are trending. Focus on markets that are trending in a specific direction. This allows investors to find assets that have the potential to move by large amounts in a short space of time.
These CFD trading strategies combine well with technical analysis. The indicators described earlier can be used to indicate strong trends.
Additionally, resistance levels can show the right time to get out of a trade and take your profit. Oscillators could indicate the peak has been reached and that the trend is about to reverse, allowing you to get ahead of the game.
CFD Trading Strategies For Specific Assets
Oil
CFD trading strategies for oil are numerous but a relatively simple one is a combination of the RSI and CCI indicators. The former will help suggest when an asset is overbought or oversold, while the latter aims to find cyclical trends.
One approach with these is to wait until the RSI demonstrates an overbought condition for a prolonged period, indicating a bullish market.
The next step is slightly counterintuitive and involves waiting for a reset, where the RSI drops down and shows an oversold condition.
To confirm the bullish sentiment, though, ensure that the CCI indicator remains above zero, preferably above 100. When this all comes together, go long on the CFD.
As with all robust CFD trading strategies, you need to place protective measures, in this case in the form of stop losses.
Check the asset value at the last time it was shown to be oversold and place a stop loss here. You should exit the position either at the end of the day or if the CCI drops below zero, demonstrating a new cycle.
Indices
Popular among indices CFD trading strategies is momentum trading, which involves identifying a trend and jumping on the bandwagon. Indices are great for this strategy as it lends itself best to liquid assets, those with a high trading volume.
Momentum trading can be similar to news trading the latter is a great way to inform the beginning of a trend for the former. When a major news announcement is released, it can cause short-term volatility and a persisting longer-term trend, which momentum traders would identify and follow.
Gold
With gold CFD trading strategies, historical data is key. Gold value follows a strong yearly trend, the price tends to rally in January, February, August, September, November and December. Therefore, it is often best to purchase gold CFDs during these periods.
If the price of gold is trading at support in January (the previous low), go long. If the price has rallied, wait until it breaks above resistance to go long. Following this, place stop-loss orders just below the last low swing. Now, hold until the end of February or until you are ready to take your profit. Move the stop-loss up to the most recent low each time.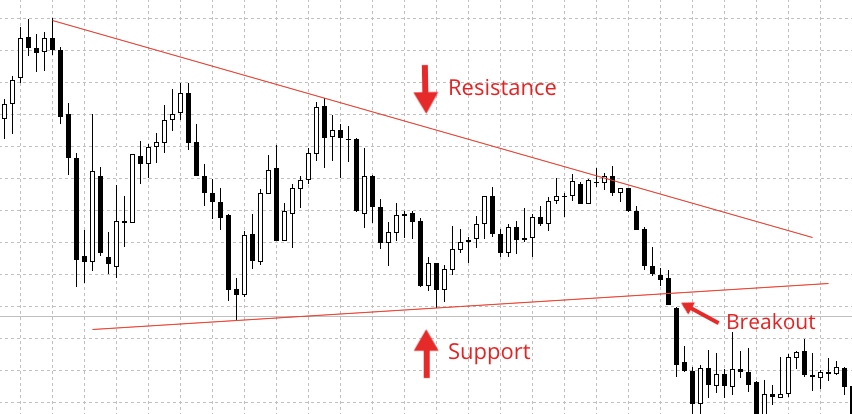 Stocks
Almost any CFD trading strategies can be applied to stocks. If you hold a diverse portfolio, hedging could benefit you the most. Otherwise, pair trading might be an effective way to trade with less risk, as the direction of movement is not important. Check out our trading strategies page for more.
Final Word On CFD Trading Strategies
CFD trading strategies are the foundation of a successful day trader, all the self-proclaimed forex and CFD millionaires will have strict ones they follow. A good strategy will not only provide good predictions for entering positions, but it will also carefully manage the position's risk and inform trailing stop or exit positions.
FAQs
What Is A CFD?
A CFD is a contract-for-difference. It is a derivative product that allows you to speculate on the price movement of an asset without having to own the underlying asset.
What Are The Top CFD Trading Strategies For Beginners?
There is no clear answer to this question, each strategy depends on the trader and asset being speculated upon. However, it is often best to start with those that are easier to understand and pick up, like news trading or swing trading.
Do You Own The Underlying Asset When Buying CFDs?
No, you do not. With CFDs, you only speculate on the price movement of an asset and earn profit based on this.
What Are The Best CFD Trading Strategies?
There is no simple answer to this. Each strategy has different benefits and suits different styles and assets, read through them all to figure out which is best for you and trial a few out using demo accounts.
Where Can I Learn More About CFD Trading Strategies?
There are CFD trading strategies books available to help you learn further information about strategies. Equally, the internet is filled with PDFs, videos and more to teach you. We also have a dedicated strategies page for more information on other approaches not specific to CFDs.