BOTS.io Review 2023 Review 2023
BOTS.io offers automated trading on cryptocurrencies by providing access to a selection of robots on Binance. In this review, we discuss the app usability, selection of bots available, plus the pros and cons of the service. Sign up with BOTS.io today.
BOTS.io Headlines
BOTS is an automated trading platform offering a selection of trading robots. The platform aims to make wealth possible for everyone, regardless of global location, by pooling technology, innovation and human resources into one easy-to-use app. It is free to open an account and you can trade from just 50 EUR, making it accessible to all.
The firm is owned by RevenYOU, a software development company based in the Netherlands. It was founded in 2018 and has since completed three funding rounds, obtaining investment capital in each. On 31st January 2020, the company achieved an investment of 7.9 million EUR. This put the total valuation at 95 million EUR and bringing the company into the limelight for traders. But, the most recent round in 2021, resulting in a total VC backing of 13 million EUR, pushed the company valuation into 9 figures.
BOTS has over 200,000 users in 18 countries across the globe. There are more than 70 employees in 5 countries throughout Europe.
Trading Platform
The BOTS.io app is available on both Android and iOS. There is no web-based version, therefore the full range of functionality is available on the go. This is ideal for tracking a bot's success and managing your portfolio while away from the trading desk.
Once downloaded, clients can log straight into their account, or click 'I'm new here' to view the robots before signing up. The BOTS store shows a list of the 'Weekly Stars', i.e the top-performing EAs that week by return on investment. Below this, there is a selection of tables showing the most highly ranked on a monthly basis, the most popular, those new to the site, a selection of rebalancers and those designed for buy and hold strategies. Each list is automatically refreshed every Sunday.
Each bot comes with a risk rating, a description of its strategy and style, and general information, including:
Author – The creator of the bot
Type – The asset it trades. Currently, the bots are solely designed for cryptocurrencies, but the firm plans to expand its asset base in the future
Market – The cryptocurrency token name
Exchange – The crypto exchange that the bot trades on. This is primarily Binance
Overall Return On Investment – The percentage rate of return over the bot's lifetime
Risk Level – Bots are ranked 1 – 12 for risk. Anything below a 4 is considered low risk and anything above a 9 is considered high. Performance statistics are measured over time to calculate the risk level. The following stats are used:

Sharpe Ratio – A formula used by investors to weigh the return on investment vs risk
Max Drawdown – The maximum total percentage loss during a bot's lifetime
Max Time to Recover – The number of days it takes to recover from losses
Historical Value at Risk (VaR) – The maximum potential loss realised 95 – 99% of the time
Gain to Pain Ratio – A comparison of total realised returns vs losses experienced along the way

Availability – Whether it is possible to sign up to the bot or whether it is full
Trading Frequency – How many times the bot will trade per week
Date Listed – The date the bot was added to the platform. Bots that have been listed for longer will have more data available for assessing their ROI and risk level.
BOTS.io currently offers cryptocurrency trading only. However, the firm aims to add currency and stock trading facilities in the near future.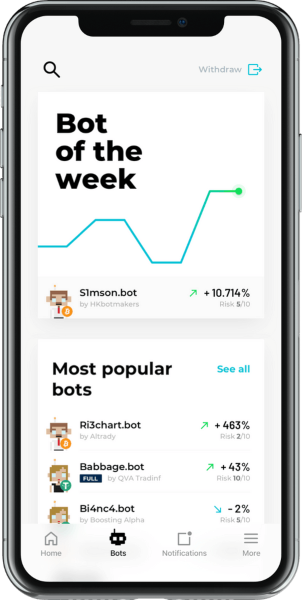 BOTS Pricing
BOTS.io offers ultra-transparent transaction fees that are consistent across the platform, regardless of the bot used. There is a flat 0.2% charge on the bot's current value per transaction. A portion of this fee goes to the bot creator, ensuring they are fairly remunerated for their part in your profit. The remainder of this goes to the exchange the trade is placed on (e.g Kraken or Binance) and the BOTS platform itself.
There is also a 0.2% charge on deposits and a 1.5% charge on withdrawals.
Payments
BOTS works with Banxa as their payments service provider. Banxa is a world leader in crypto-fiat currency exchange which enables clients to deposit fiat currency and exchange it for crypto. It is also possible to pay with bank transfer, credit card and Apply Pay.
However, user feedback has been negative around the deposit process with some payment methods. To complete a bank transfer, traders should visit the BOTS.io website to obtain a payment reference number. The next step is to visit your mobile banking app to make the transfer using this reference. Finally, return to the BOTS app to confirm you have made the payment. If this is not completed, the bank transfer will not be received by BOTS and this could cause issues with your account funds. We'd recommend using one of the alternative methods for a smoother experience.
Game Account
BOTS offers a demo bot that is available to test once you've created your account. Log in to the app, and you'll have the option to start investing or try the demo bot there and then. There is no deposit required to trial the service.
The demo or 'game' bot is suitable for those that have never the app before, but it doesn't let you test a chosen bot on market conditions before using real funds.
It's possible that the bots can be tested on the Binance demo account once it is connected, this may be a suitable solution, and we'd like to see this recommended by BOTS for those who are new to investing.
BOTS.io Regulation
BOTS does not provide cryptocurrency exchange directly, as this is provided on the Binance platform or through payment providers, such as Banxa. Therefore, it does not require regulation. For details on the regulatory protection you'll receive, visit our Binance review.
Additional Features
We've noted to top additional benefits that BOTS offer below:
BOTS TV is a bi-weekly broadcast through YouTube and Twitch. Each session has a new guest covering the latest trading and investing topics.
When first registering for an account, BOTS offers a handy guide to selecting your first robot. This includes how you can find out more about the past performance of the algorithm you select by reading the graphs provided.
News and events related to the BOTS service are available through the website. This is where you'll find the latest developments, including functionality release, asset additions and security updates.
Account Types
BOTS offers two account types: the standard BOTS app, which clients can access with a minimum deposit of just 50 EUR, and BOTS Gold. BOTS Gold is available to investors who deposit between 10,000 to 1 million EUR. On top of the selection of automatic trading robots available, Gold clients will have access to their own personal specialist who will help guide their first steps in the crypto world. This includes taking your risk appetite and crypto experience level into account when selecting a bot.
While BOTS promises no annual fixed fees and transparent transaction costs, it's unclear what the benefits are in terms of fees for Gold clients. Both standard and Gold traders are subject to the 0.2% transaction fee and 1.5% withdrawal cost.
Advantages
BOTS.io provides clients with a number of key benefits:
Wide selection of bots
Transparent fee structure
BOTS Gold account option
BOTS TV bi-weekly broadcast
Drawbacks
There is room for improvement in the following areas:
Complex Bank Transfer Process – Reviews suggest the bank transfer process is lengthy. Traders are recommended to use Banxa or Apple Pay for a smoother experience.
Unable To Search By Trading Pair – For investors who are looking to trade a specific crypto pair, finding the right bot will involve trawling through the bot details. We'd like to see search functionality to resolve this.
Limited Data Beyond The Bot Summary Page – It would be useful to have visibility of the data that makes up a bot's risk profile so that traders can perform their own analysis. In particular, the max drawdown would help traders make a more informed decision.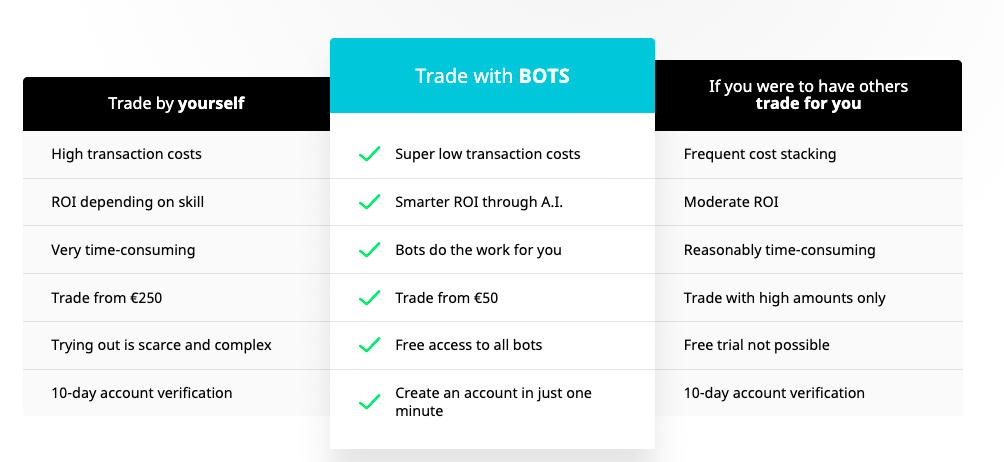 Trading Hours
Cryptocurrency trading is available 24/7. Therefore, clients can operate a BOTS EA at any time of day or night.
Customer Support
BOTS.io is a small start-up that is attempting to serve customers with new technology. The customer service team are helpful at resolving issues, but as with any new business, there may be hiccups.
You can contact the team by visiting the 'Support' tab on the website. Here you'll find access to the live chat service, available Monday – Friday 9 am – 5 pm GMT+2 (CEST). The team can also be reached on their helpline, ​​+36 17 01 00 47.
For self-service queries, there is a list of frequently asked questions available. This includes queries such as, 'how do I stop/start a bot?' and 'why is my amount delayed?'.
For questions for the developers of the app, visit the BOTS discord or Reddit channel. There are nearly 5000 members already chatting away.
Security
For BOTS, the safety of customer data is important. Therefore in 2021, BOTS became ISO 27001:2017 certified following an intense procedure that scrutinises a firm's data protection processes. Clients can feel secure that BOTS protects customer data to a high industry standard.
BOTS.io Verdict
BOTS is a new startup with a lot of scope for improvement on its app features, content and asset base. However, with strong capital investment backing and an ambitious leadership team, it looks set to become a front runner in automated investing. We're looking forward to seeing an expansion in asset base to forex and CFDs in the near future.
Traders looking to utilise a bot should make the most of the data provided, in particular, analysing the risk rating and ROI stats. We'd recommend testing a bot on a demo account where possible since many of the EAs have a high-risk profile which may not be suitable for some users.
FAQs
Is BOTS Worth It?
Using automated trading robots is an easy way for traders to make money without the research involved with executing positions manually. However, it can also be a risky strategy. Consider your risk profile and the BOTS risk rating if you're wondering whether it is worth it.
How Does BOTS Work?
BOTS.io provides an algorithm that will automatically trade on your behalf according to the pre-defined set of rules it is programmed with. Select your bot based on its return on investment and start trading with it on the Binance exchange.
Is BOTS Regulated?
Since BOTS.io does not provide any financial services directly to clients, there is no requirement for regulation. However, the exchange you trade on should be regulated.
How Much Does BOTS Cost?
BOTS takes a flat 0.2% of the trading value as a fee for their services. Some of this goes to the bot creator and the remainder goes to the BOTS.io platform itself. There are also deposit and withdrawal fees.
How Do I Find The Top Performing BOTS?
Once you've logged into the app, click the BOTS tab where you'll find a list of top-performing bots by category. Some of the categories include the weekly and monthly winners by return on investment, rebalancers, and the most popular bots.
BOTS.io offers a wide selection of automated trading robots for cryptocurrency markets.