BitMEX Review 2023


United States not accepted.
See the Top 3 Alternatives in your location.
Active traders who want access to a good range of crypto derivatives will be intrigued by BitMEX's offering. The 100x leverage on Bitcoin is also higher than many alternatives.
- Daytrading Review Team
BitMEX is a crypto exchange and derivatives trading platform, launched in 2014, that offers low fees and starting deposit for a fiat–crypto onramp, spot trading, and crypto derivatives including perpetual contracts, traditional futures and quanto futures. BitMEX offers amongst the largest market liquidity of any cryptocurrency exchange.
✓
Beginner Friendly
$0.01
AlgoTrader, TradingView
Crypto
Fee reduction for BMEX token holders
Bitcoin Payments, Ethereum Payments
Crypto Trading
BitMEX offer the largest liquidity crypto trading environment anywhere. Contracts start from just $1. The firm is also compliant with global AML guidance and the platform offers cutting-edge crypto exchange and hedging.
✓ Pros
Great customizability using widgets within the platform, making it easier to see exactly what you want
A platform solely designed for crypto makes it more streamlined than multi-asset terminals
Access to a considerable amount of information directly from BitMEX, freely available on their site
The opportunity to talk to investors from all over the world using the inbuilt chat functionality
High levels of security, ensuring that trading on the exchange is relatively secure 24/7
A range of different cryptocurrencies are available, including Bitcoin, Ethereum and Litecoin
Earn interest on HODL-ing tokens – Tether and Bitcoin
Highly leveraged crypto trading with rates up to 1:100
Insurance fund to avoid liquidation plus python API
✗ Cons
BitMEX is focused on active traders, with fewer tools and features aimed at crypto newbies
The interface is not as new, stylish or innovative as other options on the market
Withdrawals are only carried out at a set time of day
Legal dispute with US regulators resulted in fines
Only Bitcoin is accepted for free withdrawals
Range of crypto assets not as wide as rivals'
BitMEX is one of the top online exchanges for cryptocurrency trading. This review details the fees, the TestNet demo account, all mobile app info, plus the leverage and margin levels available. Read on to find out the strengths and weaknesses of the BitMEX exchange.
BitMEX Headlines
HDR Global Trading Limited founded BitMEX in 2014, which has since become one of the most popular Bitcoin trading platforms worldwide. The company was founded by former banking experts Samuel Reed, Arthur Hayes and Ben Delo. One of the founders, Ben Delo, is reportedly the first billionaire in the UK to make their fortune from Bitcoin.
Registered in Seychelles and operating globally, the firm started strong by diversifying into derivatives and margin trading. With that said, following a review by the CFTC (Commodity Future Trading Commission), BitMEX agreed to pay $100 million to settle a claim that it allowed illegal trades in the US. As a result, the crypto exchange is not available to traders in the United States.
The brand has also sponsored AC Milan and has an estimated annual revenue of over $39 million.
Trading Platform
BitMEX offers a derivatives trading platform. So instead of trading digital currencies directly, investors buy contracts on underlying tokens and coins, which can be more volatile than traditional trading. However, spot and staking is also possible.
While using the broker, our experts found the interface of the BitMEX platform is cluttered and a little outdated. With that said, it is functional, with several widgets that can be changed based on the viewing preferences of the investor. Charting is included as standard, using TradingView to offer rich market data that many platforms cannot match.
Once trades have been made, they can be viewed through Active Orders, allowing for the quick and easy management and cancellation of ongoing orders.
Our review and testing found that the platform is best used on desktop devices, given the various charting and order views. And for those familiar with crypto platforms and exchanges, the BitMEX terminal will be fairly intuitive though not innovative or entirely beginner-friendly.

Importantly, signing up to BitMEX is straightforward, with no trading limits once registration has been completed. All that is required is an email address, being over 18 years old, and confirmation that the user is not in the US.
Note that the firm uses the following API explorers: a streaming WebSocket API and REST API to provide market data in real-time, including trading volumes.
Assets & Tokens
BitMEX is a derivatives exchange that deals exclusively in cryptocurrencies. While all deposits must be in Bitcoin (BTC), Tether (USDT), Ethereum (ETH), Polygon (MATIC), or ApeCoin (APE), the service does allow for investing in a range of cryptos against fiat currencies like the Japanese Yen, US Dollar and Chinese Yuan.
Once crypto has been deposited, it can be used to purchase other cryptocurrencies, including:
Axie Infinity Shard
Ethereum Classic
Shushi Token
Binance Coin
Bitcoin Cash
Shiba Inu
Ethereum
Dogecoin
Polkadot
Litecoin
Cardano
Monero
Solana
Ripple
Tezos
Zcash
Dash
Crypto futures and index compilations are also available.
Although new coins are added all the time, BitMEX is primarily interested in key trading tokens. With this in mind, there is a narrower range of tokens versus competitors, such as Binance or Coinbase. Yet for investors looking for a niche platform that facilitates crypto trading on leverage, BitMEX could be a good fit.
Note that most cryptos come in pairs such as XBTUSD, ETHUSDT and BTCUSD.
BMEX Token
BitMEX also has its own cryptocurrency called BMEX. This coin is mostly used by clients who want to take advantage of the lower taker fees offered to holders. There is also a trading fee deduction for those that stake BMEX.
Other privileges include early product access, VIP services for large token holders, tickets to events and BitMEX SWAG.
Spreads & Fees
The BitMEX CEO and owner made sure a straightforward fee schedule is in place. For spot, the maker and taker fees are set at 0.1% and for derivates, the maker rebate is 0.01% and the taker fee is 0.075%.
It is also worth noting that BitMEX charges additional fees, known as 'icebergs' for hidden orders. Here, the taker fee is paid up until the execution. At this point, the maker rebate will be applied.
A fee deduction is possible for BMEX holders, details of the percentages can be found on the website.
To make sure your trades are successful and you do not lose money on fees, make sure you use a profit calculator to estimate your positions' openings and exits.
Leverage
BitMEX makes leverage a prominent feature in the design of its platform, including a leverage slider in the sidebar of the trading layout. Rates vary according to each cryptocurrency, with Bitcoin offering the highest ratios up to 1:100.
Traders can also set the desired amount based on their risk profile. For example, a 100-dollar investment with 100 leverage would result in a 10,000-dollar position.
Make sure you use an online liquidation calculator to see what level of leverage is suitable for your risk style.
Note, a non-leveraged trading option of 1:1 is also offered as part of BitMEX Spot.
Mobile App
When we used BitMEX, our experts found a mobile app available on Android and iOS. The application can also be used on tablets. However, you may find that the functionality is reduced compared to the desktop terminal. This is due to the complexity of the web-based platform and advanced charting views.
Still, the app allows you to manage your crypto on the go:
You can view your balance, token price, order book volumes, transactions, account historical data, plus deposit and withdraw funds
Subscription rewards are also available, plus you can easily stake your coins and earn
Fiat On-Ramp gives you the ability to purchase crypto with 30+ currencies
Rewards are available when you recommend BitMEX to other traders
You can convert your crypto without paying fees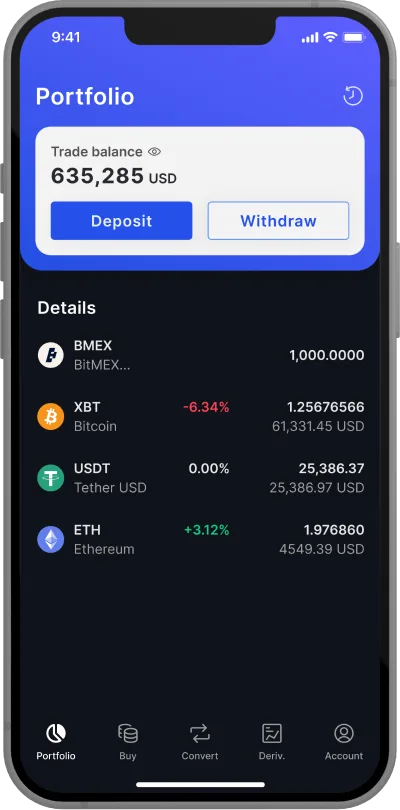 Payment Methods
One of the benefits of choosing BitMEX is that it does not charge fees for the deposit or withdrawal of Bitcoin (BTC). Other deposit options include ETH, MATIC, USDT and APE.
Importantly, the only associated costs are based on the network fee, calculated from the blockchain load. The minimum amount that can be deposited into a trading account is $0.01, while there is no limit to withdrawing Bitcoin. However, this differs for other cryptos, for example on USDT the withdrawal limit is $11.
The process of receiving money is relatively straightforward, with a quick and easy interface. While deposits can also be made 24 hours a day, all withdrawals are processed in-person at a specific time, adding a level of security to the process and allowing for the refusal and reduction of fraudulent requests.
How To Trade At BitMEX
The Place Order box is where you can trade cryptocurrencies on BitMEX. The 'At Market' tab allows you to invest at current market prices. Limit and Stop options enable you to buy or sell at levels that you decide.
'Market' trades are buying and selling at live prices. There are three main things to keep an eye on:
'Quantity' is the amount in dollars that you want to invest (the cost of the trade is also listed in XBT, beneath the trade buttons)
'Order Value' shows how much cryptocurrency the dollar amount you entered will buy. In this example, $1,000 buys 0.1339 Bitcoins. The leverage level you use will affect this – more on this below
Click the Buy or Sell button, depending on which way you expect the market to go (Buy if you think the value will go up, Sell if you think it will go down)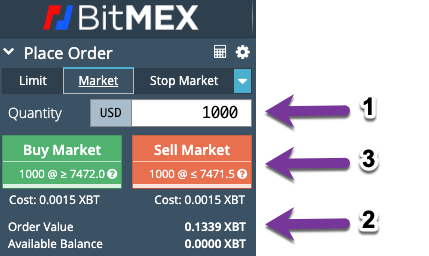 Below the Place Order section is the leverage gauge. This defaults to zero, which means if you buy $1000 of cryptocurrency and the price doubles, your holding will be worth $2000. If the value drops to zero, your holding will be worth zero.
Leverage, however, increases the risks and the rewards. Setting leverage to 100x will mean you effectively buy $100,000 worth of crypto. Small price movements will create a larger swing in the value of your holding – if you have only deposited $1000 in your account, a smaller price move against you could wipe it out.
If you are unsure about the risks and benefits of leverage, it is best to leave it at a low level or avoid it entirely. Alternatively, a great way to learn about leverage is via a demo account…
TestNet Demo Account
BitMEX provides a complete demonstration version of its platform known as TestNet that requires a separate registration. This demo account is a 'sandbox' version of the real-money platform, allowing investors to try out the service without the risks associated with live trading.
TestNet utilizes a green version of the classic BitMEX logo so users can distinguish which version they are currently on. Beyond that distinction, most of the platform has the same non-live functionalities as the BitMEX Exchange, with the ability to virtually fund your account from different sources and test out paper trading before you attempt the real thing.
Deals & Promotions
BitMEX prefers to leave traders to their own devices when it comes to their education and understanding of the platform. The trading service also occasionally provides a range of discounts and offers to potential users to entice them to sign up. For BMEX holders, typical promotions include a discount bonus of up to 15% on taker fees, which is worthwhile for newcomers.
Affiliate deals are also available through the BitMEX website.
Regulation & Licensing
BitMEX is a fully licensed company that is wholly owned by founders HDR Global Trading Limited. The company is regulated in the Republic of Seychelles as part of the International Business Companies Act of 1994. Their company number is 148707. Importantly, BitMEX is not a scam, but a legitimate option for many crypto traders around the world.
Additional Features
BitMEX provides a range of different order types to appeal to a broader audience. This includes iceberg orders, fill or kill, immediate or cancel, and post-only orders. For traders looking for a high-risk, high-reward platform, BitMEX could be a good fit.
Another perk is the ability to use leverage immediately following the creation of an account. For investors interested in this feature, its free availability and easy access from the trading page – using the leverage slider – is an excellent bonus.
BitMEX is also a company that is big on support and packs its website full of useful information, guides and general practical knowledge to support traders using their platform for the first time. This includes a well-designed support center, as well as live updates on the platform concerning issues. The ability to interact with other investors via chat is also a useful tool.
Account Types
In contrast to similar crypto exchanges, BitMEX only offers one type of live account. There are no bonuses, advantages or discounts available to traders over a certain level. However, this means that newcomers are on an equal footing to established investors, creating for a fairer playing field versus more account-level-focused brokers.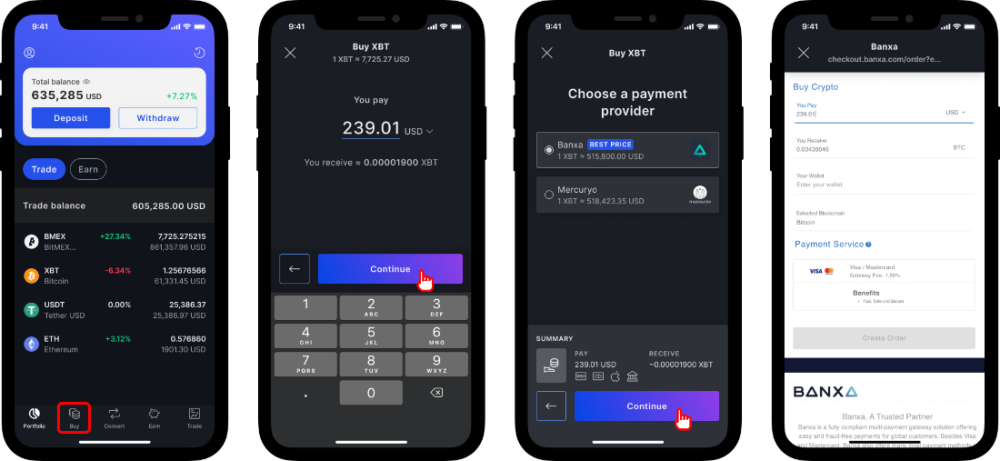 Trading Hours
BitMEX is a 24/7 cryptocurrency trading platform, and as such, is available whenever traders would like to access the service.
For perpetual contracts, a funding rate occurs every eight hours. Beyond this, there are no requirements on how or when investors can use the platform, making it the ideal choice for those that prefer continual access to the service.
Customer Support
BitMEX provides industry-standard support via email and an online ticketing system. Live channels are also available on social media such as Discord, Twitter, and Telegram. This allows for relatively speedy responses to problems and issues, and the company focuses on keeping bugs and platform problems to a minimum by managing issues in-house. Reddit also has a reasonably active community for those looking for advice and help from a wider audience.
The contact details for BitMEX are not freely accessible online, but a form is available on the website for general queries such as 'delete account' and other information.
Safety & Security
BitMEX takes customer security seriously, evidenced by their in-house hand-checked withdrawal management through to their use of stringent security practices for deposits.
The exchange also uses Amazon Web Services to ensure servers are well-protected with two-factor authentication, plus trading engine security to shut down the system should a deposit address and key not match.
BitMEX was also created using KDB+, a type of code frequently used for the creation of investing applications for some of the world's largest banks.
In terms of past breaches, there is no suggestion that BitMEX has been hacked, and the brand's use of stringent security measures helps keep cryptocurrency traders and investors safe in the long term.
Capital Measures
Following FTX's liquidity crisis in late 2022, BitMEX was among the first crypto exchanges to publish proof of reserve details. Whilst competitors without this information scramble to pull together Merkle-tree data, BitMEX opted for a much simpler approach. The exchange published a basic list of reserve funds, containing all the Bitcoin held in custodial accounts.
Though some may question the legitimacy of this method, the exchange does provide supporting videos and images of the download. BitMEX has stripped out what they deem unnecessary cryptographic complexities, demonstrating a Bitcoin balance of 75,742.4 held in reserves vs 75,617.1 Bitcoin in liabilities, meaning the company holds assets in excess of what it owes retail clients.
BitMEX Verdict
For more experienced crypto traders that have a good understanding of leverage and the risks involved, BitMEX is a good option. But for beginners or those looking for a little more hand-holding along the way, this exchange may not be the best fit.
Overall, BitMEX does precisely what it says on the tin – and what it does do; it does well. So if you are looking for a platform that specializes in crypto margin trading, then this brand could be a good option. For novices and multi-asset investors, other brokers, including eToro and PrimeXBT, might be a better choice.
FAQs
Can US Citizens Use BitMEX?
No – BitMEX does not accept traders from the United States – it is a restricted jurisdiction. A full list of accepted and restricted countries can be found on the crypto exchange's official website.
Is BitMEX Safe?
BitMEX utilizes a range of processes to help keep funds and transactions safe. Wallet security includes multi-signature deposits and two levels of human audit on each transaction. The system, trading engine and communication all have individual security protocols in place. No coins have been lost through hacking or intrusion.
Does BitMEX Have An App?
Yes, for both iOS and Android users. The mobile version is available to download from the official website. The mobile and tablet application is also free.
Where Is BitMEX Registered?
BitMEX is operated (and owned) by HDR Global Trading Limited. HDR Global Ltd is a Republic of Seychelles incorporated entity.
Does BitMEX Require ID Verification?
Yes – all traders must complete a full identity verification (KYC process). This is in line with the industry and the firm's key competitors.
How Much Are BitMEX Fees?
There are no fees for deposits or withdrawals in Bitcoin. Fees apply to trades. These vary based on the cryptocurrency being traded and the amount of leverage used. They are generally between 0.01% and 0.075%. Detailed, transparent information on fees is also provided on the BitMEX website.
What Is The BitMEX Leaderboard?
Here you can find the positions and rankings of the most profitable traders on the TestNet demo account.
Where Is The BitMEX Head Office?
The headquarters are in the Seychelles, however, other virtual locations such as the Hong Kong office, or in India and other regions are available for easier customer support.
Does BitMEX Have A Blog?
Yes, Arthur Hayes runs the BitMEX blog. Here you can find the latest news, research and warnings about crypto login scams.
Can You Buy BitMEX Stock?
No, but you can buy the native crypto token BMEX.
Accepted Countries
BitMEX accepts traders from Australia, Thailand, Canada, United Kingdom, South Africa, Singapore, India, France, Germany, Norway, Sweden, Italy, Denmark, United Arab Emirates, Saudi Arabia, Kuwait, Luxembourg, Qatar and most other countries.
Traders can not use BitMEX from United States, Cuba, Syria, Seychelles, Bermuda, Hong Kong, Japan.
Payment Methods
BitMEX Details
| | |
| --- | --- |
| Minimum Trade | Variable |
| Regulated By | Republic of Seychelles |
| Islamic Account | No |
| Mobile Apps | iOS & Android |
| Margin Trading | Yes |
| Volatility Index | No |
| Spot Trading | Yes |
| Perpetual Swaps | Yes |
| ELWs | No |
| REITs | No |
| AI / Machine Learning | No |
| Robo Advisor | No |
| P2P Trading | Yes |
| Negative Balance Protection | No |
| VPS Hosting | No |
| Tournaments | No |
| Demo Competitions | No |
| Managed Accounts | No |
| Market Maker | Yes |
| Auto Trading | BitMEX Market Maker, BotVS, and via API |
| Social Trading | Yes |
| Guaranteed Stop Loss | No |
Cryptocurrency Trading Details
Crypto Spread
-0.01% maker, 0.075% taker
Crypto Lending

No

Crypto Staking

Yes

Crypto Mining

No

Crypto Auto Market Maker

Yes

Crypto Coins

ADA
AVAX
AXS
BCH
BNB
BTC
DOGE
DOT
EOS
ETH
GAL
LTC
NEAR
SHIB
SOL
SUSHI
TRON
XMR
XRP
Top 3 Alternatives to BitMEX
Compare BitMEX with the top 3 similar brokers that accept traders from your location.
IG Group – IG is an award-winning broker that has an excellent reputation globally. The brand-US offers spread betting, CFD and forex trading across a comprehensive suite of markets. IG is also multi-regulated, provides a great trading app and has 50 years experience.
Go to IG Group
Interactive Brokers – Interactive Brokers is a leading global brokerage that provides access to a comprehensive offering of stocks as well as forex, futures, metals, bonds and cryptos. The firm has over 40 years experience in the online trading industry and is heavily regulated by SEC, FCA, IIROC, and SFC. Day traders can use the proprietary Trader Workstation and can access powerful tools and data feeds as well as comprehensive educational resources.
Go to Interactive Brokers
Kraken – Kraken is a leading cryptocurrency exchange with a proprietary trading terminal and a list of 220+ tradeable crypto tokens. Up to 1:5 leverage is available with stable rollover fees on spot crypto trading and up to 1:50 on futures. The exchange also supports crypto staking and has an interactive NFT marketplace.
Go to Kraken
BitMEX Comparison Table
Compare BitMEX With Similar Brokers
BitMEX
IG Group
Interactive Brokers
Kraken
Rating
3.2
4.4
4.3
3.9
Markets
Crypto
CFDs, Forex, Stocks, Indices, Commodities, ETFs, Futures, Options, Crypto, Spread Betting
Forex, Stocks, Commodities, Crypto
Cryptos
Demo Account
Yes
Yes
Yes
Yes
Minimum Deposit
$0.01
$0
$0
$10
Minimum Trade
Variable
0.01 Lots
$100
Variable
Regulators
Republic of Seychelles
FCA, ASIC, NFA, CFTC, DFSA, BaFin, MAS, FSCA
SEC, FCA, IIROC, SFC
FCA, FinCEN, FINTRAC, AUSTRAC, FSA
Bonus
Fee reduction for BMEX token holders
–
–
Lower fees when trading volume exceeds $50,000 in 30 days
Education
Yes
Yes
No
Yes
Platforms
AlgoTrader, TradingView
MT4, AutoChartist, TradingCentral
AlgoTrader, OmniTrader, eSignal, TradingCentral
AlgoTrader
Leverage
–
1:30 (Retail), 1:250 (Pro)
1:50
–
Payment Methods
2
6
11
6
Visit
–
Visit
Visit
Visit
Review
–
IG Group
Review
Interactive Brokers
Review
Kraken
Review
Compare Trading Instruments
Compare the markets and instruments offered by BitMEX and its competitors. Please note, some markets may only be available via CFDs or other derivatives.
Compare BitMEX Trading Instruments

| | BitMEX | IG Group | Interactive Brokers | Kraken |
| --- | --- | --- | --- | --- |
| CFD | No | Yes | Yes | No |
| Forex | No | Yes | Yes | No |
| Stocks | No | Yes | Yes | No |
| Commodities | No | Yes | Yes | No |
| Oil | No | Yes | No | No |
| Gold | No | Yes | Yes | No |
| Copper | No | Yes | No | No |
| Silver | No | Yes | No | No |
| Corn | No | No | No | No |
| Crypto | Yes | Yes | Yes | Yes |
| Futures | Yes | Yes | Yes | Yes |
| Options | No | Yes | Yes | No |
| ETFs | No | Yes | No | No |
| Bonds | No | Yes | Yes | No |
| Warrants | No | Yes | Yes | No |
| Spreadbetting | No | Yes | No | No |
| Volatility Index | No | Yes | No | No |
BitMEX vs Other Brokers
Compare BitMEX with any other broker by selecting the other broker below.
The most popular BitMEX comparisons:
Customer Reviews
There are no customer reviews of BitMEX yet, will you be the first to help fellow traders decide if they should trade with BitMEX or not?
Visit
BitMEX is a crypto exchange and derivatives trading platform, launched in 2014, that offers low fees and starting deposit for a fiat–crypto onramp, spot trading, and crypto derivatives including perpetual contracts, traditional futures and quanto futures. BitMEX offers amongst the largest market liquidity of any cryptocurrency exchange.