Binance Review 2023
Binance is being sued by the SEC for a range of securities violations, including the commingling of client funds and 'wash trading' against its customers to artificially increase crypto prices. Your funds may be at risk if you trade with Binance. We do not recommend making any deposits.
Please see the
list of similar brokers
or the
Best Brokers List
for alternatives.


Available in United States
Binance will appeal to crypto investors looking to trade big tokens like Bitcoin plus niche coins with low fees. However, regulatory action and questionable handling of customer funds makes this firm too high-risk in our opinion.
- Daytrading Review Team
Binance is one of the best-known crypto exchanges. The company is available in more than 180 countries with over 120 million registered customers. The platform offers a suite of crypto trading products, from staking and NFTs to derivatives.
$0
AlgoTrader
Cryptos
-
UAH
Bitcoin Payments, Wire Transfer, Credit Card, Visa, Mastercard
and
15 more
Crypto Trading
Binance is one of the world's leading crypto exchanges. There is a vast range of products available including Binance Pool, Staking and an NFT Marketplace.
✓ Pros
Over 350 crypto tokens are available with big names like Bitcoin and Ethereum
Crypto derivatives are offered including options and futures
Trade popular cryptos with high leverage up to 1:125
Binance Academy is a great resource for beginners
The account opening process is straightforward
There are no fees on fiat and crypto deposits
24/7 support is available via live chat
✗ Cons
No contact support number
Some regulatory investigations
The crypto exchange has been hacked
Binance is a leading cryptocurrency exchange that offers trading on the likes of Bitcoin. Our review looks at the login procedure, fees, API offering, and its decentralised exchange service (DEX). We'll also unpack the range of Binance markets, from crypto futures and options to leveraged tokens.
What Is Binance?
Customers buy, sell and manage crypto assets for investment on the Binance exchange. The secure online platform offers multiple crypto trading products while holding licenses with several regulatory agencies. The firm has an average daily trading volume of over $2 billion and its owner – Changpeng Zhao, has a personal net worth of more than $2 billion.
Access
The company's services are available in many jurisdictions including in the UK, Uganda, Nigeria, and the US. Binance Europe Services Limited is based in Malta and serves as the organisation's headquarters.
Binance Markets Limited is the trading name of the UK operation which follows regulations from the Financial Conduct Authority (FCA) and has an office address in London. Potential UK customers should note that individuals dealing in crypto assets may be subject to income and capital gains tax.
The firm recently announced the closure of its local branch, Binance Jersey (Binance.je), as its services are now available with the global entity. Customers with this branch should sign in with their login credentials to withdraw any funds from their accounts before the website is shutdown.
Markets & Derivatives
The spot offering encompasses the following markets, which amounts to over 150 different coins:
BTC – Bitcoin
ETFs – All traded against Tether, USDT
Alts – Cryptocurrencies other than Bitcoin
BNB – Binance coin, the firm's own cryptocurrency
Fiat – Government-backed currencies such as the Euro
The spot market also includes leveraged tokens. These instruments represent a number of perpetual contract positions, with variable leverage between 1:1.25 and 1:4.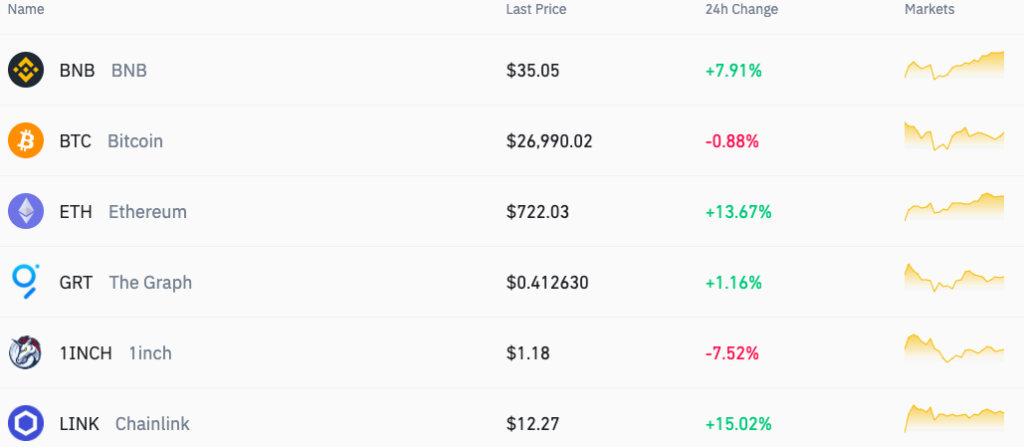 The futures markets available are:
USDT-margined – perpetual futures, e.g. XRP/USDT
USD Coin-margined – perpetual and quarterly futures, e.g. BTCUSD Quaterly1225
The firm also offers options, which follows the Binance Futures BTCUSDT perpetual contract asset.
Clients can navigate the cryptocurrencies offered using the Zones group. This listing contains all currencies offered by the firm, including Monero, Neo, and XRP. Quant and Nano do not appear to be available at Binance, however new coins/crypto listings are announced regularly. The Zones group also contains the Innovation Zone, which allows customers to trade new and potentially higher risk tokens, and DeFi (decentralised finance) listings like Sushi Swap.
Trading
Customers can improve their strategies by using historical trading data on futures, which is available upon application. Clients should also be aware of the funding rate for futures, which is determined using the premium (the variation between a perpetual contract price and its mark price) and the interest rate. The concept of open interest, which quantifies the number of open positions held by clients, may also be of use to new traders as it can convey market sentiment.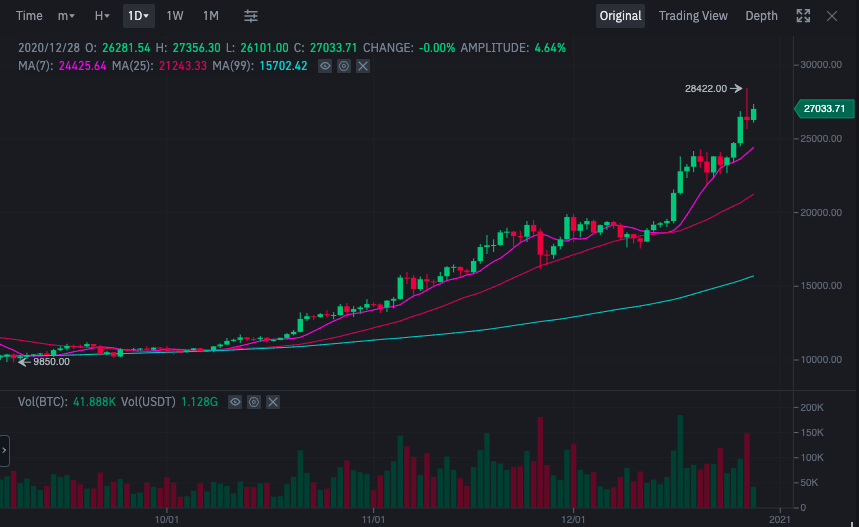 Binance maintains an insurance fund for futures which pools the collateral from trader fees to cover bankrupt clients' positions. It also runs a Futures Leaderboard, which displays the performance of the top 500 traders based on daily ROI.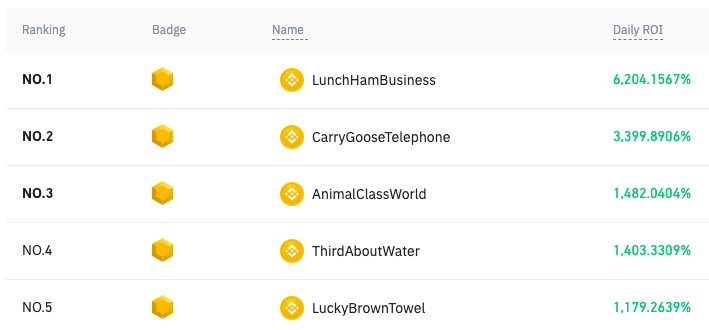 Binance offers five ways to trade crypto assets unlike many traditional brokers:
Convert & OTC Desk
As the most basic trading method, the 'Convert' feature enables clients to convert one coin type into another, based on a real-time exchange rate. The website also recently added an over-the-counter (OTC) trading desk, which allows users to exchange larger quantities of cryptocurrencies in one transaction with settlement directly into a chosen Binance account.
Classic & Advanced
These trading interfaces give users access to data that will inform their order strategy. The Classic platform contains less technical information and may be more suited to beginners, whereas the Advanced view includes a wealth of market data and price charts.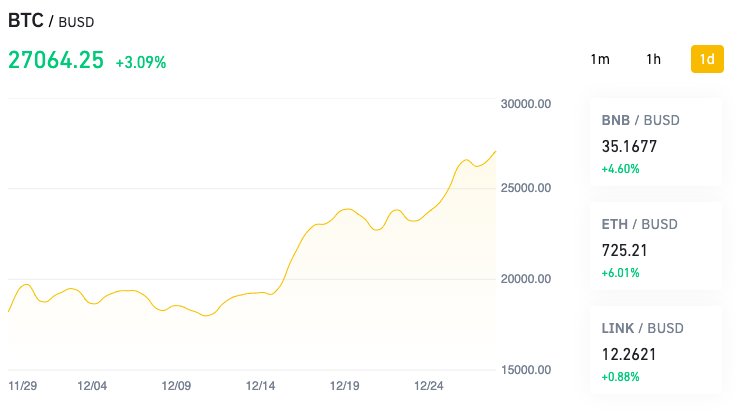 Margin
Clients can trade with up to 1:125 leverage. Customers can calculate initial margin, profit, and loss using the P&L (or PnL) analysis tab provided on the Futures calculator. Traders may also use the Isolated Margin mode, a feature that allocates only a percentage of the users' total margin balance to a single position to modulate risk.
P2P
Binance offers a supporting escrow service for its fee-free peer-to-peer (P2P) trading market. Traders place orders to buy or sell crypto in local currency, and the exchange holds the asset until payment has been delivered and both parties finalise the deal.
A wide range of payment methods are available on this platform, including PayPal and Western Union.
Order Information
Binance offers several order types: limit order, stop-limit order, market order, stop-market order, and trailing-stop order. Limit orders are placed on the order book and are not executed until the limit price is reached. Customers can view up to three months of trade history using the Orders tab.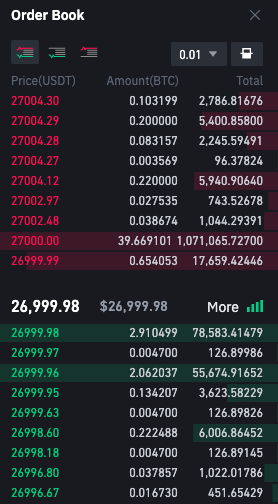 Finance
Binance Earn
This set of financial products is similar to a savings account and is not related to trading. It includes products like Flexible Savings, where customers can earn interest on deposited funds, and Dual Savings, in which clients can get greater returns if the value of funds increases over time.
Binance offers staking, which entails keeping cryptocurrency (specifically Proof of Stake coins) in the appropriate wallet for a certain period of time to gain rewards. The firm recently added Ethereum 2.0 staking to its portfolio and supports yield farming.
The company also hosts Launchpool, which allows clients to farm new token rewards in exchange for tokens like BNB.
Other Financial Services
Binance Pool – Supplies mining services, with an emphasis on Proof of Work and Proof of Stake
Binance Visa Card – Available to customers in select countries, including the UK, and works similarly to a debit card but utilising crypto funds
Crypto Loans – Clients can apply for loans using their crypto assets as collateral, with loan terms from 7 to 90 days
Liquid Swap – A liquidity pool that traders can either contribute to or use to swap two tokens/fiat assets
Binance Fees
A client's 30-day exchange trading volume and BNB balance determine their VIP level. Fees are reduced as the VIP level increases, and begin at a maximum of 0.1%. Fees are generally lower for "maker" trades (those that are placed on the order book) than "taker" trades. The company offers a discount when clients pay using BNB, which is currently 25% off trading fees and 10% off USDT-margined futures, but the rate varies.
Other fees include:
Margin fees – The daily interest rate for margin borrowing also reduces with VIP level and varies widely between currencies.
Futures fees – USDT-margined futures fees start from 0.04% and reach 0% for clients executing maker trades at VIP level 9. Quarterly and perpetual USD coin-margined futures also start at 0.04% but VIP level 5-9 clients enjoy a negative interest rate on maker trades.
Note with the referral program, clients who invite friends using their referral code can get rewards from completed trades in the form of commission or 'kickback'.
Deposits & Withdrawals
Binance offers an extensive range of coins/tokens for deposit and withdrawal, including GBP, BTC, and XRP. Fiat and crypto deposit fees are zero and there is no limit on the amount traders can add to their account.
For many fiat currencies, including GBP and Euro, the withdrawal fee and minimum limit are also zero. This is not the case for cryptocurrencies, and clients can expect to pay 0.0005 for BTC withdrawal, with a minimum limit of 0.001. Users should check the broker's Q&As for a walk-through on how to deposit and withdraw revenue, e.g. to a UK bank account.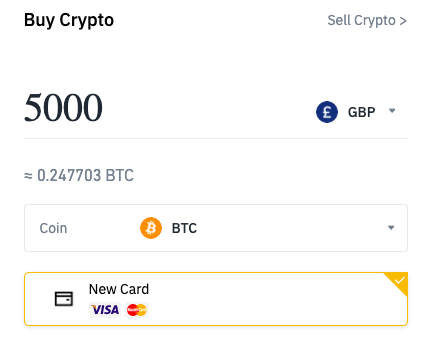 Binance also offers zero deposit fees to clients using the Faster Payments Bank Transfer service for buying crypto directly with local fiat currency, although a withdrawal fee of £1.50 is charged. The processing time for this transaction is quoted as a few minutes. Customers in the US and elsewhere can also purchase crypto using a credit card.
Binance Chain
Binance Chain is a blockchain software system for the trading of digital assets, which users can interact with via the Explorer function, and DEX is the decentralised exchange feature built on top of the Chain. The Smart Chain is a parallel blockchain that allows smart contracts to be created. Customers can choose either the Trust Wallet or Binance Chain wallet to safeguard their trading funds.
Binance regularly utilises the Testnet, a blockchain used by developers for testing. The company also offers a Futures Testnet specifically for paper trading, as a form of demo environment.
Binance API
Clients can use the API to automatically trade futures and other instruments via languages like Python. Users must create an API key on Binance, and can view all official documentation on Github. It is also possible to access historical data on cryptocurrencies using the API. Customers should note, however, that it is not possible even with this technology to use popular platforms like MetaTrader 4 (MT4) within the Binance transfer network.
Mobile App
The Binance app is available for iPhone and as an Android / APK file type either from the website or by scanning the QR code on the webpage. The desktop app for macOS, Windows, and Linux can also be downloaded directly from the firm's website.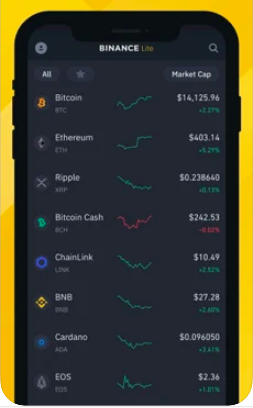 Additional Features
The broker operates other initiatives in addition to the crypto exchange:
Market Maker Program – Fee reductions and higher API limits for high liquidity providers
Academy – Educational resources and research on cryptocurrency and blockchain technology
Launchpad – Exclusive token launch platform
Industry Recovery Initiative – Binance has launched a co-investment opportunity to support web3 projects and companies. The firm pledged $1b in 2022 and is attracting funding from other brands and investors too. If succesful, the IRI could help rebuild trust in the industry following the FTX collapse.
Customer Support
For help with queries like how to delete an account or a forgotten password, clients can contact the Support Centre which is accessible 24/7. A contact phone number is not available but customers can submit a ticket request using an online form.
Binance publishes frequent announcement articles, runs an active blog, and maintains a YouTube channel with trading tutorial videos. The company can also be found on Twitter (@binance) and Telegram (@BinanceExchange) for up-to-date news and notifications.
Security
The exchange and broker uses the Google Authenticator security feature for login and withdrawals. This 2-factor authentication (2FA) process improves security but can be reset if clients get a new phone or if it's not working. Different verification tiers exist (Levels 1 and 2), where supplying more information allows customers to withdraw greater quantities from their Binance accounts. For other transactions, such as buying crypto directly with fiat currency, clients using Visa bank cards must also have 3D-secure validated.
Fund Safety
The Secure Asset Fund for Users (SAFU) is an emergency insurance fund that was established by Binance in July 2018 to protect clients' funds. When it was first established in 2018, Binance began allocating 10% of all trading fees to provide insurance for potential security breaches. Moving forward, Binance continues to monitor the size of the SAFU to ensure the size of the fund adequately protects clients' account balances.
In April 2019, Binance customers were victims of a major hack, which saw around $40 million worth of crypto assets stolen. The theft occurred within the organization's 'hot wallet', which at the time, was holding around 2% of total Bitcoin assets. Binance covered all losses thanks to their SAFU, though two-factor authentication codes and API tokens were also breached.
The Secure Asset Fund was valued at US$1 billion on January 29th 2022.
Proof Of Reserves
Following the collapse of FTX, Binance founder and CEO Changpeng Zhao tweeted that the crypto exchange would begin to issue "proof of reserves". A proof-of-reserve audit is typically conducted by an independent third party to ensure the custodian's assets are owned as claimed. This pledge, together with fund safety protocol, has the chance to reform the digital currency landscape, providing a new level of transparency.
December 2022 saw Binance publish the results of its Bitcoin proof of reserves. The audit, conducted by Mazars, confirmed that the crypto exchange had enough collateral at the time to cover potential losses in the event of default.
Binance has also stated that it will publish proof of reserves for other tokens.
How To Open A Binance Account
Clients can register on the website, then open an account after identity verification – this is part of the Know Your Customer (KYC) process. Personal account holders can also create a business account by applying with their corporate documents. The registration process is quick and easy, taking just a few minutes.
Binance vs Coinbase
Binance is often compared with other crypto exchanges like Coinbase Pro or Kraken. Binance certainly offers a wider range of assets for trading, though Coinbase may be the more established exchange. Kraken is considered to be a solution better suited to beginner traders.
Pros Of Trading With Binance
The popular exchange offers multiple benefits:
Five trading methods to suit experience level and strategy
Largest crypto exchange currently in operation
Expansive selection of coins and derivatives
API offering for automated trading
Cons Of Trading With Binance
The company was hacked in 2019 and its services have recently been under investigation as part of a money-laundering scandal. As a result, we do have some concerns around user security. Fortunately, customer reviews remain positive about the company and its trading services.
Final Word
Binance is a crypto asset exchange that offers a wide range of instruments and derivatives such as futures with low fees. Clients can utilise the API service in addition to Binance DEX, alongside other products such as the Flexible Savings crypto account. Binance has much to offer beginners and advanced traders, and many investors interested in crypto will be satisfied with the service.
Accepted Countries
Binance accepts traders from Australia, Thailand, Canada, United States, South Africa, Singapore, Hong Kong, India, France, Germany, Norway, Sweden, Italy, Denmark, United Arab Emirates, Saudi Arabia, Kuwait, Luxembourg, Qatar and most other countries.
Payment Methods
Binance Details
| | |
| --- | --- |
| Minimum Trade | $10 |
| Islamic Account | No |
| Mobile Apps | Yes |
| Margin Trading | Yes |
| Volatility Index | No |
| Spot Trading | Yes |
| Perpetual Swaps | Yes |
| ELWs | No |
| REITs | No |
| AI / Machine Learning | No |
| Robo Advisor | No |
| P2P Trading | Yes |
| Negative Balance Protection | No |
| VPS Hosting | No |
| Tournaments | No |
| Demo Competitions | No |
| Managed Accounts | No |
| Market Maker | No |
| Social Trading | No |
| Guaranteed Stop Loss | No |
Cryptocurrency Trading Details
Crypto Spread
Variable fees with account tiers
Crypto Lending

Yes

Crypto Staking

Yes

Crypto Mining

No

Crypto Auto Market Maker

No

Crypto Coins

ADA
ALGO
ATOM
BAND
BAT
BCH
BNB
BTC
BUSD
COMP
DAI
DASH
DOGE
EGLD
ENJ
EOS
ETC
ETH
FIL
HBAR
HNT
ICX
IOTA
KNC
LINK
LTC
MANA
MATIC
MKR
NANO
NEO
OMG
ONE
ONT
OXT
PAXG
QTUM
REP
RVN
SHIB
SOL
STORJ
THETA
UNI
USDC
USDT
VET
VTHO
WAVES
WBTC
XLM
XTZ
ZEC
ZEN
ZIL
ZRX
Top 3 Alternatives to Binance
Compare Binance with the top 3 similar brokers that accept traders from your location.
IG Group – IG is an award-winning broker that has an excellent reputation globally. The brand-US offers spread betting, CFD and forex trading across a comprehensive suite of markets. IG is also multi-regulated, provides a great trading app and has 50 years experience.
Go to IG Group
Kraken – Kraken is a leading cryptocurrency exchange with a proprietary trading terminal and a list of 220+ tradeable crypto tokens. Up to 1:5 leverage is available with stable rollover fees on spot crypto trading and up to 1:50 on futures. The exchange also supports crypto staking and has an interactive NFT marketplace.
Go to Kraken
CEX.IO – CEX.IO is one-stop-shop for crypto investors where you can buy and sell popular digital tokens, speculate on prices with margin trading and earn rewards through staking. Since it launched in 2013, more than five million traders have deposited over $7.5 billion. CEX.IO is registered with the FinCEN in the US and the GFSC in the EU.
Go to CEX.IO
Binance Comparison Table
Compare Binance With Similar Brokers
Binance
IG Group
Kraken
CEX.IO
Rating
3.5
4.4
3.9
3.7
Markets
Cryptos
CFDs, Forex, Stocks, Indices, Commodities, ETFs, Futures, Options, Crypto, Spread Betting
Cryptos
Crypto
Demo Account
No
Yes
Yes
No
Minimum Deposit
$0
$0
$10
$20
Minimum Trade
$10
0.01 Lots
Variable
$1
Regulators
–
FCA, ASIC, NFA, CFTC, DFSA, BaFin, MAS, FSCA
FCA, FinCEN, FINTRAC, AUSTRAC, FSA
GFSC
Bonus
–
–
Lower fees when trading volume exceeds $50,000 in 30 days
–
Education
No
Yes
Yes
Yes
Platforms
AlgoTrader
MT4, AutoChartist, TradingCentral
AlgoTrader
TradingView
Leverage
–
1:30 (Retail), 1:250 (Pro)
–
–
Payment Methods
20
6
6
12
Visit
Visit
Visit
Visit
Visit
Review
–
IG Group
Review
Kraken
Review
CEX.IO
Review
Compare Trading Instruments
Compare the markets and instruments offered by Binance and its competitors. Please note, some markets may only be available via CFDs or other derivatives.
Compare Binance Trading Instruments

| | Binance | IG Group | Kraken | CEX.IO |
| --- | --- | --- | --- | --- |
| CFD | No | Yes | No | No |
| Forex | No | Yes | No | No |
| Stocks | No | Yes | No | No |
| Commodities | No | Yes | No | No |
| Oil | No | Yes | No | No |
| Gold | No | Yes | No | No |
| Copper | No | Yes | No | No |
| Silver | No | Yes | No | No |
| Corn | No | No | No | No |
| Crypto | Yes | Yes | Yes | Yes |
| Futures | No | Yes | Yes | No |
| Options | No | Yes | No | No |
| ETFs | No | Yes | No | No |
| Bonds | No | Yes | No | No |
| Warrants | No | Yes | No | No |
| Spreadbetting | No | Yes | No | No |
| Volatility Index | No | Yes | No | No |
Binance vs Other Brokers
Compare Binance with any other broker by selecting the other broker below.
Customer Reviews
There are no customer reviews of Binance yet, will you be the first to help fellow traders decide if they should trade with Binance or not?
Visit
Binance is one of the best-known crypto exchanges. The company is available in more than 180 countries with over 120 million registered customers. The platform offers a suite of crypto trading products, from staking and NFTs to derivatives.
FAQ
Is Binance a wallet?
Binance is an exchange for crypto assets. The exchange supports two wallets for holding cryptocurrency – Trust Wallet and Binance Chain wallet.
How do I deposit on Binance?
From the customer profile page, select Deposit and then pick a coin to deposit – clients can choose from over 150 cryptocurrencies.
How do I create an API?
Users should navigate to API Management after login, create an API key (i.e. name) and then perform secondary verification by phone or email. The key must be stored securely to prevent unauthorised access.
How can I buy cryptocurrency with Binance P2P?
Registered clients can click P2P under the Trade tab on the Binance homepage. Check 'Buy' is selected on the top ribbon, and choose the currency of interest then input the desired amount (in fiat or crypto).
How do I start leveraged trading on Binance?
Customers should launch the trading interface and choose either Isolated or Cross Margin mode to open a margin account. After transferring collateral to the margin wallet, borrowing can be calculated automatically and repayment can be performed by selling assets.