The Monetary Authority of Singapore (MAS) is responsible for the regulation of all central banks and financial services providers in Singapore. Alongside implementing rules and regulations for brokers to adhere to, the MAS has several other functions including the FinTech and Innovation group, anti-money laundering and establishing monetary policy. Crucially, the Monetary Authority of Singapore also allows potential traders to conduct an entity search via the public register, ensuring safety and transparency within the financial markets.
This 2023 review will look at its history and structure, as well as the objectives of the Monetary Authority of Singapore. We've also listed the best MAS brokers below.
MAS Brokers
IG-US offer spread betting, CFD and Forex trading across a range of markets. They are FCA regulated, boast a great trading app and have over 47 year track record of excellence.

Forex trading involves risk. Losses can exceed deposits

Instruments

Forex, ETFs, CFDs, indices, shares, commodities, cryptocurrencies, options, futures, spread betting

Regulator

FCA, ASIC, MAS, FSCA, JFSA, FMA, CFTC, NFA, BMA, DFSA, FINMA, BaFin

Platforms

MT4

Min. Deposit

£250

Min. Trade

0.1 lots

Leverage

1:30

Moomoo is an app-based stock broker that offers trading in US, Hong Kong and Chinese shares. Clients can get started with a sign-up bonus and $0 minimum deposit.

Instruments

Stocks, Options, ETFs, ADRs, OTCs

Regulator

SEC, FINRA, MAS

Platforms

Own

Min. Deposit

$0

Min. Trade

No minimum

Leverage

-

Gemini is a leading crypto trading exchange with low fees and 100+ cryptocurrency and altcoins.

Instruments

Cryptos

Regulator

NYDFS, MAS, FCA

Platforms

AlgoTrader

Min. Deposit

$0

Min. Trade

0.00001 BTC

Leverage

-
What Is The Monetary Authority of Singapore?
The Monetary Authority of Singapore (MAS) is the financial regulatory authority of Singapore. It deals with activities pertaining to banking, insurance, securities, money and the overall financial sector. In addition to this, it controls currency issuance and control of foreign exchange rates for USD to SGD exchanges.
The address of its headquarters is at 10 Shenton Way, MAS Building, Singapore. It also has locations around the world, including an office in London and an office in New York.
According to its website, the mission and vision of the MAS are to "promote sustained and non-inflationary economic growth, and a sound and progressive financial services sector". To achieve this, the MAS develops strategic plans and aims to:
Conduct exchange rate policy
Manage official foreign reserves
Regulate and supervise the financial sector
Work with the industry to develop Singapore as an international financial centre
The MAS has also managed and administered a series of measures to help achieve its mission, including:
The Currency Act and legal tender in Singapore
Dispute resolution schemes regulations (2007)
Anti-terrorism measures regulations (2002)
Payment services act (2019)
The Monetary Authority of Singapore has created a set of objectives and desired outcomes:
Stable financial system
Safe and sound intermediaries
Safe and efficient infrastructure
Fair, efficient and transparent markets
Well-informed and empowered customers
Transparent and fair-dealing intermediaries
History
The Monetary Authority of Singapore was established in 1971. Before this, all monetary functions were conducted by government departments, mainly the Board of Commissioners and Currency. In 1970, Singapore's parliament passed the Monetary Authority of Singapore Act which led to the establishment of the MAS on January 1st, 1971. This was in response to an increasingly complex monetary environment. The act gave the MAS the power to regulate all aspects of finance in Singapore.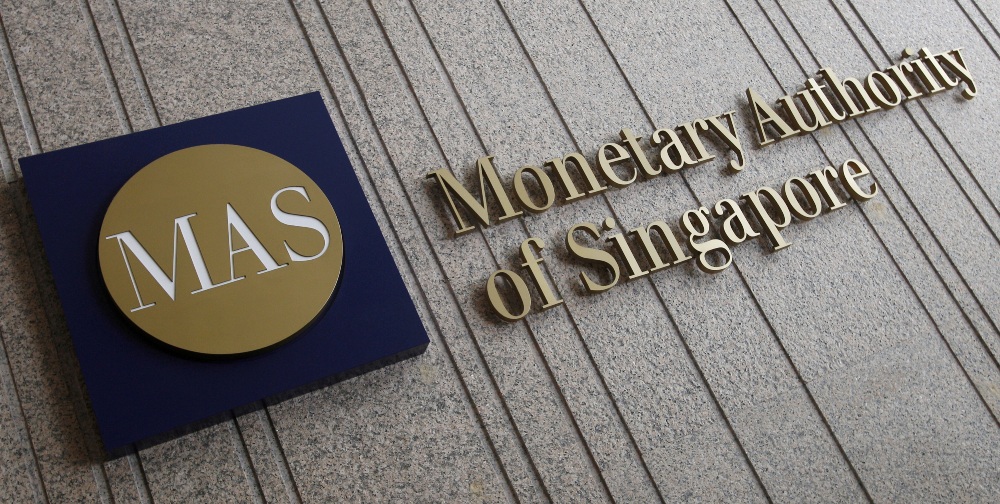 As Singapore and other countries struggled with the Covid-19 pandemic in 2020, the MAS brought forward its twice-yearly meeting, eased the Singapore dollar's appreciation and interest rate to zero per cent and moved the policy band downwards. This was the first such move since the global financial crisis.
Structure
The Monetary Authority of Singapore's organisational chart can be found on its website. MAS's day-to-day head is its managing director, Mr Ravi Menon, who is effectively the CEO. He sits atop of the hierarchy, and beneath him is Keith Chnioh and a management team who deal with specific aspects of the MAS.
This includes head of corporate development – Jacqueline Loh, international development head – Andrew Khoo, and head of cyber security and hygiene – Tan Yeow Seng. Team members deal with anything from press releases and news events, to writing the latest prospectus.
The Monetary Authority of Singapore has had a number of notable employees who have had successful careers. These include names such as Chua Kim Leng, Valerie Tay and Lee Yuan Siong.
Responsibilities & Powers
The Monetary Authority of Singapore has many responsibilities, including:
Guidelines & Rules
To provide a safe financial environment both for customers and for financial service providers, the MAS issues guidelines on a variety of subjects, such as individual accountability and conduct, environmental risk management, business continuity management, ESG, technology risk management and outsourcing guidelines.
Public Information
As a government body, the Monetary Authority of Singapore is required to release information to the public. This includes financial statements, such as annual (and quarterly) reports, balance sheets and financial stability reports. It releases reports on its assets under management (AUM), including net profit. It also provides an investor alert list to warn customers of unregulated persons, such as Jardin Smith.
In the same vein, the Monetary Authority of Singapore provides a register of all licensed representatives. The public can conduct an entity license search to check which trading brokers and institutions are regulated by the MAS.
Licensing
Legitimate and trusted online brokers will always aim to become licensed by the Monetary Authority of Singapore. Brokers from Singapore, Myanmar, Hong Kong and all over the world aim to receive a license from MAS, as it allows customers to put a level of trust in the brand. There is a financial institution directory listing all financial service providers that hold licenses, such as Tiger Brokers.
Monetary Policy
The Monetary Authority of Singapore has a series of powers relating to monetary policy, including the ability to implement quantitative easing measures and to ensure sustainable non-inflationary economic growth. It also sets the exchange rate, conducts operational risk and resilience checks, as well as enterprise-wide risk assessments.
Sanctions
When it comes to sanctioning parties that have broken the rules and regulations, there are many things the MAS can do:
Targeted financial sanctions
Supervisory reminders
Prohibition orders
Civil penalties
Reprimands
Warnings
For those wishing to contact the Monetary Authority of Singapore for any support or advice, the helpdesk is available Monday to Fridays between 8:30 am to 6.00 pm, via telephone or email.
FinTech
The Monetary Authority of Singapore's FinTech regulatory sandbox enables financial institutions to experiment with innovative financial products or services. The MAS provides regulatory support by relaxing specific legal and regulatory requirements for the duration of the sandbox. Upon completion and successful experimentation, the sandbox entity must fully comply with the relevant legal and regulatory requirements.
Cryptocurrency
The Monetary Authority of Singapore has seen the potential of digital and virtual currency, or cryptocurrency and the blockchain. The world is going through a digital transformation which the MAS recognises. It aims to cement itself as a key player for crypto-related businesses and has developed strong regulations for firms to operate.
This has attracted crypto firms like Binance who are now in partnership with the Monetary Authority of Singapore in facilitating the trading of Bitcoin and other cryptos coins. Project Ubin is another collaborative project that the MAS is involved in which aims to explore the use of blockchain and distributed ledger technology for clearing and settlement of payments, for example, PayPal payments.
Environmental Concerns
The Monetary Authority of Singapore believes in sustainable and green trade finance. As the effects of climate change grip the planet, the MAS is incorporating environmental, social and governance (ESG) factors into its financing decisions. It wants to promote sustainable finance within the sector and encourages institutions to consider ESG criteria in their decision making.
Final Thoughts On The MAS
The Monetary Authority of Singapore is responsible for overseeing and supervising all aspects of Singapore's financial sector, from the central bank to trading brokers and insurance providers.
The MAS sets out tough guidelines that all financial services providers must meet to ensure the market is fair and safe. With other initiatives such as the FinTech and Innovation sandbox, ESG guidelines and cryptocurrency projects, it's no wonder that the MAS continues to promote Singapore as a robust financial centre.
Before you sign up to a broker, it would be wise to ensure that they hold a license by conducting an entity search on the Monetary Authority of Singapore's public register. Alternatively, check out our list of MAS brokers today.
FAQ
What Does The Monetary Authority Of Singapore Do?
The MAS is the central bank and financial regulatory authority of Singapore. It covers anything relating to banking, money, insurance, securities and the wider financial sector.
Who Owns The Monetary Authority Of Singapore?
In terms of ownership, the MAS is a government body. It operates as a government agency and is not owned by a private party.
The Monetary Authority Of Singapore Is Under Which Ministry?
The MAS is governed by a board of directors and supported by its management team. It is chaired by Singapore's Minister for Finance.
Does The Monetary Authority Of Singapore Regulate Forex Brokers?
Yes, the MAS regulates forex brokers. It regulates any financial services provider operating in Singapore. Traders signing up to a broker in Singapore should always ensure that they are licensed by the Monetary Authority of Singapore.
What Preceded The Monetary Authority Of Singapore?
There was no official body prior to the MAS. Before 1971, government departments and agencies regulated the financial sector.