Kucoin Review 2023


United States not accepted.
See the Top 3 Alternatives in your location.
Users who want to make automated crypto trades on a wide range of digital currencies should Kucoin. The brand is also good for crypto staking and mining.
- Daytrading Review Team
Kucoin is a crypto exchange that offers trading on 1000+ tokens as well as leveraged trading opportunities via futures and perpetual swaps. This exchange has a slick trading platform that supports robots, allowing traders to implement automated strategies. Other attractive features include a demo account, flexible funding methods and DeFi features like staking and mining.
$0
Own
Crypto, Futures
Welcome bonus up to 500 USDT
USD, EUR, GBP, BRL
Wire Transfer, Credit Card, Debit Card, Neteller, PayPal
and
5 more
Crypto Trading
With well over 1000 crypto assets available, Kucoin offers a great degree of flexibility. It is excellent to see an extensive range of tokens, as this allows traders to search for lesser-known tokens with a high upside. The crypto futures and perpetual swaps are also good additions to the roster, tradeable with 1:10 leverage.
Copy Trading
Kucoin offers copy trading via automated bots with low fees and instant deposits. The service will appeal to beginners new to crypto trading. Users can choose a suitable trader in the marketplace and select 'copy' to start mirroring positions.
✓ Pros
Wide list of tokens with 1000+ cryptos including many low-market-cap tokens
Good range of DeFi products as well as Web3 features including an NFT marketplace
Well-known and reputable in the crypto world
Leverage available via crypto derivatives
Possibility to earn interest on crypto by staking
Good customer service
Low trading fees
✗ Cons
Like many crypto firms, Kucoin is unregulated
Crypto exchanges are often riskier than trading through a crypto broker
The proprietary platform can feel complex compared to better-known terminals
Limited educational resources
Fiat withdrawals are not possible
KuCoin is a well-known cryptocurrency exchange providing a variety of services to buy and trade digital coins and tokens. The global platform provides services to customers around the world in countries such as the UK, Japan and Iran. This KuCoin review covers topics including deposit and withdrawal fees, leverage, lending programmes, trading bots, the mobile app and login process.
Kucoin Headlines
KuCoin (KCC) is a cryptocurrency exchange launched in August 2017, though the founding team have been working with blockchain technology since 2011. With headquarters in Seychelles, the parent company is Mek Global Limited and Johnny Lyu is the current CEO.
Like many crypto exchanges, KuCoin is not regulated by the UK's Financial Conduct Authority (FCA) or any regulatory body. Over 8 million users are registered across a staggering 207 countries and regions, though customers in the US, amongst others, cannot trade on the platform.
KuCoin raised funds through an ICO (new coin listing). Its native token, KuCoin Shares (KCS), was sold raising nearly 20,000,000 USD worth of Bitcoin (BTC). The value of one KCS token was 0.000055 BTC at the time of listing.
Platform
The KuCoin trading platform is user-friendly and easy to pick up, powered by an Application Programming Interface (API) key. Its efficient engine can handle millions of transactions per second, rivalling competitors like Binance, Kraken and Coinbase. However, the platform is only available as a web trader, meaning it cannot be downloaded as a desktop app for Windows or Mac.
Executing orders and viewing order history is straightforward using the platform, and a range of TradingView charts allow for in-depth market analysis. Additional features include the option to set up alerts for upcoming listings, and risk management strategies such as stop-loss limits in orders.
The platform displays the price of different coins listed clearly, leaving no reason to visit sites such as CoinMarketCap and CoinGecko.
Tokens
KuCoin supports more than 200 cryptocurrencies. These can be traded in a variety of ways, including spot trading, margin trading and futures trading. There is also a peer-to-peer (P2P) marketplace for users who want to pick who to trade with, as well as an instant exchange.
Some of the cryptocurrencies available on the online platform include:
XDC Network (XDC)
Binance Coin (BNB)
DigitalBits (XDB)
Bitcoin (BTC)
Zort Coin (ZORT)
Ethereum (ETH)
Cardano (ADA)
Monero (XMR)
Qredo (QRDO)
1Inch (1INCH)
Ripple (XRP)
Zilliqa (ZIL)
XYO (XYO)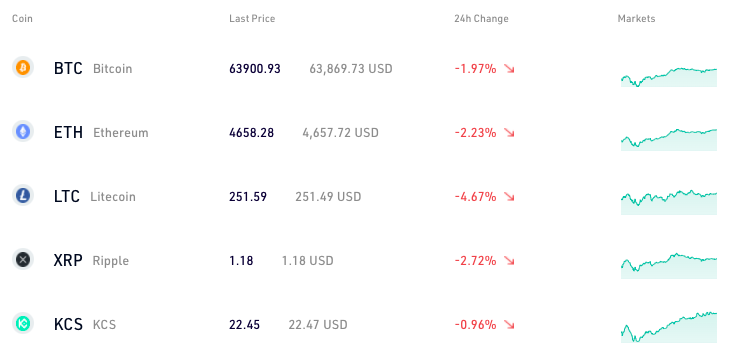 Fees
As a cryptocurrency exchange, fees are slightly different on KuCoin compared to standard trading brokers. The company does not charge spreads or commission; instead it takes money from maker and taker fees. A maker is someone who lists a trade, while a taker selects a pre-listed trade.
Trading fees are discounted on KuCoin depending on KCS holdings and 30-day trading volume (not 24-hour trading volume). Fees can be further reduced by using KCS pay. Example trading fees for holdings are listed below.
With no holdings, the maker and taker fees are both 0.1%
For holdings over 10,000 KCS or over 200 trading volume, the maker/taker fees are 0.07%/0.09%
For holdings over 30,000 KCS or over 1,000 trading volume, the maker/taker fees are 0.03%/0.07%
For holdings over 70,000 KCS or over 15,000 trading volume, there are zero fees
On KuCoin, futures fees are slightly different. The maker fee is 0.02% while the taker fee is 0.06%. There is also a 0.025% settlement fee after the contract is settled. There is the opportunity to reduce these fees depending on KCS holdings and trading volume.
The platform's fees are around the market average and level with competitors.
Leverage
Leveraged or margin trading is available on KuCoin for 36 USDT, BTC and ETH denominated market pairs. These pairs include crypto tokens like Bitcoin, Ethereum, Litecoin, Ripple and Cardano. KuCoin offers up to 10x leverage on their network. This means that traders can put down £100 and trade with £1000. Though leverage can increase winnings, caution must be taken as any losses will be multiplied too.
Mobile App
KuCoin has a mobile app available on Android and iOS. The app is fully featured with all analysis charts and tools. It is free to download from the Google Play Store and App Store. Users can easily open and close trades through the app as well as view their current portfolio and order history.
The application supports two-factor authentication (2FA) during the login process via a verification QR code.
Payment Methods
Users can make deposits to KuCoin either in one of the base cryptocurrencies (Bitcoin, Ethereum and Tether) or using fiat currency. There is no minimum deposit. Fiat deposits can be made in USD, EUR, GBP or over 20 other currencies. In this case, users directly purchase one of the base cryptocurrencies with their fiat currency.
Deposits in most cases are near-instant apart from bank transfers which take up to 2 days. Different payment methods give different rates, with fees anywhere from 1% to 3%. The available payment methods used to make deposits include:
Bank transfer (wire transfer)
Credit/debit card
E-wallet transfer
Google Pay
Apple Pay
WeChat
PayPal
Alipay
On KuCoin withdrawals can be made to different cryptocurrencies. Users cannot withdraw to fiat currencies like GBP or to bank accounts. There is no withdrawal limit for any crypto but the minimum withdrawal varies, as well as the fee. For example, the Tether (USDT) withdrawal fee is 1 USDT, and the minimum withdrawal is 1 USDT. Typically, withdrawals are processed within 24-hours.
The cryptos that withdrawals can be made to include:
Ethereum (ETH) – 0.004 ETH fee, 0.01 ETH min
Bitcoin (BTC) – 0.0005 BTC fee, 0.001 BTC min
Ripple (XRP) – 0.1 XRP fee, 20.1 XRP min
Tether (USDT) – 1 USDT fee, 1 USDT min
Cardano (ADA) – 1 ADA fee, 2 ADA min
In many countries including the UK, no KYC identity verification is required by KuCoin to trade and withdraw funds.
Demo Account
KuCoin offers a demo account for those who are new to trading. Users can conduct unlimited investing through the demo account, to familiarise themselves with the platform and how the market works. The demo account is a great place to practise strategies and test price predictions before jumping to a live account.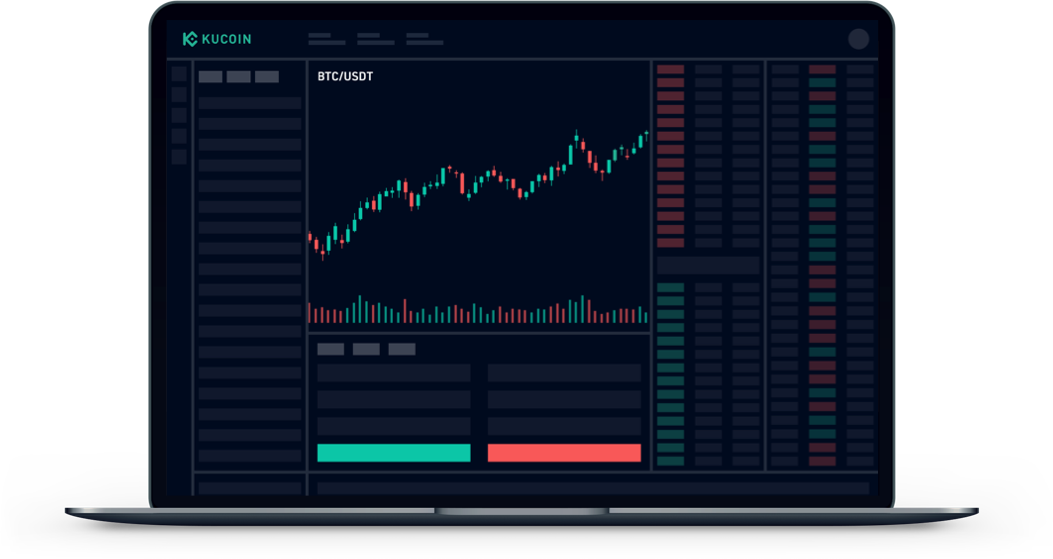 Bonuses & Promotions
KuCoin runs a bonus promotion program. With this, users who hold at least 6 KCS receive daily rewards and mysterious gifts. This also earns a 20% discount from trading fees. Check the website to learn about any current joining promotions, including the 500 USDT sign-up deposit bonus.
Regulation
KuCoin is not regulated by any regulatory body or country. While this can be viewed as a red flag, it is commonplace among crypto exchanges and currencies that strive to emulate Satoshi Nakamoto's decentralized vision for Bitcoin and crypto. Still, caution should be taken when trading with KuCoin, as the lack of regulation means that in the event of hacks, funds may not be refunded.
Additional Features
KuCoin has a trading bot section. In this, traders can input their desired strategies, invest funds and start earning through automated trading. Ready-made bots have been developed by 3Commas for users. These bots can be used on the web trader as well as through the mobile app.
Additionally, the KuCoin website features a news section where users can learn about upcoming ICOs and events with the DeFi world.
KuCoin runs a lending program where customers can lend out cryptos to earn interest, essentially staking their digital currency holdings. This provides traders with the opportunity to earn passive income, but the volatility of crypto means this can also be a risky strategy.
Account Types
Customers can open five account types, each of which are suited to different styles of trading. All accounts are logged into with a single account ID and password.
Main Account
The main account is used for the storage, withdrawal and depositing of funds. No trading takes place through this account. It also deals with KCS pay fees.
Trading Account
The trading account is used for spot trading. Users who want to make spot trades must deposit tokens from their main account to their trading account.
Margin Account
This account, as the name suggests, is used for margin trading. Users who want to trade with leverage must deposit tokens to this account.
Futures Account
This account is where all futures trading occurs. Clients who want to trade derivatives will need to deposit tokens to this account.
Pool-X Account
This KuCoin account is used for staking and soft staking. Users can deposit funds to this account if they want to participate in yield farming.
Opening Hours
Unlike traditional brokers who operate during regular exchange hours, KuCoin does not have set hours. As cryptocurrencies are not traded on a particular market, they are available 24/7.
Customer Support
Customer service and support are prioritised. Whether a deposit is not showing, 2FA is not working, you have lost the code or forgotten your trading password, KuCoin's Zendesk provides online support available 24/7. Customers can visit the help centre or contact the team via the following methods:
Live chat
Mobile app support
Email: tech-support@kucoin.com
For less urgent queries, KuCoin can be contacted on a variety of social media platforms:
Facebook
Telegram
Twitter
Security
Clients have the option of setting up two-factor authentication (2FA) when signing into their live account. This can be done via Google Authenticator, adding an extra layer of security to the account.
KuCoin also has a form of negative balance protection ensuring that users cannot lose more than they have in their account when margin trading.
Additionally, accounts can be opened without KYC limits, using only an email. This means additional personal information does not need to be submitted.
Proof Of Reserves
Following the collapse of FTX in November 2022, KuCoin announced that Merkle-tree proof of reserves will be published by the end of the year. The exchange said that they are working closely with third-party auditors to verify the accuracy of the figures and information circulated to users, to build confidence and transparency in the cryptocurrency industry.
KuCoin also stated that it will always guarantee 1:1 withdrawals.
Fund Safety
In April 2020, KuCoin finalized a partnership with Onchain Custodian, a crypto asset custody firm based in Singapore. The company provides a custody facility to hold KuCoin assets. Reassuringly, custodial funds are also backed by Lockton, the world's largest private insurance brokerage. Onchain Custodian's regular audit system and the insurance company provide an additional layer of protection for KuCoin users.
Note, the exchange was a victim of a hacking incident in 2020. Hackers stole more than $275 million worth of crypto assets, but Kucoin covered 100% of user funds and made all repayments.
Kucoin Verdict
KuCoin is a highly-rated crypto exchange that provides all aspects of crypto trading in a single location. Customers have access to a wide range of digital currencies that they can store, buy and sell. Trading is possible using a variety of mechanisms including spot trading, margin trading and futures trading, making KuCoin a great option for keen traders.
FAQs
Is KuCoin A DEX?
KuCoin is a mixture of a centralized and decentralized exchange. In the future, it plans to transition to a fully decentralized exchange.
Is KuCoin A Good Investment?
KuCoin may be a good investment for those trading on the exchange, as holding KCS earns discounts on fees.
Is KuCoin A Wallet?
KuCoin acts as a wallet-exchange hybrid. Users can store cryptocurrencies as well as buy and trade them.
KuCoin Is It Safe?
KuCoin is not regulated, so caution must be taken when trading on the exchange. However, the broker holds positive reviews on Reddit, YouTube and TrustPilot.
Where Is KuCoin Regulated?
KuCoin is not regulated by any licensing agency. This is common for crypto exchanges but caution must still be taken when trading.
How Does KuCoin Compare Vs Binance?
KuCoin and Binance are comparable in many cases, including the assets offered and platforms available. However, for customers trading large volumes, KuCoin is a clear winner with more competitive fees at this level.
Accepted Countries
Kucoin accepts traders from Australia, Canada, United Kingdom, South Africa, Singapore, Hong Kong, India, France, Germany, Norway, Sweden, Italy, Denmark, United Arab Emirates, Saudi Arabia, Kuwait, Luxembourg, Qatar and most other countries.
Traders can not use Kucoin from China, Comoros, Seychelles, Syria, Thailand, United States, United States Outlying Islands, Cuba, Congo DR, Congo, Iran, Iraq, Liberia, Korea, Venezuela, Yemen, Zimbabwe, Cambodia, Laos, Tanzania, Serbia, Tunisia, Uganda, Mali, Afghanistan, Albania, Central African Republic, Somalia, Malawi, Mozambique, Kyrgyzstan, Bosnia And Herzegovina, Uzbekistan, Turkmenistan, Burundi, Sudan, Guinea, Macedonia, Libya, Ethiopia, Sri Lanka, Trinidad And Tobago, Barbados, Botswana, Ghana, Jamaica, , Pakistan, Nicaragua, Panama.
Payment Methods
Kucoin Details
| | |
| --- | --- |
| Minimum Trade | 0.0001 Lots |
| Islamic Account | No |
| Mobile Apps | Yes (iOS & Android) |
| Margin Trading | Yes |
| Volatility Index | No |
| Spot Trading | Yes |
| Perpetual Swaps | Yes |
| ELWs | No |
| REITs | No |
| AI / Machine Learning | No |
| Robo Advisor | No |
| P2P Trading | Yes |
| Negative Balance Protection | Yes |
| VPS Hosting | No |
| Tournaments | Yes |
| Demo Competitions | No |
| Managed Accounts | No |
| Market Maker | Yes |
| Auto Trading | Yes |
| Social Trading | Yes |
| Trade Signals | Yes |
| Guaranteed Stop Loss | No |
Cryptocurrency Trading Details
Crypto Spread
Variable
Crypto Lending

Yes

Crypto Staking

No

Crypto Mining

Yes

Crypto Auto Market Maker

No

Crypto Coins

ABBC
ADA
ALGO
ATA
ATOM
AVAX
BAND
BCH
BNB
BTC
CHR
COTI
CRO
CRPT
CTSI
CWAR
DAG
DERO
DFI
DOGE
DOT
EGLD
EOS
ETC
ETH
FET
FKX
FLOW
FTM
FXS
HBAR
HTR
ICP
IOTX
KCS
KDA
KLV
KSM
LINK
LRX
LTC
LUNA
MANA
MATIC
MTV
NEAR
OLT
OMG
ONE
OPCT
PPT
PRE
PYR
RNDR
SOUL
STX
TEL
TRAC
TRIAS
TRX
UOS
UTK
VET
VRA
WBTC
XDB
XDC
XHV
XLM
XMR
XPR
XRP
XTZ
XYO
ZCX
ZEC
Top 3 Alternatives to Kucoin
Compare Kucoin with the top 3 similar brokers that accept traders from your location.
IG Group – IG is an award-winning broker that has an excellent reputation globally. The brand-US offers spread betting, CFD and forex trading across a comprehensive suite of markets. IG is also multi-regulated, provides a great trading app and has 50 years experience.
Go to IG Group
Videforex – Videforex offers access to stock, index, crypto, forex and commodities markets via binary options and CFDs. The proprietary platform, mobile app and integrated copy trading are user-friendly and will suit new and casual traders, and the market analysis tools and trading contests provide good ways to improve your trading skills.
Go to Videforex
World Forex – World Forex is an offshore broker registered in St Vincent and the Grenadines, offering commission-free trading with a $1 minimum deposit and 1:1000 leverage. Digital contracts are also available, offering beginners a straightforward way to speculate on popular financial markets.
Go to World Forex
Kucoin Comparison Table
Compare Kucoin With Similar Brokers
Kucoin
IG Group
Videforex
World Forex
Rating
3.6
4.4
3.6
4
Markets
Crypto
CFDs, Forex, Stocks, Indices, Commodities, ETFs, Futures, Options, Crypto, Spread Betting
Binary Options, CFDs, Forex, Indices, Commodities, Crypto
Forex, CFD Stocks, Metals, Energies, Cryptos, Digital Contracts
Demo Account
Yes
Yes
Yes
Yes
Minimum Deposit
$0
$0
$250
$1
Minimum Trade
0.0001 Lots
0.01 Lots
$0.01
0.01 Lots
Regulators
–
FCA, ASIC, NFA, CFTC, DFSA, BaFin, MAS, FSCA
–
SVGFSA
Bonus
Welcome bonus up to 500 USDT
–
20% to 200% Deposit Bonus
100% Deposit Bonus
Education
No
Yes
No
No
Platforms
Own
MT4, AutoChartist, TradingCentral
TradingView
MT4, MT5
Leverage
–
1:30 (Retail), 1:250 (Pro)
1:500
1:1000
Payment Methods
10
6
8
10
Visit
–
Visit
Visit
Visit
Review
–
IG Group
Review
Videforex
Review
World Forex
Review
Compare Trading Instruments
Compare the markets and instruments offered by Kucoin and its competitors. Please note, some markets may only be available via CFDs or other derivatives.
Compare Kucoin Trading Instruments

| | Kucoin | IG Group | Videforex | World Forex |
| --- | --- | --- | --- | --- |
| CFD | No | Yes | Yes | Yes |
| Forex | No | Yes | Yes | Yes |
| Stocks | No | Yes | Yes | Yes |
| Commodities | No | Yes | Yes | Yes |
| Oil | No | Yes | Yes | Yes |
| Gold | No | Yes | Yes | Yes |
| Copper | No | Yes | Yes | No |
| Silver | No | Yes | No | Yes |
| Corn | No | No | No | No |
| Crypto | Yes | Yes | Yes | Yes |
| Futures | Yes | Yes | Yes | No |
| Options | No | Yes | No | No |
| ETFs | Yes | Yes | No | No |
| Bonds | No | Yes | No | No |
| Warrants | No | Yes | No | No |
| Spreadbetting | No | Yes | No | No |
| Volatility Index | No | Yes | No | No |
Kucoin vs Other Brokers
Compare Kucoin with any other broker by selecting the other broker below.
Customer Reviews
There are no customer reviews of Kucoin yet, will you be the first to help fellow traders decide if they should trade with Kucoin or not?
Visit
Kucoin is a crypto exchange that offers trading on 1000+ tokens as well as leveraged trading opportunities via futures and perpetual swaps. This exchange has a slick trading platform that supports robots, allowing traders to implement automated strategies. Other attractive features include a demo account, flexible funding methods and DeFi features like staking and mining.