Huobi Review 2023


United States not accepted.
See the Top 3 Alternatives in your location.
Huobi is one of the world's largest cryptocurrency exchanges, offering the top tokens by market cap on their proprietary trading platform.
$100
AlgoTrader
Cryptocurrency
$170 Welcome Bonus
USD, EUR, GBP, AUD, NZD, TRY, SEK, NOK, DKK, CHF
Credit Card, Wire Transfer, Bitcoin Payments, PayPal, Neteller
and
7 more
Crypto Trading
Huboi is a leading cryptocurrency trading exchange offering access to major and emerging tokens.
Huobi is a popular global crypto exchange that regularly trends on Twitter. Established in 2013, it is one of the oldest online exchanges around. Through Huobi, traders in the UK, India, Indonesia, South Korea and many other countries can purchase crypto tokens such as Dogecoin (DOGE), Bitcoin (BTC) and Tether (USDT).
This review will cover what Huobi is, its history and everything you need to know about payments and fees in 2023. We also provide a how-to guide for opening an account and starting trading.
What Is Huobi?
Huobi is one of the largest global crypto exchanges in the world, ranking in the top three by trade volume. Initially, it was only aimed at China, but nowadays they offer cryptos to clients in over 130 countries. Huobi's holding group and owner, Huobi Global, has offices in a range of locations, including Japan, South Korea, the United Kingdom (London), Australia, Canada (Ontario), Brazil and Hong Kong (HK). The headquarters are in the Seychelles, and they are listed on the Hong Kong Stock Exchange (HKG: 1611).
There are currently over 380 crypto assets and over 200 coins listing on Huobi, with a 24-hour trading volume of over $35,700,000,000. The coins listed include but are not limited to Ethereum (ETH 2.0), 1 Inch (1INCH), Binance Coin (BNB), Ripple (XRP), Quant (QNT), HUSD (HUSD), eCash (XEC), NEM (XEM), Verge (XVG) and Symbol (XYM).
Huobi also has its own token, Huobi Token (HT), originally issued in January 2018. According to CoinMarketCap, it is one of the top 100 cryptocurrencies by market cap. Today's stock price can be found on the Huobi official website.
Brief History
September 2013 – Huobi is established by founder Leon Li
November 2013 – Acquires Bitcoin wallet provider Quick Wallet
November 2017 – Moves headquarters to the Seychelles after China bans crypto exchanges
January 2018 – Huobi Token (HT) released
April 2018 – Hits $1 trillion in trades
September 2018 – Acquires Japanese crypto exchange Bittrade, increasing trade volume
August 2018 – Acquires Hong Kong electronics manufacturer Pantronics Holdings and becomes listed on the Hong Kong stock exchange
November 2018 – Launches derivatives market
How Huobi Works
Huobi works in the same way as most other crypto exchanges, people can buy or sell cryptocurrencies, and the platform earns money through transaction and trading fees. Recently, Huobi has focussed on stable coins backed by the US dollar. These tokens are less susceptible to market volatility. If you deposit one of the four stable coins (Paxos Standard, True USD, US Dollar Coin and Gemini dollars), the funds are automatically transferred into Huobi's HUSD. When you withdraw, you can pick from any of the stable coins at a 1:1 ratio. This eliminates the need for users to convert stable coins if the value changes, removing conversion costs.

Regulation
Huobi is regulated in the Republic of Seychelles. In addition to this, they are also regulated by the Financial Conduct Authority (FCA) in the UK. Huobi complies with KYC policies and limits withdrawals for customers who have not completed this stage of verification.
Payment Methods
Huobi accepts 90+ deposit and withdrawal methods, including bank transfers and credit/debit card payments. Users can also buy tokens with credit cards with the quick buy feature. If you have fiat currency, such as GBP, deposits and withdrawals are possible with these methods:
Faster Payments
US ABA Transfer
SWIFT International Transfer
Visa/Mastercard
USD Balance
SEN
Fees
These are the various fees associated with Huobi:
Deposit & Withdrawal Fees
The minimum required deposit for Huobi is $100 (about £72.95) and there is a fee of 1% of your total deposit for international wire transfer. For users who have not completed ID verification, the exchange limits the amount they can withdraw to 0.06 BTC. For those who have completed verification, the daily withdrawal limit is increased to 200 BTC, plus there are withdrawal fees. The fee is 1% for international wire transfers and for crypto withdrawals, it is 0.0001 BTC and 0.001 LTC respectively.
Trading Fees
Huobi operate a tiered fee structure based on the number of Huobi Tokens (HTs) held by a customer. If the trader has less than 10 HT, the basic rate of 0.2% is charged, then the fees decrease as follows:
≥10 HT = 0.18% fee
≥100 HT = 0.16% fee
≥500 HT = 0.12% fee
≥1000 HT = 0.09% fee
≥2000 HT = 0.08% fee
≥5000 HT = 0.07% fee
Huobi users can also earn fee reductions by purchasing and using point cards. For some cryptocurrencies, Huobi may operate a minimum order size. This is regularly updated and can be checked on their website.
The futures fees are slightly different with Huobi. The charge for opening and closing a position is 0.02% for makers and 0.04% for takers, you pay this fee on both sides (opening and closing).
To find listing fees for tokens on Huobi, visit the website.
Markets
Huobi Pro and Huobi OTC (both of which have apps available) specialise in different markets. Huobi Pro gives access to over 200 different crypto coins and tokens that can be bought and sold. If you want to hold on to coins for the long run (HODL) or conduct margin trading, this is the place for you. Through Huobi Pro, users can purchase HB10, which tracks the Huobi 10 index (sometimes known as 10 dollar).
Huobi OTC focuses on the futures and options markets. These markets give users more freedom to set prices and timeframes for deals to be completed.
Huobi also facilitates peer-to-peer (p2p) trading between users.
Unique Features
Huobi is full of interesting features that set it apart from the competition. Here, we list a few of our favourites:
Huobi Prime
Huobi Prime is where new tokens, such as NFT (APENFT), are offered. These initial exchange offerings (IEOs) allow users to place orders for new tokens that are just about to be released. To take part in these offerings, users must have a minimum holding of 300 HT.
Eco Chain
Huobi Eco, or HECO, is a decentralized and cost-efficient public chain, like blockchain, that Ethereum developers can use to get started easily. It is seamlessly compatible with smart contracts. HECO has developed a DeFi ecosystem with wallets, assets and applications rankings. HECO can also help get you started with yield farming. There is a tutorial on the Huobi website to get you going, and there are plenty of YouTube videos and Reddit reviews to help as well.
Huobi Wallet
Huobi Wallet is a secure and professional Defi wallet. The wallet uses advanced technology to ensure safe asset management and protection. Users are in control of their private keys, which the company never has access to. There are multiple backup options to prevent loss or theft. The creation process is straightforward, and the interface is user-friendly, allowing clients to easily view their crypto balances.
Huobi Mall
Huobi Mall is Huobi's mining pool. It ranks in the world's top 10 mining pool services and is the world's largest staking mining pool. This feature allows users to group and combine computing power to mine different cryptocurrencies that are available on the platform.
Mobile App
Huobi Global have a wide range of apps available for download on iOS and Android. The standard Huobi app allows users to conduct any trading they want. It is fully featured and allows users to buy and sell any of the listed cryptocurrencies.
Plus, Huobi has several other apps to improve your mobile trading experience. Huobi Chat is a social platform that allows users to talk to each other and learn about blockchain. Huobi Pool allows users to start mining and earn coins and Huobi Wallet gives clients mobile access to their crypto wallet.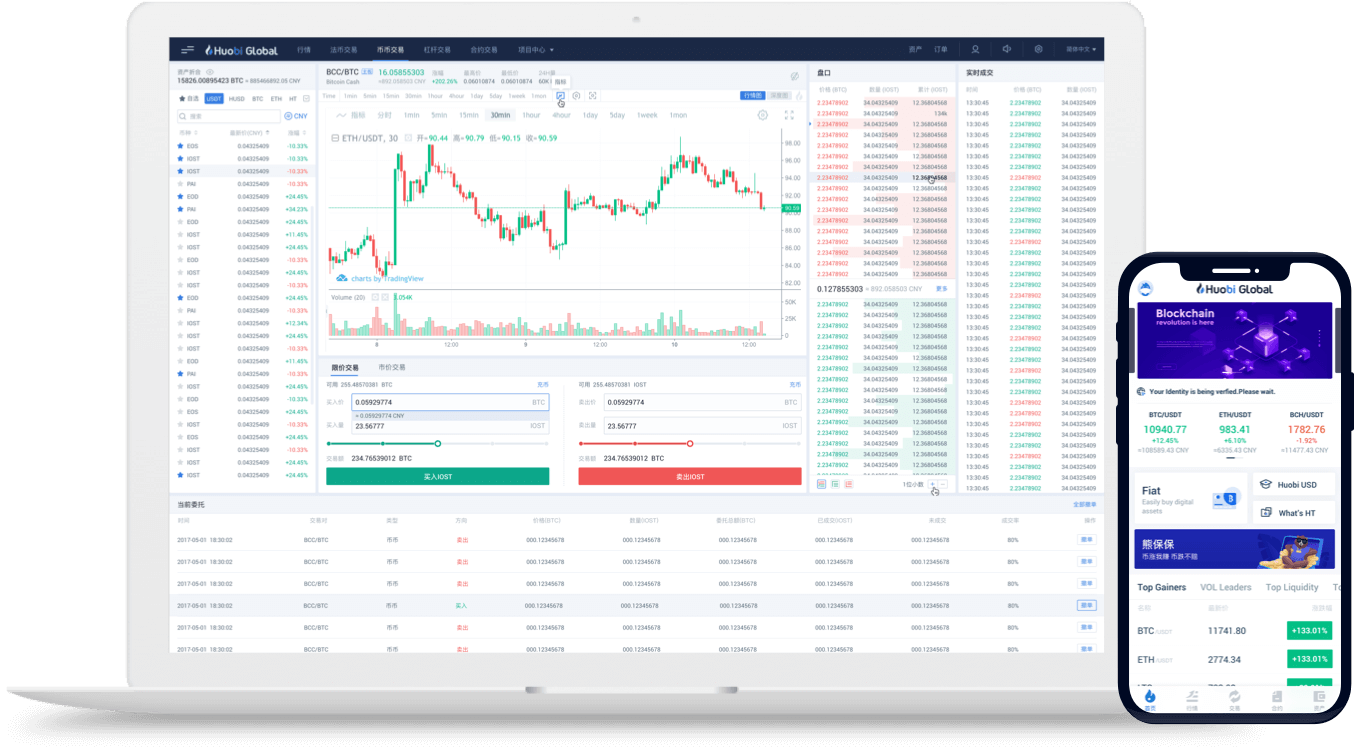 Deals & Bonuses
New Huobi exchange users can register, log in and complete tasks to earn a reward. Once all tasks are completed a $170 bonus is deposited into your account.
Huobi also operates an 'invite your friends' scheme. If people sign up with your invitation/referral code, you will receive a 30% rebate on their trading fees. The cashback scheme lasts for 24 months.
Pros
No review of Huobi would be complete without the pros of the platform:
High-level cyber security
Multiple interesting features
Several platforms and apps
24/7 customer service support
A vast range of cryptocurrencies
Good liquidity from one of the largest exchanges in the world
Cons
Balance is key in any review, here are the drawbacks of Huobi:
No MetaTrader platforms
Not open to US customers
No leverage for new customers
Competitors
Huobi vs Binance, Coinbase, Kraken and Kucoin, how does Huobi compare to its competitors?
When comparing Huobi with Binance or Kucoin, fees are important. Huobi's fees tend to be slightly higher than its competitors at 0.2% on average compared to 0.1% for competitors. It also has a stronger level of regulation compared to Kucoin and is level with Binance. However, one thing that sets the exchange apart from its competitors is its derivatives markets. There is no simple answer as to which exchange is best for your personal strategy and risk appetite, so always take time to research the current fees and other features offered by the platforms.
Customer Support
Huobi pride themselves on strong levels of customer service and support. Whether you want to close and delete your account, or just have queries that need answering, the help centre is open 24/7. Users can either leave a message or use the live chat feature. Traders can also get in contact with Huobi through Telegram.
Security
Huobi has high levels of cyber security to keep your assets and interest safe from theft and loss. When logging in, the exchange requires you to complete two-factor authentication (2FA). This can be reset at any time if needed.
How To Start Trading
Now that you have learnt all about Huobi, you may want to start trading. This guide will help you get your trading careers off the ground:
Sign up to Huobi: The first thing to do is to open an account with Huobi. Complete all the necessary steps, including your KYC verification. This process will only take a couple of minutes.
Download the app: If you are happy using the web app, ignore this step. Otherwise, download the Huobi Global app to your PC or mobile.
Deposit funds: Deposit funds to your account. Remember, the minimum deposit is $100 (£72.95), so you will need to deposit this before you can start trading.
Buy/sell cryptocurrencies: Once your account is set up and you have deposited funds, you are ready to begin trading. Check charts for different crypto coins, look at token price predictions, and make your first moves in the crypto world.
Trading Tips
If you are going to start trading with Huobi, these tips will boost your skills and potential profit:
Stay up-to-date – News and announcements regarding cryptocurrencies can cause prices to fluctuate heavily, stay in the know and ahead of the curve by checking sites such as Bloomberg before you trade with Huobi.
Know your history – Past trends can repeat themselves in the crypto world. Make sure you study historical data before purchasing crypto on Huobi as the patterns may be recognisable.
Research trading bots – Trading bots and APIs can allow you to profit in an automated fashion. Make sure to conduct plenty of research before purchasing a Huobi trading bot, such as 3commas.
Huboi Verdict
Huobi is one of the largest and most respected cryptocurrency exchanges in the world, with many great reviews online. Huobi gives access to over 200 different crypto coins and over 350 crypto assets providing the opportunity to profit in an exciting and fast-paced market. If you want to get started, follow our guide, listen to the tips, and begin your trading journey.
FAQs
Which Country Is Huobi From And Regulated In?
Originally, Huobi is from China. However, their headquarters are now in the Seychelles where they are regulated. The firm is also regulated by the FCA in the UK.
Can US Customers Trade With Huobi?
Currently, the Huobi exchange does not allow United States (US) residents and customers to trade. However, the firm has announced plans to allow customers in the USA to trade with them in the near future.
How Much Capital Do I Need To Trade With Huobi?
The minimum deposit is $100. Once this is deposited and the KYC checks have been completed, users can begin trading.
Does Huobi Offer Leverage?
Yes, for existing customers, although it has been slashed from 1:125 to 1:5 in recent times. New customers who joined after a certain date will not be able to use any leverage.
Is Huobi Safe To Use?
Yes, Huobi is relatively secure. It has high levels of cyber security and require two-factor authentication (2FA) when logging in.
Accepted Countries
Huobi accepts traders from Australia, Thailand, United Kingdom, South Africa, India, France, Germany, Norway, Sweden, Italy, Denmark, United Arab Emirates, Saudi Arabia, Kuwait, Luxembourg, Qatar and most other countries.
Traders can not use Huobi from Canada, United States, Singapore, Hong Kong, China, Japan.
Payment Methods
Huobi Details
| | |
| --- | --- |
| Minimum Trade | $0 |
| Regulated By | FCA, FSAS |
| Islamic Account | Yes |
| Mobile Apps | iOS & Android |
| Margin Trading | Yes |
| Margin Rate | 1:5 |
| Volatility Index | No |
| Spot Trading | Yes |
| Perpetual Swaps | Yes |
| ELWs | No |
| REITs | No |
| AI / Machine Learning | No |
| Robo Advisor | No |
| P2P Trading | Yes |
| Negative Balance Protection | No |
| VPS Hosting | No |
| Tournaments | No |
| Demo Competitions | No |
| Managed Accounts | No |
| Market Maker | No |
| Auto Trading | In-house trading bot available 24/7 |
| Social Trading | No |
| Trade Signals | Yes |
| Guaranteed Stop Loss | No |
Cryptocurrency Trading Details
Crypto Spread
Variable
Crypto Lending

Yes

Crypto Staking

No

Crypto Mining

Yes

Crypto Auto Market Maker

No

Crypto Coins

BCH
BTC
DOGE
EOS
ETH
LTC
USDT
XCH
XRP
YCC
YFI
YFV
ZIL
ZKS
Top 3 Alternatives to Huobi
Compare Huobi with the top 3 similar brokers that accept traders from your location.
IG Group – IG is an award-winning broker that has an excellent reputation globally. The brand-US offers spread betting, CFD and forex trading across a comprehensive suite of markets. IG is also multi-regulated, provides a great trading app and has 50 years experience.
Go to IG Group
Interactive Brokers – Interactive Brokers is a leading global brokerage that provides access to a comprehensive offering of stocks as well as forex, futures, metals, bonds and cryptos. The firm has over 40 years experience in the online trading industry and is heavily regulated by SEC, FCA, IIROC, and SFC. Day traders can use the proprietary Trader Workstation and can access powerful tools and data feeds as well as comprehensive educational resources.
Go to Interactive Brokers
World Forex – World Forex is an offshore broker registered in St Vincent and the Grenadines, offering commission-free trading with a $1 minimum deposit and 1:1000 leverage. Digital contracts are also available, offering beginners a straightforward way to speculate on popular financial markets.
Go to World Forex
Huobi Comparison Table
Compare Huobi With Similar Brokers
Huobi
IG Group
Interactive Brokers
World Forex
Rating
2.5
4.4
4.3
4
Markets
Cryptocurrency
CFDs, Forex, Stocks, Indices, Commodities, ETFs, Futures, Options, Crypto, Spread Betting
Forex, Stocks, Commodities, Crypto
Forex, CFD Stocks, Metals, Energies, Cryptos, Digital Contracts
Demo Account
Yes
Yes
Yes
Yes
Minimum Deposit
$100
$0
$0
$1
Minimum Trade
$0
0.01 Lots
$100
0.01 Lots
Regulators
FCA, FSAS
FCA, ASIC, NFA, CFTC, DFSA, BaFin, MAS, FSCA
SEC, FCA, IIROC, SFC
SVGFSA
Bonus
$170 Welcome Bonus
–
–
100% Deposit Bonus
Education
No
Yes
No
No
Platforms
AlgoTrader
MT4, AutoChartist, TradingCentral
AlgoTrader, OmniTrader, eSignal, TradingCentral
MT4, MT5
Leverage
–
1:30 (Retail), 1:250 (Pro)
1:50
1:1000
Payment Methods
12
6
11
10
Visit
–
Visit
Visit
Visit
Review
–
IG Group
Review
Interactive Brokers
Review
World Forex
Review
Compare Trading Instruments
Compare the markets and instruments offered by Huobi and its competitors. Please note, some markets may only be available via CFDs or other derivatives.
Compare Huobi Trading Instruments

| | Huobi | IG Group | Interactive Brokers | World Forex |
| --- | --- | --- | --- | --- |
| CFD | No | Yes | Yes | Yes |
| Forex | No | Yes | Yes | Yes |
| Stocks | No | Yes | Yes | Yes |
| Commodities | No | Yes | Yes | Yes |
| Oil | No | Yes | No | Yes |
| Gold | No | Yes | Yes | Yes |
| Copper | No | Yes | No | No |
| Silver | No | Yes | No | Yes |
| Corn | No | No | No | No |
| Crypto | Yes | Yes | Yes | Yes |
| Futures | Yes | Yes | Yes | No |
| Options | No | Yes | Yes | No |
| ETFs | No | Yes | No | No |
| Bonds | No | Yes | Yes | No |
| Warrants | No | Yes | Yes | No |
| Spreadbetting | No | Yes | No | No |
| Volatility Index | No | Yes | No | No |
Huobi vs Other Brokers
Compare Huobi with any other broker by selecting the other broker below.
Customer Reviews
There are no customer reviews of Huobi yet, will you be the first to help fellow traders decide if they should trade with Huobi or not?
Visit
Huobi is one of the world's largest cryptocurrency exchanges, offering the top tokens by market cap on their proprietary trading platform.