Donald Trump Holds Up To $500K In Ethereum
Former US president, Donald Trump, holds up to $500,000 in Ethereum according to a financial disclosure form filed with the Office of Government Ethics.
This comes after Trump has previously been dismissive of cryptocurrencies.
Key Takeaways

A recent submission to a US ethics agency disclosed that Donald Trump owns a crypto wallet with between $250,000 and $500,000 in Ethereum
The crypto holdings seemingly relate to the sale of non-fungible tokens (NFT) that were released as part of his White House 2024 campaign
The NFTs went on sale in December 2022 for $99 each and show the former president in a series of poses, including as a superhero
Two NFT Series With Mixed Results
The initial NFT collection performed well following its release, depicting the president as a superhero, wrestler, astronaut and cowboy. 45,000 were released and all sold out by the end of the day.
Buyers of the digital trading cards were also entered into a competition to win various prizes, including dinner with Mr Trump.
However, sales took a dive when Trump launched a second set in April 2023.
Despite all 47,000 trading cards selling out in just six hours, their value plummeted from 0.42945 ETH to 0.18 ETH, according to OpenSea.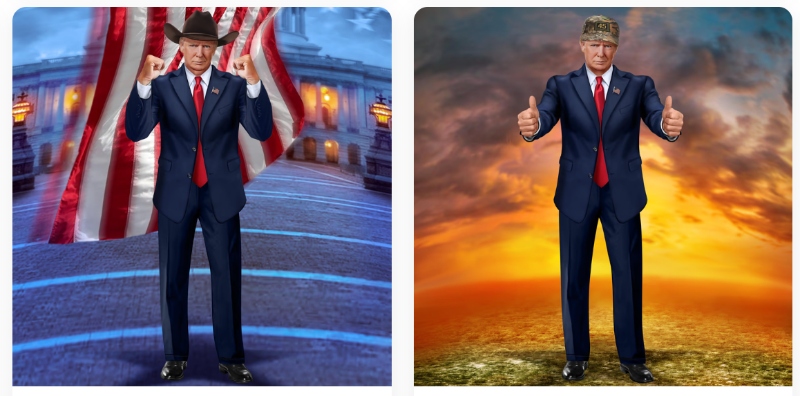 Actions Speak Louder Than Words
Some industry commentators were understandably surprised to see Trump releasing NFTs and holding large amounts of Ethereum given his previous comments on cryptocurrency.
In 2019, the former Commander-in-Chief said to Fox Business that "Bitcoin, it just seems like a scam…I don't like it because it's another currency competing against the dollar."
In the same year, Trump took to Twitter, now X, to say: "I am not a fan of Bitcoin and other Cryptocurrencies, which are not money, and whose value is highly volatile and based on thin air."
Larger Problems Loom
Of course, Trump is facing tougher questions than his crypto holdings, having just been charged along with 18 others for election meddling in the state of Georgia.
Still, many aspiring investors are understandably disillusioned with cryptocurrencies and NFTs. The question is whether they will pivot to traditional asset classes, such as forex, stocks and commodities.