Trading Digital Contracts
Intraday investors often aim to make a high volume of fast-paced trades to maximize potential profits, and trading digital contracts is an innovative financial instrument that can meet their needs. These derivatives pose a simple question – will the price of an asset go up or down over a specific timeframe? Whether the day trader bets the correct way or not, they will profit or lose an amount that is determined before the digital contract begins, meaning they can quickly move onto the next trade.
This guide will explain how trading digital contracts works with examples and outline tips for getting started. We also rank the top digital contract trading brokers in 2023, as well as provide guidance on how beginners can follow a strategy and design their own system for trading digital contracts.
Digital Contract Brokers
#1 - Pocket Option
Pocket Option offers short term binary options on a user-friendly platform with competitive payouts of 90%+. Over 130 assets are available with fee-free deposits and withdrawals. Joining bonuses are also available to new users.
"We recommend Pocket Option for aspiring binary options traders looking for copy trading services and a low minimum investment."

- DayTrading Review Team
Min Deposit: $50
Payout %: 92%
Expiry Times: 5 seconds - 4 hours
Bonus: 50% Deposit Bonus
Platforms: MT5
Instruments: Forex, Crypto
About Pocket Option
Founded in 2017, Pocket Option is a binary options broker offering up/down contracts on forex, stocks and cryptocurrencies. With over 100,000 active users and a global reach, the brand has proven popular with budding traders. Pocket Option also supports dozens of payment methods and has a low minimum trade of just $1.
Pros
Turbo binary options
MT5 iOS & Android app
92% payouts on binaries
Cons
IFMRRC is not a reputable regulator
The expiration time is limited on trades
No MT4 trading platform
#2 - IQCent
IQCent offers binary options on forex, stocks, cryptocurrencies and commodities with high payouts up to 98%. The broker uses a proprietary platform with advanced analysis tools and traders can choose contract timeframes ranging from 5 seconds to months, appealing to both short and long term traders.
"IQCent will appeal to traders looking for a powerful binary options and CFD trading platform with low fees, a range of accounts, and copy trading support."

- DayTrading Review Team
Min Deposit: $250
Payout %: 98%
Expiry Times: 5 seconds - 30 days
Bonus: 20% to 200% Deposit Bonus
Platforms: IQCent Platform
Instruments: CFD, Forex, Crypto
About IQCent
IQCent is an offshore binary options and CFD broker based in the Marshall Islands with 10+ payment methods and a low $50 starting deposit. With 100+ assets, around the clock trading and high payouts the brand is popular with aspiring short-term traders.
Pros
IQCent is one of the few binary options and CFD brokers that also offers a copy trading feature
Technical and fundamental analysis is regularly published within the platform dashboard
Both short-term CFDs and binary options are tradeable through the broker's single terminal
Cons
It's a shame that no third-party platforms or additional analysis trading tools are offered
Stock CFDs are not available
The broker is not overseen by any highly respected regulator, though this is common among binary options firms
#3 - Videforex
Videforex binary options are available from 20% payouts on crypto up to 98% payouts on less volatile assets, beating many competitors. A wide range of contract lengths are also supported from 5 seconds up to 1 month. New users will appreciate the welcome deposit bonus.
"Newer traders will find a lot to enjoy about trading binary options on Videforex's easy-to-use proprietary platform, as well as the broker's copy trading solution. Payouts are also higher than most alternatives climbing to 98%."

- DayTrading Review Team
Min Deposit: $250
Payout %: 98%
Expiry Times: 5 seconds - 1 month
Bonus: 20% to 200% Deposit Bonus
Platforms: TradingView
Instruments: CFD, Forex, Crypto
About Videforex
Videforex offers access to stock, index, crypto, forex and commodities markets via binary options and CFDs. The proprietary platform, mobile app and integrated copy trading are user-friendly and will suit new and casual traders, and the market analysis tools and trading contests provide good ways to improve your trading skills.
Pros
The support time are fast and reliable. Very few brokers offer 24/7 multi-lingual video support
Mirror the trades of experienced investors with low fees
The firm facilitates day trading and binary options for global customers
Cons
The broker isn't overseen by a trusted regulatory agency
US clients aren't accepted due to legal restrictions
No MetaTrader 4 integration
#4 - AZAforex
AZAforex offers binary options with time-dependent payouts that can be taken out on any asset included as a CFD or spot instrument. Over 50 binary options are available with a $1 minimum stake and payouts up to 190%.
"AZAforex is best for active forex traders looking for ECN pricing with high leverage up to 1:1000 and a sophisticated trading platform."

- DayTrading Review Team
Min Deposit: $1
Payout %: 190
Platforms: Own
Instruments: CFD, Forex, Crypto
About AZAforex
AZAforex is a multi-asset broker founded in 2016. The brand offers a sophisticated proprietary platform, ECN trading and 40+ deposit methods. The brokerage has 120,000+ registered customers with copy trading and a VPS.
Pros
Very high leverage up to 1:1000
Copy trading and PAMM account
Range of crypto, e-wallet, credit/debit card and wire transfer options
Cons
Unregulated broker reduces its safety score
Limited educational content and resources
Some poor customer reviews
#5 - RaceOption
RaceOption offers 100+ binaries with decent payouts up to 95% and ultra-fast expiries from 5 seconds. With a $250 minimum deposit, clients can enjoy free deposits, fast withdrawals and a range of trading bonuses.
"RaceOption will appeal to traders new to binary options looking for copy trading, contests and 24/7 customer support. Experienced traders will also appreciate the account-based perks and bonuses."

- DayTrading Review Team
Min Deposit: $250
Payout %: 95%
Expiry Times: 5 seconds - 30 days
Bonus: 20% - 200% Deposit Bonus
Platforms: TradingView
Instruments: CFD, Forex, Crypto
About RaceOption
RaceOption is a binary options broker operating from the Marshall Islands. With over 1,500 clients, the broker aims to offer fast funding, low fees and a secure trading environment. Traders can access over 100 binary options and CFDs, plus copy trading and weekly prizes.
Pros
Well-optimised proprietary mobile trading app with instant execution, full trading history and responsive live charts
Beginner-friendly copy trading opportunities in the broker's proprietary trading platform
Flexible weekend trading available plus 24/7 multilingual customer support
Cons
Limited educational resources
$250 minimum deposit is higher than other binary options brokers
No free demo account
Digital Contracts Trading Basics Explained
Digital contracts are an innovation with a history of only a few years. They came to the fore after financial regulators in key trading jurisdictions placed tough restrictions on their predecessor, binary options.
Trading digital contracts works similarly to binary options, offering investors the chance to profit by speculating on the price movements of assets over a short time window – sometimes less than a minute. But while their predecessors have been restricted in the UK, parts of Europe and many other countries, digital contracts are legal to trade with reputable brokers.
Digital contracts can be based on a range of underlying assets, including stocks, commodities such as gold, FX and cryptocurrencies. Before the digital contract begins, the trader will determine whether they wish to take a long or short position, the value of the contract – essentially, how much money is being staked – and the contract's duration.
If the trader's bet comes good, they will earn a pre-determined profit regardless of how much the price has moved in their direction. This varies according to the broker and the type of contract, but basic digital contracts generally offer a payout slightly below the value of the contract.
For example, Quotex offers an 80% payout on some assets with their digital contracts. This means a trader who predicts a price increase correctly on a £1000 digital contract with this broker will make their stake back plus an £800 profit, whether the price has gone up by 0.5% or 5% when the contract expires.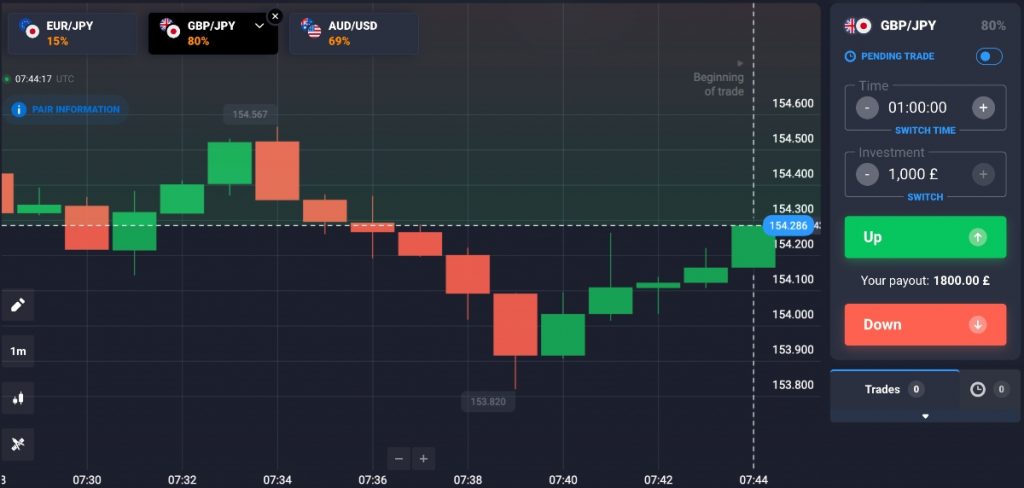 This may seem like a counter-intuitive way of trading that is based more on luck than skill, but there are definite advantages for day traders, and many develop effective strategies to profit from them.
Importantly, you would usually need to hold onto classic derivatives like futures or options for a much longer period to turn a profit, and profits from shorter-term instruments such as CFDs can be limited when price movements are small. But with trading digital contracts, profits and potential losses are defined before the contract begins, and everything hinges on a simple yes/no question. This makes them a straightforward derivative that has the advantage of also being quick enough to complete a large volume of trades per day.
How To Start Trading Digital Contracts
The first step on your digital contracts trading journey is to find a suitable broker. Since digital contracts are a relatively new product, it is not always easy to find online brokers through a simple web search. However, some brokerages and exchanges that offered binary options before they were heavily regulated now deal in digital contracts trading.
How To Choose A Digital Contracts Broker
There are several important factors to take into account when you're deciding which digital contracts broker to begin trading with:
Regulation – Check whether the broker is regulated by any recognized body to be sure it is trustworthy. Some platforms, such as Spectre.ai, have built a strong reputation despite being unregulated. But you should always do your due diligence and stay informed about each broker's security features.
Payouts – Digital contract brokers usually offer a payout of around 90% of the contract value, but this can differ according to the asset at stake. Shop around for brokers that offer trading on digital contracts with the best payouts.
Fees – Different digital contract trading brokers have different fees. Some charge commission on each transaction and others will charge running administrative fees to keep your account open. Deposit and withdrawal fees can be particularly costly for day traders who have active digital contracts trading accounts.
Underlying assets – This is important because day traders tend to have preferred assets to trade in. Choose a digital contracts broker that provides access to markets you are comfortable trading, for example, forex, stock, commodity, cryptocurrency or nft.
Bonuses – Some digital contracts brokers provide excellent benefits, such as sign-up and deposit bonuses, that can boost your capital and offset other fees. Just make sure to check withdrawal terms and options before claiming a promotion.
Trading platform – Make sure you choose a digital contracts broker that has a fast, responsive platform which you find easy to use. The best digital contract brokers offer beginner-friendly, web trader terminals. And importantly, quality is more important than quantity when it comes to trading apps and platforms.
Good customer service – It is important to have quick access to support if there's a problem with your account. The top digital contract brokers offer 24/7 support via live chat, social media channels, and email. Customer service representatives should be able to help with trading definitions, yield explanations, and provides guides on when a digital contract expires.
Educational and training material – Some digital contracts brokers provide useful material that can help beginners to start quickly turning a profit from their desk. This can include webinars with crypto and blockchain products explained, strategy tips and automated trading tools. A particularly useful feature for novice traders is copy trading, whereby users can replicate the positions and strategies of proven investors.
Digital Contracts From Quotex
Quotex's digital options offer traders a very similar experience to digital contracts with more or less the same terms related to the stake, profit margin and duration of a trade. Quotex's popular website includes a proprietary browser-based trading platform that traders can use to access digital contracts on securities, forex pairs, commodities and indices.
The size of the payout depends on the asset traded, with a maximum payout of 98%. Traders can buy digital contracts for a variety of expiration periods, from 1 minute to 4 hours.
An advantage to Quotex is the easy-to-use website and app, available from Apple's App Store and Google Play. Quotex also offers a demo account and has some excellent benefits, including a 30% deposit bonus, profit calculators and group user reviews online.
Spectre.ai Digital Contracts
Another website, Spectre.ai, offers trading on digital contracts with a difference – this company's trading system is built on the Ethereum blockchain. This allows Spectre.ai traders to draw funds directly from their e-wallets, bypassing traditional brokerage cashiers and instead matching peer-to-peer trades or matching trades to a decentralized autonomous liquidity pool. Other innovations by Spectre.ai include a feature that allows the use of automated bots.
Spectre.ai's model means the company is free from some of the fees associated with traditional trading brokers, such as inactivity fees or commission charges. Payouts are not as high as with some of the other top digital contract brokers, but traders should bear in mind that their rate of successful trades could be higher with more competitive investing conditions.
Spectre.ai offers digital contracts on a range of assets through its proprietary trading platform, including all major currencies and some 100 stocks, as well as crypto assets such as Bitcoin.
The brand has its own app, available from its website, and is set to offer compatibility with MetaTrader platforms (MT4 and MT5) soon. Spectre.ai is also fully Sharia compliant, making this a halal option for Muslim traders.
Tips For Trading Digital Contracts
Some market commentators consider trading digital contracts and similar products to be little more than gambling. Since the contracts expire in a short period of between seconds and hours, some of the factors a trader would normally consider while planning a trade are not as relevant.
However, many say it is possible to make a profit from trading digital contracts by developing a strategy and following a consistent system. For example, some traders wait until an asset's price has been moving in one direction consistently for a certain period before betting the other way. The rationale for this is that, even if the market's momentum is headed in one direction, it is very rare for the chart to display a completely consistent line of red or green bars.
This is just one very basic example of the broad range of strategies used by digital contracts day traders. Your system will ultimately depend on numerous factors, such as the asset you are trading and the expiration time of the contracts you trade.
For more information, you can also join a digital contracts trading forum and exchange strategies and ideas with other traders. In addition, there is a good deal of information available online about trading similar assets, so a studious trader can turn YouTube into a digital contracts trading academy.
But perhaps the most important advice for beginners is to join a digital contracts broker that offers a demo account. This allows you to develop your strategy on a variety of assets and expirations periods without putting any real money down. In other words, you will have free rein to test your theories and find the best combination of assets and expiration times for your personal investing style.
Final Word On Trading Digital Contracts
Digital contracts can be a profitable way to trade if you have the right mindset. While this is one of the fastest-paced financial products available to day traders, ironically it requires a deep amount of patience and discipline to consistently make money from. Some good digital contracts brokers can help you do that, including some that offer demo accounts and some platforms which offer innovative features related to the latest blockchain opportunity. Just remember to do your due diligence, research a good broker and take the time to develop a trading system before you start putting real money down.
Use our list of the best digital contract brokers to start trading.
FAQs
What Is Digital Contracts Trading?
Digital contracts are a fast-paced financial product that allows day traders to bet on the price movement of an asset over a short period that can be as low as seconds. Investors can use digital contracts to speculate on a range of underlying markets from stocks and shares to forex and cryptocurrencies.
How Does Digital Contracts Trading Work?
Digital contracts are one of the most straightforward products to trade because they depend on the simple question of whether an asset's price will rise or fall in a given timeframe. For example, will the price of Bitcoin be above or below $20,000 in two hours? If the day trader guesses correctly, they will earn a predetermined payout, regardless of the size of the price movement. If they are incorrect, they lose their stake, but can quickly move on to the next trade.
Are Digital Contracts Safe To Trade?
As with any financial product, you are putting your money at risk. Meaning if the price movement goes against you, you will lose your stake. In the long run, you will lose money to brokers' fees and other expenses unless you have a game plan that helps you consistently make winning bets.
As for security, there are some safe and reputable digital contract trading brokers out there, and your money and personal information should be relatively secure with these. Before you sign up to a broker, make sure you properly research it by checking whether it is regulated, which security measures it takes, and how existing users review it. Alternatively, we have ranked the top digital contract trading brokers.
Which Brokers Are Best For Trading Digital Contracts?
The best digital contracts broker for you depends on your personal requirements. Find a brokerage that offers both the assets you would like to trade, and the expiration times you are interested in, for example, one-minute contracts or 24-hour contracts. Also, ensure you are comfortable with the digital contracts broker's trading platform, that it has a good reputation for security, and that its fees are reasonable and payouts competitive. We have compiled a list of the best digital contract brokers.
How Do I Make Money From Trading Digital Contracts?
You are never guaranteed to make money on any trade. What you can do is develop a strategy that helps you make enough trades that payoff to keep you in profit on average. This requires a careful plan, plenty of discipline, and the organization to keep records of your trades so you can adjust your strategy. This may not be easy, but most of the time, making money never is.
To give yourself the best chance of earning money in your digital contracts trades, sign up for a broker which offers a demo account and give yourself plenty of time to develop a strategy without putting any real money at risk.