CommSec Review 2023


United States not accepted.
Go to the Brokers List for alternatives
CommSec is a top Australian retail broker offering a suite of trading tools & products.
$500
Proprietary
Shares, Options, ETFs, Warrants, Fixed Income Securities
-
USD, EUR, GBP, AUD
Credit Card, Wire Transfer, PayID
Forex Trading
Not Available
Stocks Trading
Trade stocks in leading Australian and international companies.
CFD Trading
Not Available
Crypto Trading
Not Available
Awards
Innovation Excellence 2020 - Canstar
CommSec is an online stockbroker offering trading on shares and options. Our review covers the key aspects of day trading with CommSec, including how to open a new account, options fees, opening hours and a rundown of the broker's trading app, CommSec Pocket. Find out if you should sign up online and start trading today.
CommSec Company Details
CommSec, also known as Commonwealth Securities Ltd, is a subsidiary of the Commonwealth Bank of Australia. This firm is regulated by the Australian Securities and Investments Commission (ASIC) and carries a recognisable yellow logo. CommSec claims to be Australia's leading broker and mainly caters to those who are residents in the country.
CommSecIRESS Platform
CommSecIRESS is a platform made for the trading of securities listed on the Australian Securities Exchange (ASX). The real-time customisable program is suitable for beginners and makes buying shares simple and easy with the following features:
Market watch and alert capabilities
Rapid order placement and advanced charting
Watchlist feature for tracking companies of interest
Live company data quotes and research available for free
Portfolio viewing online or using an app, further details below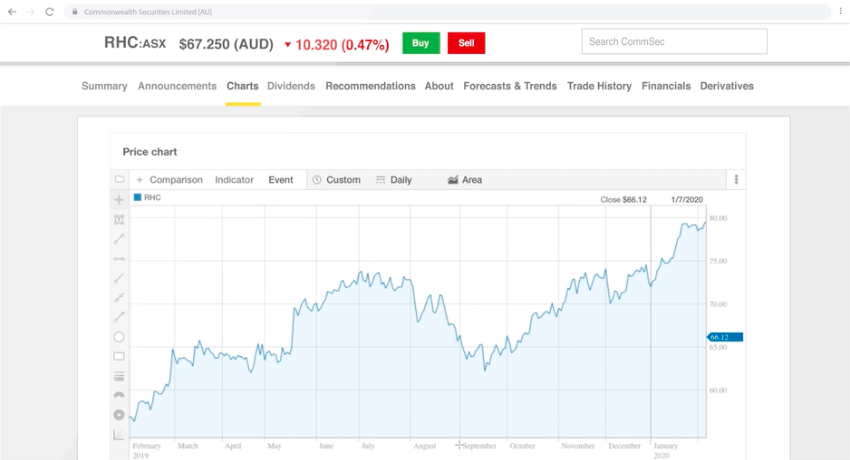 The platform is available on a subscription service for $82.50 per month. Add-ons like international markets are available at an additional cost. The subscription fee is waived for regular CommSec traders that complete 8 or more trades a month.
Clients can place several order types including conditional orders, which require a trigger and limit purchase price to be set. When the share reaches the trigger price, the firm will automatically place an order. Traders wondering how to set a stop loss will be pleased to hear they can do this through a specific Falling Sell order.
Trading can be performed by quantity, i.e. a certain number of shares, or value, i.e. a monetary amount of shares. Clients can also set an expiry: 'good for day' meaning that the order must be filled by the close of trade, or a 20 day 'good till expiry' which can be a specified date or up to 20 days.
Cancelling a CommSec order can be done via the website so long as the order has not been filled. Traders may also experience a Cross Trade (XT), in which the same security is bought and sold at the same time by clients of the firm.
Markets
Shares
Clients can perform Australian share trading directly with CommSec, for example on the ASX 50 or the ASX 200, also known as XJO. Traders can choose organisations manually or using a 'share pack' which is selected by the broker from leading companies.
If a company chooses to pay a dividend to shareholders, the client will receive a statement. Traders can then take the cash or use a reinvestment dividends plan (DRP) if offered. Some shares may be 'XD' which means if purchased at that time, a buyer will not receive the most recent dividend.
International Markets
Using a CommSec International Securities Trading Account, clients can also trade in 25 global markets, including US and Hong Kong shares as well as stocks on the NASDAQ. Traders can also sign up to receive IPO notifications to stay on top of new offerings.
This broker also appears to offer forex in international markets, though details are limited.
Options
Exchange-traded options, or simply options, are contracts that give clients the right to buy or sell a certain security for a specified price within a given timeframe, usually between investors. CommSec offers trading in many markets including US options, although potential traders should be aware that they may have to pass an 'options knowledge test' before they can access the market.
Exchange-Traded Funds (ETFs)
The brokerage offers all ETFs listed on the ASX, for example the Vanguard Australian Shares Index ETF which includes 300 of Australia's foremost companies. These securities are traded like shares with a $500 minimum investment and can be used to monitor the performance of bonds or indices like the S&P 500.
Warrants
CommSec also offers warrants to allow traders to benefit from market changes, with increased leverage compared to options. These are issued directly from the company holding the asset.
Fixed Income Securities
Sometimes known as interest rate securities, fixed income securities involve the investor loaning money to a party that will pay interest or dividends for the duration of the loan. For example, CommSec offers Australian government bonds.
As of 2020, CommSec no longer offers CFD trading. As such, clients cannot buy assets like gold. This broker also appears to have stopped advertising managed funds, although these can be added manually to a client's portfolio if held elsewhere e.g. in an mFund, and are accepted in a Margin Loan. The firm also does not offer trading on cryptocurrencies such as Ripple (XRP) and Bitcoin (BTC).
Trading Fees
CommSec has a complex fee structure and clients should consult the website for full details of each asset:
Australian shares, ETFs, warrants, and fixed income securities have a $10 fee for trades up to $1,000, decreasing as a percentage with the transaction value
Trade using deceased estates at rates of $59.95 up to $10,000, with fixed percentage fees for larger transactions
Options investing incurs a minimum of $34.95 up to $10,000 for internet trading, and this rate increases if executing over the phone
Small fees of $0.05-$0.45 are also charged depending on the contract type
International trading fees vary by region, and additional taxes or market costs may apply – more information is available in CommSec's FAQs.
Leverage
CommSec offers an award-winning Margin Loan, which traders can take advantage of to widen their portfolio with borrowed funds. The interest rate is a minimum of 5.63% p.a., and the broker provides a calculator on their website. CommSec also publishes a job and industry classification list which may assist traders in their loan application.
Mobile Trading
CommSec App
The CommSec app is the mobile platform for standard trades and offers the same assets and fees as the desktop terminal. The app provides on-the-go trading and full access to your portfolio with notifications and watchlists.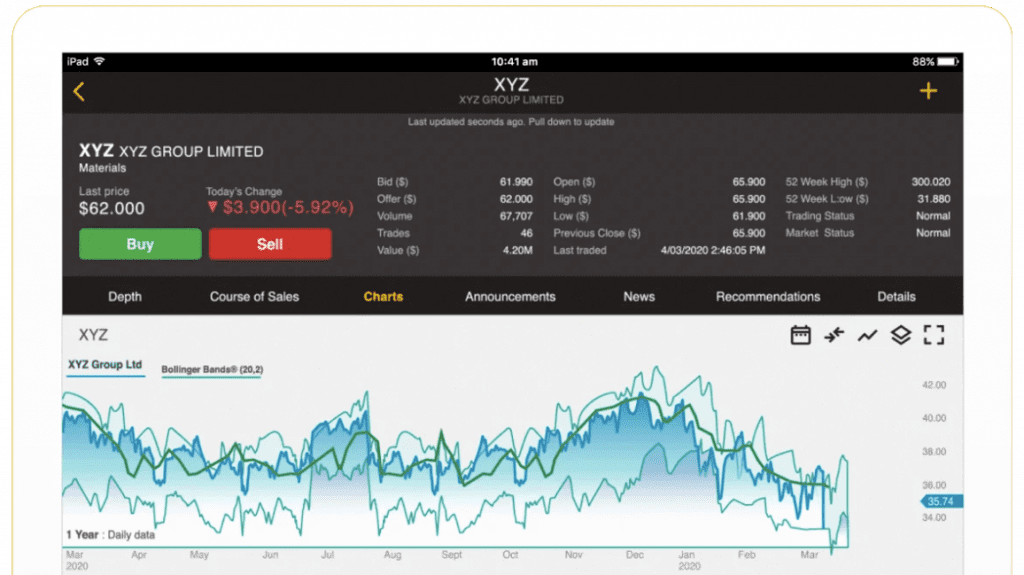 CommSec Pocket
CommSec Pocket is another mobile app offered by the broker for stock market trading. Clients have the choice of 7 ETFs, including Global 100, and our review was pleased to see that users can make investments with a minimum $50 payment.
Android users can update the app to view their watchlists on the home screen via widgets, and iOS users can use the notification centre. This broker charges a $2 brokerage fee on trades up to $1,000 and 0.20% for higher value trades.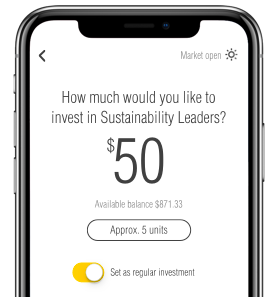 In our review of CommSec Pocket vs the CommSec mobile and website offering, we feel the app offers a simpler investing process and lower fees but without the breadth of assets offered by the full solution.
Payment Methods
Clients wondering how long it takes to settle trades will be interested in CommSec's T+2 settlement system:
Clients that have sold assets will receive the funds into their nominated account two business days after the trade has taken place
Buyers must have payment funds available in their account by 8 am on the second business day or will be subjected to a late settlement fee
An estimated settlements calculator is available on the CommSec website in the Home section
If clients wish to buy and sell on the same day, the broker can use a system called contra settlement to cover the difference between the trades
For tax form purposes clients can download their financial year summary directly from the website, plus yearly dividend and transaction statements. US tax forms are required by the IRS. There is also the option to go paperless by switching to e-statements for easier record keeping.
Demo Account
At present CommSec does not offer a demo account. Our review has to flag this as a serious drawback as prospective customers have no way of trying before buying.
Trading Bonuses
CommSec previously ran a $600 free brokerage joining offer, in which the first 10 trades would be free. Currently the broker is not advertising trading promotions, however their website does display an offer for Westpac Capital Notes 7.
Regulation Review
CommSec is a subsidiary of the Commonwealth Bank of Australia, regulated by the Australian Securities and Investment Commission (ASIC), and as such is very trustworthy. Non-residents, e.g. traders in New Zealand (NZ), can apply to trade with this broker if they have an Australian bank account and are registered with the ASX computer system.
CommSec is a popular broker and is often compared to other large brokers. Reviews like CommSec vs Raiz, IG, CMC, Selfwealth, NabTrade, and eToro can be found online.
Additional Features
CommSec offers a wide range of materials to support traders:
News section puts out market reports with an executive interview series
Reporting Season articles with an earnings calendar which lists the gains of ASX-listed companies (2020 reporting calendar available)
A quarterly State of the States report which details the economic climate in Australian territories
Frequent webinars like 'Sharemarket 101', guide articles, and insights including a 'Year in Review' feature
Condenses recommendations from institutions like Goldman Sachs and runs a separate investment services branch called CommSec Adviser Services
The 'Quotes & Research' section of the website can be used to help clients learn about potential companies for investment
YouTube channel creates The Top Five videos that list important aspects of the market to watch that week

Trading Accounts
Clients who wish to open a CommSec account have several options depending on their intended investment activity. It should be noted that application is generally closed to non-residents and those under 18, although you can get a CommSec account to act as a trustee until a minor turns 18.
In addition to the accounts listed below, a CommSec joint account is available with more information in the broker's frequently asked questions.
Share Trading Account
Clients can trade a range of assets with this CommSec account, including shares, ETFs, options, and warrants. Trades up to $25,000 can be executed without a deposit, and there are no account keeping fees. Note that this is purely a trading account and a separate cash account is required for settlement.
International Securities Trading Account
This CommSec account is ideal for clients wanting to take advantage of international trading, as more than 25 leading share markets are offered. US options and US ETFs are covered by this account via the International Trading Desk. Trading fees are higher for this account and extra charges such as an annual $25 account inactivity fee apply.
Margin Loan
As covered above, the Margin Loan offered by CommSec allows clients to borrow investment funds, while transferring existing assets into the account as collateral. ETFs, options, and shares are all available to trade with this account. Interest fees apply, and although no account keeping fees are charged there are other maintenance fees to be aware of.
Commonwealth Direct Investment Account (CDIA)
The CDIA, also marketed as 'your cash account', is the recommended account that traders use for settlement. Clients can earn interest on funds in this account and it also offers the lowest brokerage rates. The CDIA has unlimited electronic withdrawals without fees, although other charges may apply.
Options Account
This account type is intended to be used alongside other CommSec accounts and may be useful if clients are interested in using more complex options trading strategies, or if they want to safeguard the value of their current portfolio. Unlike other accounts using the T+2 system, trades are settled after one business day so your funds are available more quickly.
CommSec One
CommSec One is a program designed for active traders to improve their outcomes using one-to-one support plus additional alerts, trading tools, and order types. It is free to join but clients must meet one of three eligibility criteria: $30,000+ brokerage spend (annual), $100,000+ Margin Loan balance, or $2.5 million+ in holdings.
Access
Prospective CommSec clients can register to submit an application for a trading account, then sign in with their client ID to access the share market. Traders can also access via NetBank, although login details will be different.
Benefits
Choosing this broker has several advantages:
Several account types to suit your investing strategy
Starting account process straightforward
Trading on over 25 global sharemarkets
Dedicated CommSec Pocket app
Award-winning Margin Loan
Drawbacks
Downsides of CommSec trading include:
Only available to Australian residents
No CFD trading
Trading Hours
Clients can use the CommSec website 24 hours a day, although trading hours for the ASX are 10 am – 4 pm. International trading hours vary by time zone and region.
Customer Support
CommSec clients can contact customer support through several channels. The support line can help with queries like an update to address details, or how to close a CommSec account:
Phone number: 
13 15 19 (within Australia)
+61 2 9115 1417 (outside Australia)
+1300 361 170 (International Desk)
Address:
Locked Bag 22 Australia Square, NSW, 1215
Email for CommSec Pocket:
The website also hosts a contact form and specific contact details for each asset.
Safety & Security
Transactions are protected using CommSec's SMS security system. This 2-factor authentication (2FA) sends a code to the user's phone to verify website orders. Alternatively, clients can set up Secret Questions or an optional password to increase security.
CommSec Verdict
CommSec is an online stockbroker catering to Australian residents and offers options, shares, and ETF trading alongside the CommSec Pocket app. No deposit is required for trades up to $25,000, and clients can utilise the Margin Loan account to fund orders. Many traders will be attracted to this offering and can trust that their transactions are secure.
Accepted Countries
CommSec only accepts traders from Australia.
Payment Methods
CommSec Details
Minimum Trade
0.01 lots
Regulated By
ASIC
Account Types
Islamic Account

No

Mobile Apps

Yes

Margin Trading

No

Volatility Index

No

Spot Trading

No

Perpetual Swaps

No

ELWs

No

REITs

No

AI / Machine Learning

No

Robo Advisor

No

P2P Trading

No

Negative Balance Protection

No

VPS Hosting

No

Tournaments

No

Demo Competitions

No

Managed Accounts

No

Market Maker

No

Social Trading

No

Guaranteed Stop Loss

No

Stock Exchanges

London Stock Exchange
New York Stock Exchange
Compare CommSec
Compare CommSec with similar brokers that accept traders from your location. Among available brokers these are the most similar to CommSec:
OANDA – OANDA is a popular brand offering exceptional execution, low deposit requirements and advanced charting and trading platform features. The top-rated brand has over 25 years of experience and is authorized by leading regulators, including the CFTC/NFA. Around the clock support is available, alongside flexible contract sizes and automated trade executions.
Go to OANDA
Forex.com – Forex.com boasts a global reputation with multiple awards and 20+ years experience. Regulated in the US, EU, UK and Canada they offer a huge range of markets, not just forex, and offer competitive fees on a cutting-edge platform. The brand also provides a suite of additional tools, from performance analytics and SMART Signals to advanced charts and strategy builders.
Go to Forex.com
Webull – Webull is a US-regulated trading app that offers stocks, options, forex, cryptos, ETFs, fractional shares and more. The firm is authorized by the SEC and FINRA with a strong trust rating. Low fees, no minimum investment and generous bonuses have made the discount broker popular with online investors.
Go to Webull
CommSec Comparison Table
Compare CommSec With Similar Brokers
CommSec
OANDA
Forex.com
Webull
Rating
2.5
4.5
4.5
4.4
Markets
Shares, Options, ETFs, Warrants, Fixed Income Securities
Forex
Forex, CFDs, Stocks, Indices, Commodities, Cryptos, Futures, Options
Stocks, ETFs, options, cryptos, forex, ADRs, fractional shares, OTCs
Demo Account
No
Yes
Yes
Yes
Minimum Deposit
$500
$0
$100
$0
Minimum Trade
0.01 lots
$0
$1
$5
Regulators
ASIC
CFTC, NFA
CySEC, IIROC, NFA, CFTC, FCA, CIMA
SEC, FINRA
Bonus
–
$5,000 welcome bonus with a deposit of $500
–
Six free stocks
Education
No
Yes
Yes
Yes
Platforms
–
MT4, TradingView, AutoChartist
MT4, MT5, TradingView, AutoChartist, TradingCentral
–
Leverage
–
1:30 EU, 1:200 Global
1:200
–
Payment Methods
3
12
8
3
Visit
–
Visit
Visit
Visit
Review
CommSec
Review
OANDA
Review
Forex.com
Review
Webull
Review
Compare Trading Instruments
Compare the markets and instruments offered by CommSec and its competitors. Please note, some markets may only be available via CFDs or other derivatives.
Compare CommSec Trading Instruments

| | CommSec | OANDA | Forex.com | Webull |
| --- | --- | --- | --- | --- |
| CFD | No | No | Yes | No |
| Forex | No | Yes | Yes | Yes |
| Stocks | Yes | Yes | Yes | Yes |
| Commodities | No | Yes | Yes | No |
| Oil | No | No | Yes | No |
| Gold | No | Yes | Yes | No |
| Copper | No | Yes | No | No |
| Silver | No | Yes | Yes | No |
| Corn | No | Yes | No | No |
| Crypto | No | Yes | Yes | Yes |
| Futures | No | No | Yes | No |
| Options | Yes | No | Yes | Yes |
| ETFs | No | No | No | Yes |
| Bonds | No | Yes | No | No |
| Warrants | No | No | No | No |
| Spreadbetting | No | No | No | No |
| Volatility Index | No | No | No | No |
CommSec vs Other Brokers
Compare CommSec with any other broker by selecting the other broker below.
FAQ
Is CommSec a good broker for day trading?
CommSec is a top broker in Australia and offers a range of assets for day trading including shares, options, ETFs, and warrants.
Is CommSec regulated?
The broker is a subsidiary of the Commonwealth Bank of Australia. As such, it is subject to regulation by the Australian Securities and Investments Commission (ASIC).
Is a CommSec account free?
Many account types do not charge account management fees, such as the Share Trading Account. Accounts for international trading may have associated charges.
Does CommSec have an app?
CommSec has a mobile app that offers the same range of assets as on the broker's desktop browser. The broker has also created CommSec Pocket, an app with a different trading experience like lower fees and smaller minimum trades.
How do clients buy and sell shares with CommSec?
Clients can place orders directly through the CommSec website. After registration and login, traders can access the Trade section then go to Shares: Place Order.
Visit
CommSec is a top Australian retail broker offering a suite of trading tools & products.