Binary Options Books
Binary options books are a great way of preparing traders for this popular speculative product. Teaching anything from fundamental knowledge to high-level technical analysis strategies, books on binary options are one of many ways to educate yourself. Whether they are paid-for or free PDF downloads, they are one of the most accessible resources you can find.
This article will review binary options trading books and how they can help, plus some of the top books available in 2023.
Binary Options Brokers
List all Binary Options Brokers
How Binary Options Books Can Help
To hone your skills binary options trading, it is important to invest time towards studying and practising.
One of the most important places to start is with the fundamentals of binary options, including the different types and how the trades work. Furthermore, you should learn about potential trading strategies, how to perform technical analysis and, crucially, how to manage risk.
For more experienced traders, there are books about binary options that can provide additional tips on ways to optimise your strategies and improve your use of indicators and signals.
Top Binary Options Books
There is a vast selection of binary options books available to purchase or download for free, however, it is impossible to cover them all on this page. Here is a brief review of five of the best binary options books.
Binary Options: A Beginner's Guide To Trading And Profits by Edward Dorsey
This binary options trading book is tailored towards beginners. It covers many topics that all novice traders need to read before they start entering positions. For example, readers are taught about the different types of binary options contracts, how they work and what strategies they could adopt.
The most important topic for beginners, however, is how to manage risk. All traders must learn this topic if they do not wish to make rash decisions that can lead to significant losses. This is coupled with how to recognise opportunities by performing your own research and due diligence.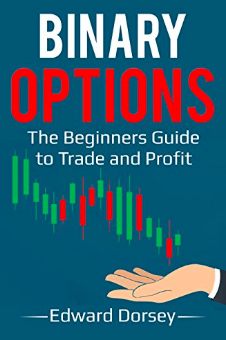 Candlestick Charting For Dummies by Russell Rhoads
This book also focuses on teaching traders who are new to binary options. While it does not concentrate on any single instrument, there is plenty of information that will aid aspiring binary options traders.
In this book, technical analysis techniques are presented which show you how to identify suitable opportunities for binary options. Identifying these opportunities depends on your ability to recognise trends by interpreting indicators and finding patterns. Once you can do this, you will know how to differentiate the false binary options signals from the legit ones, which can help to boost your earnings.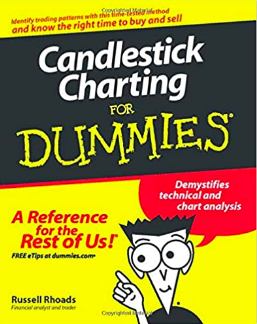 Binary Options: Powerful Strategies To Dominate Binary Options by Jordon Sykes
Aimed at helping both newbies and those already at an intermediate level, this book covers many different topics on binary options trading. The book is by no means the final stage to becoming an advanced level trader but it will certainly provide a breadth of key information.
As the title suggests, this key information is concentrated on strategies for binary options trading. As they can influence your success, you should strive to learn about what makes a good strategy and identify which ones are suited to your strengths.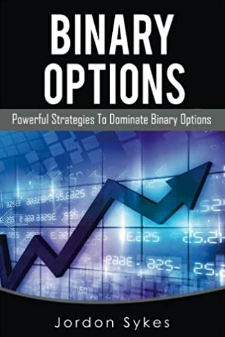 60 Second Binary Options Sniper by Jack Swift
This book focuses on a specific strategy for day trading binary options, whereby you make frequent trades that expire after one minute after entry. This is a difficult strategy to master and the book assumes that you already have sufficient knowledge and experience with binary options.
Because of this, only advanced and experienced traders will benefit from reading this book. Importantly, trading at such frequency can quickly lead to big losses if you do not know what you are doing.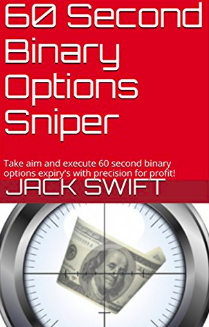 How To Master The Psychology Of Forex & Binary Options Trading: The Definitive Guide To Developing A Winning Trading Mindset by William Allen
Something that is rarely considered by traders is learning about the psychological side of binary options trading. Achieving success requires you to be disciplined enough to take time and think through any trades to avoid making reckless decisions.
All traders, whether you have several years of trading behind you or are yet to make your first trade, will benefit from learning about managing the high emotions of investing. This book can help to develop a risk-aware, decision-making mindset, which may help to improve your trading profits.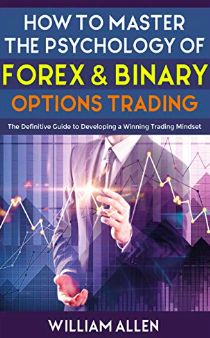 Comparisons
Recommended on this page are just five binary options trading books of the many hundreds available. But as there are so many to choose from, you need to know what factors to look for when comparing your options:
Experience Level
Evaluate your own experience level and try to be honest. If you do not have much experience with binary options then high-level analysis and strategies will not be as helpful to you. It would be more prudent to read about the fundamentals first. On the other hand, more advanced traders will likely be wasting their time if they are reading about binary options basics.
Content
Think about what you want to learn from reading a binary options book. Sometimes websites provide a free PDF download including a few pages as a taster for what you can expect. If they do not, then try to find out what is on the contents page so you have an idea of what topics will be included.
Reviews
It is almost impossible to know how good or bad a binary options book is only by reading the title, blurb and the brief author biography. This type of educational resource requires a large investment of time as you will likely need to read the entire book to reap the rewards.
Therefore, you may not be able to confirm the quality of the book until you have invested a sufficient amount of time towards reading it. To help with this, reviews from people who have already finished the book can be informative. Seeing their opinions can help you to determine which one is right for you. Of course, remember that reviews are just opinions and so you should take them with a pinch of salt.
Cost
The cost of binary options books is not as important as the aforementioned factors, as most are similarly priced around $15-$30. Some can be more expensive costing upwards of $50 but even so, this is not a particularly large amount. If these are outside of your budget, it may be possible to find second-hand versions for cheaper than retail price.
Advantages
There are several benefits to reading binary options books, including:
Most are inexpensive
There are many books to choose from
They are a great source of information where you can expect topics to be covered in detail
Opportunity to learn anywhere. You are not restricted to using a computer at home and so can read books while on a break at work or during your morning commute, for example
Disadvantages
It is important to keep in mind, however, that there are some drawbacks to binary options books:
They can take a lot of time to complete. You need to invest time and effort before you see benefits
They can become outdated as revisions are infrequent
Final Word
There is a lot to learn about binary options trading and books are an ideal resource. It can be easy to fall into the trap of thinking consistent profits are attainable with little or no preparation or knowledge of binary options. You would have a better chance of finding success by studying first so you understand the instrument and the markets. Whatever your level of expertise, be sure to search around to find the best books about binary options trading for you.
FAQ
What Are Binary Options Books?
Available as hard copies or via PDF format, binary options books help to educate traders on the process and strategies behind binary options trading. Binary options are trades that involve speculating on the price of an asset at a given expiration time. Correct predictions land you 'in the money' with a predetermined profit. If you are wrong then you are 'out of the money' and lose your entire investment.
Where Can I Find Binary Options Books?
Amazon is a great source as almost all of the best books for binary options trading can be found there. Additionally, many can be picked up for as a free download with a Kindle. Alternatively, you can search on local bookstore websites or chains within your own country.
Where Can I Find Binary Options Book Reviews?
The website of the bookstore where you are purchasing will most likely have reviews from people who have already bought the book. There are also binary options trading communities on websites such as Facebook, Twitter and Reddit, which are all ideal places for discussion with other traders.
Will Binary Options Books Teach Me How To Avoid Any Losses?
There is no strategy or educational resource that will guarantee that all the trades you make will finish in the money. They can, however, teach you to manage your risk and recognise which opportunities are worth pursuing and which you are better off avoiding. Binary options books can only teach you so much and it is up to you to implement what you learn.
How Can I Practise What I Have Learnt From Binary Options Books?
Many trading platforms allow you to create a free demo account where you can trade binary options using simulated funds. This is a perfect opportunity to try any new strategy.