Binary Options Martingale Strategy
The binary options Martingale strategy is an example of a doubled-up, outcome-based concept used by many traders today. This guide will cover what the binary options Martingale strategy is, the odds of winning with the system, how it works in practice using step-by-step examples, and more.
Top Binary Options Brokers
#1 - Pocket Option
Pocket Option offers short term binary options on a user-friendly platform with competitive payouts of 90%+. Over 130 assets are available with fee-free deposits and withdrawals. Joining bonuses are also available to new users.
"We recommend Pocket Option for aspiring binary options traders looking for copy trading services and a low minimum investment."

- DayTrading Review Team
Min Deposit: $50
Payout %: 92%
Expiry Times: 5 seconds - 4 hours
Bonus: 50% Deposit Bonus
Platforms: MT5
Instruments: Forex, Crypto
About Pocket Option
Founded in 2017, Pocket Option is a binary options broker offering up/down contracts on forex, stocks and cryptocurrencies. With over 100,000 active users and a global reach, the brand has proven popular with budding traders. Pocket Option also supports dozens of payment methods and has a low minimum trade of just $1.
Pros
Trading tournaments and competitions
Multiple strategies supported
Live signals
Cons
The expiration time is limited on trades
No MT4 trading platform
IFMRRC is not a reputable regulator
#2 - IQCent
IQCent offers binary options on forex, stocks, cryptocurrencies and commodities with high payouts up to 98%. The broker uses a proprietary platform with advanced analysis tools and traders can choose contract timeframes ranging from 5 seconds to months, appealing to both short and long term traders.
"IQCent will appeal to traders looking for a powerful binary options and CFD trading platform with low fees, a range of accounts, and copy trading support."

- DayTrading Review Team
Min Deposit: $250
Payout %: 98%
Expiry Times: 5 seconds - 30 days
Bonus: 20% to 200% Deposit Bonus
Platforms: IQCent Platform
Instruments: CFD, Forex, Crypto
About IQCent
IQCent is an offshore binary options and CFD broker based in the Marshall Islands with 10+ payment methods and a low $50 starting deposit. With 100+ assets, around the clock trading and high payouts the brand is popular with aspiring short-term traders.
Pros
The broker's 24/7 customer support is fast and reliable, responding within 1 minute
Technical and fundamental analysis is regularly published within the platform dashboard
IQCent is one of the few binary options and CFD brokers that also offers a copy trading feature
Cons
It's a shame that no third-party platforms or additional analysis trading tools are offered
Stock CFDs are not available
The broker is not overseen by any highly respected regulator, though this is common among binary options firms
#3 - Videforex
Videforex binary options are available from 20% payouts on crypto up to 98% payouts on less volatile assets, beating many competitors. A wide range of contract lengths are also supported from 5 seconds up to 1 month. New users will appreciate the welcome deposit bonus.
"Newer traders will find a lot to enjoy about trading binary options on Videforex's easy-to-use proprietary platform, as well as the broker's copy trading solution. Payouts are also higher than most alternatives climbing to 98%."

- DayTrading Review Team
Min Deposit: $250
Payout %: 98%
Expiry Times: 5 seconds - 1 month
Bonus: 20% to 200% Deposit Bonus
Platforms: TradingView
Instruments: CFD, Forex, Crypto
About Videforex
Videforex offers access to stock, index, crypto, forex and commodities markets via binary options and CFDs. The proprietary platform, mobile app and integrated copy trading are user-friendly and will suit new and casual traders, and the market analysis tools and trading contests provide good ways to improve your trading skills.
Pros
Videforex offers transfers via a wide range of payment types, from credit cards to cryptocurrencies
Earn up to 98% payouts on 100+ assets with the broker's binary options
The firm facilitates day trading and binary options for global customers
Cons
No MetaTrader 4 integration
The broker isn't overseen by a trusted regulatory agency
US clients aren't accepted due to legal restrictions
#4 - AZAforex
AZAforex offers binary options with time-dependent payouts that can be taken out on any asset included as a CFD or spot instrument. Over 50 binary options are available with a $1 minimum stake and payouts up to 190%.
"AZAforex is best for active forex traders looking for ECN pricing with high leverage up to 1:1000 and a sophisticated trading platform."

- DayTrading Review Team
Min Deposit: $1
Payout %: 190
Platforms: Own
Instruments: CFD, Forex, Crypto
About AZAforex
AZAforex is a multi-asset broker founded in 2016. The brand offers a sophisticated proprietary platform, ECN trading and 40+ deposit methods. The brokerage has 120,000+ registered customers with copy trading and a VPS.
Pros
Range of crypto, e-wallet, credit/debit card and wire transfer options
Low minimum deposit of $1
Copy trading and PAMM account
Cons
Limited educational content and resources
Unregulated broker reduces its safety score
Withdrawal fees for some payment methods
#5 - RaceOption
RaceOption offers 100+ binaries with decent payouts up to 95% and ultra-fast expiries from 5 seconds. With a $250 minimum deposit, clients can enjoy free deposits, fast withdrawals and a range of trading bonuses.
"RaceOption will appeal to traders new to binary options looking for copy trading, contests and 24/7 customer support. Experienced traders will also appreciate the account-based perks and bonuses."

- DayTrading Review Team
Min Deposit: $250
Payout %: 95%
Expiry Times: 5 seconds - 30 days
Bonus: 20% - 200% Deposit Bonus
Platforms: TradingView
Instruments: CFD, Forex, Crypto
About RaceOption
RaceOption is a binary options broker operating from the Marshall Islands. With over 1,500 clients, the broker aims to offer fast funding, low fees and a secure trading environment. Traders can access over 100 binary options and CFDs, plus copy trading and weekly prizes.
Pros
Well-optimised proprietary mobile trading app with instant execution, full trading history and responsive live charts
First 3 trades are risk-free in the Silver and Gold accounts, with only $1,000 required to be eligible
Flexible weekend trading available plus 24/7 multilingual customer support
Cons
Withdrawal thresholds apply
$250 minimum deposit is higher than other binary options brokers
Unregulated broker with lower safety score
Binary Options Martingale Trading Strategy Explained
How Does It Work?
The binary options Martingale strategy involves doubling a trade size each time a loss is incurred. Simply explained, investors should double the value of an investment until a win is achieved.
The approach is often likened to gambling in a casino with the hopes of breaking even. In theory, by continually doubling the stake when a loss occurs, a win will eventually occur, so long as you can go the distance.
This system is reliant on a healthy available balance and many binary options traders cannot afford to keep amplifying capital stakes.
Example
Let us consider a simple example to help understand the concept…
Suppose an investor has $100 to invest in binaries and there are two outcomes: A and B. The investor stakes the full $100 on outcome A occurring. However, at the end of the contract, outcome B actually happened, so the trade is lost.
Using the binary options Martingale strategy, the investor would then x2 the trade size and speculate on outcome A occurring again, this time with a $200 investment. Once again, if outcome B occurs, the $200 stake is lost. This process of doubling the trade size would continue until a correct investment is made.
Remember, the size of the winning trade will continue to grow with the size of the investment, so in the best-case scenario, the win would exceed all combined losses of the previous trades.
Let us say the investor wins trade three (a $400 stake). Using this simple example, the investor would achieve a $20 profit, assuming an 80% payout (($400*0.8)-$200-$100)).
Of course, when it comes to binary options trading, there are a few more factors to consider, such as variable payout percentages and brokerage trading fees.
History
The Martingale trading idea originated many years ago, following an introduction by French mathematician Paul Pierre Levy in the 18th century. The concept really caught on within the casino era, when John H. Martingale actively encouraged customers to increase their bets after experiencing losses.
One of the most famous stories involving the Martingale approach is the 'man who broke the bank at Monte Carlo'. In 1891, Charles Wells successfully implemented the concept. He started playing in the casino with 4,000 francs and made a whopping 1 million francs!
It is worth noting that these kinds of returns are rare and no profits are guaranteed when trading binary options using the Martingale strategy.
Step-By-Step Guide To Trading Binary Options With The Martingale Strategy
Open an account with an established binary options broker such as Quotex, Pocket Option or IQ Option and download the relevant trading terminal. Consider payout percentages when deciding between platforms as these can vary significantly. Make a deposit to your live profile, for example, $1,000.
Decide the investment amount you would like to make for your first trade. Remember, this cannot be your full account balance. Perhaps start with no more than a $50 investment.
Place your first binary options trade. Wait for the contract to expire.
If the trade was successful, you would receive $40 profit (assuming a broker with an 80% payout, $50 x 80%) and your new account balance would be $1,040. If the trade was not successful, you will lose the $50 investment and your new account balance would be $950. Following the Martingale binary options strategy, your next investment value would be $100.
Say you lost this trade too, it is time to increase your next investment amount to $200. Let us assume you win this trade with an 80% payout, meaning a profit of $160.
Considering the previous losses of $50 and $100 your new account balance with the latest profit of $160 would be $1010, meaning a $10 overall profit.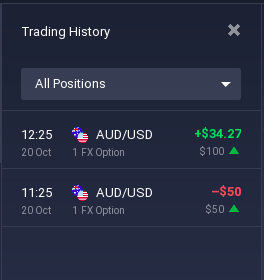 Pros Of The Binary Options Martingale Strategy
The system is ideal for short-term wins. Losing an initial investment is not the end of the world and following with a win can quickly recover losses and hopefully generate a profit.
The Martingale approach is ideal for binary trading given its parallels with betting. Given the simple yes or no outcomes and clear win or lose, you can continually implement trades following the two-option checkbox.
The simplicity of the binary options Martingale strategy means you can follow the concept like clockwork. As a trade fails, invest again with x2 the value. It should be easy enough for beginners to follow, though do not be fooled by its ease and never invest more than you can afford to lose.
Cons Of The Binary Options Martingale Strategy
Transaction costs are not truly considered in the overview of the binary options Martingale strategy. These can quickly eat away at overall payouts when a successful trade is made.
Significant losses can be incurred if a trader's account balance is run down with no money left to continue the system formation. The concept is technically only completely viable when investors have an unlimited supply of funds.
Some brokers apply trade size limits. This may mean you cannot have an infinite number of chances to continue doubling trade values. Ensure you check this out before opening a live account if this is the style you are hoping to execute.
It is a common misconception that the idea is fail-safe, particularly for new binary options investors. If used incorrectly, an irreversible amount of funds can be lost in an instant. The binary options Martingale system is effective at providing a series of small wins rather than being a suitable approach for winning long-term.
Investment values can quickly escalate after executing just a few transactions. Start with small investment amounts as the system can quickly see you investing $100s on a single position. Implement a suitable money management technique such as the 1% rule to ensure that no trade is so big it wipes you out completely.
Comparison With Other Binary Options Strategies
A quick Google search can show that the binary options Martingale strategy is not the only plan out there. We list some of the top alternatives below so you can decide which is best for your winner's trading plan and see how they differ.
The Straddle Strategy
Straddle positions are opened before significant company news or press releases. The anticipation is that the price of the associated asset will increase immediately after the announcement if it is a positive or success story and then drop again back to a stable price after a period.
Investors use these swings to profit, whichever the direction of the price movement. This concept requires a lot more time spent studying the market whilst staying up to date with the latest news vs the binary options Martingale strategy. The saddle system requires some smart considerations and planned executions to get the timings right.
Pinocchio Strategy
Similar to the straddle approach, the Pinocchio scheme involves purposely investing against a current trend. For example, if an asset class is experiencing an upward trend, you would purchase a binary options contract expecting the price to drop. A clear understanding of current trends and a historical overview of the asset is important to make this work.
Unlike the binary options Martingale strategy, understanding the price patterns of a product/asset will help you make more considered trades, rather than just focusing on a continuous x2 tactic. Typically, the Martingale approach implies making the same trades in the direction of the primary trend, rather than switching against it.
Hedging
The process of hedging involves purchasing both a call and a put option on the same asset at the same time. This means, whatever the outcome, you should still make money.
This is a similar concept to the binary options Martingale strategy given that investors are confident that profits will be made, though hedging is a much shorter-term approach with a return of some sort guaranteed at the time of contract expiry.
The Anti-Martingale Strategy
As the name suggests, the anti-Martingale binary options strategy is the inverse of the traditional Martingale strategy we outline above. This idea involves reducing each position by half following every lost trade, whilst doubling each trade value following a success.
Essentially, profits are focused upon during a winning streak and losses are minimized during a losing streak.
Binary Options Martingale Strategy Tips
The best binary options Martingale strategy cannot be executed successfully without investors having a solid plan in place. As well as understanding the basics of the theory, we list some of the key factors that will also be important when it comes to using the strategy:
Understand Your Asset/Market
Take the time to research the market and your chosen investment asset. You are more likely to hit a winning stake if you have done thorough research and appropriate learning of recent trends, including price movement analysis and future projected quotes.
Emotional Control
Easier said than done but try to keep your emotions out of it. It is easy to make rash decisions if your trade plan is not following the outcomes you had in your mind. With the binary options Martingale strategy, be prepared for continual losses before, hopefully, a successful trade occurs. It is a concept that requires patience, a level head and a future outlook.
It might be worth setting a worst-case scenario maximum stopping point, perhaps an investment limit that you are not willing to exceed. This will stop you from having to cash out at the worst possible time and ensure you walk away before losses are catastrophic.
Funds To Get Started
The binary options Martingale strategy will work best when you have plenty of capital. When using the system, it might be worth dividing your account balance into smaller chunks. For example, a $1,000 account balance could be split into a $50 initial investment, then $100, $200 and $400 funding amounts ready to invest if a loss occurs.
You may end up losing all your money if you do not have enough funds to make the final investment to recoup your total losses.
Comparing Brokers
We have outlined some key considerations when deciding which broker is the best to execute the binary options Martingale Strategy:
Payouts – Return on investment is important when trading with the binary options Martingale strategy. You want to ensure as much profit is retained when a successful trade is made, as this will need to offset any previous losses. Quotex, for example, offers up to 100% payout on some assets.
Bonus Incentives – Brokerage platforms offering no deposit bonuses for new or existing investors may be key to your decision. It means you can try out the approach without having to invest your personal capital for your first few rounds. It may also be the ideal stepping stone to catapult towards those big profit payouts.
Additional Tools – The best BO brokers that support the Martingale strategy will provide integrated tools such as profit calculators, signals, trend indicators and copy trading services. Test expected payoffs and required investment values before executing trades in the real world.
Education – Access to learning materials such as integrated YouTube video content, step-by-step tutorials, quiz games and articles are a great addition to a trading environment, particularly when executing a new binary options strategy or finessing a process. Whether you are a complete beginner or novice binary trader, it is always useful to have some support available at the click of a button
Demo Account – Paper trading profiles are a great way to test the binary options Martingale strategy before committing personal funds. You can put your emotions and nerve to the test in a risk-free, virtual environment. It is also a great method to learn the features and tools of a new platform, particularly for proprietary software.
Final Word On The Binary Options Martingale Strategy
The binary options Martingale strategy is risky but it can be rewarding if executed properly with a decent quantity of funds behind you. Use our guide above to create a clear action plan, including appropriate risk management before getting started in a live environment.
FAQs
What Brokers Accept The Martingale Binary Options Strategy?
You can implement the binary options Martingale strategy with almost any broker that offers the type of derivative. Ensure the exchange offers a user-friendly platform, useful trading tools and a competitive payout level to improve your chances of profitability.
Is The Binary Options Martingale Strategy 100% Profitable?
No, a 100% profitable binary options strategy is unfortunately not guaranteed, including when using the Martingale concept. Nonetheless, the idea suggests improved probability chances following a continuous losing streak.
Is The Binary Options Martingale Strategy Legal?
Yes, the Martingale strategy is legal for binary options trading, though this does not mean it is a foolproof concept or should be used instead of other trading plans or tactics. There is no guarantee that profits will offset any losses incurred, so only invest what you can afford to lose.
What Is The Definition Of The Martingale Binary Options Strategy?
The binary options Martingale strategy involves doubling your position size each time a loss is incurred. It is popular with binary options investors given the simplicity of trading on just two outcomes. The approach is commonly referred to as the zero-expectation scenario.
What Are The Key Considerations When Getting Started With The Binary Options Martingale Strategy?
Not only should you consider the expected payoffs but it is also important to find a trusted broker with the relevant tools and educational content to hopefully improve your overall outcome. Also take the time to research your asset. In addition, the binary options Martingale system requires an adequate amount of money to ensure your odds of winning are fulfilled.