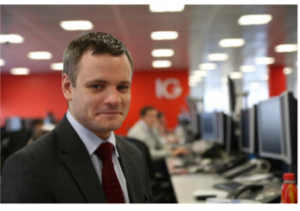 Fresh from the turmoil of March and the banking crisis, investors are now wading into corporate performance as US companies report their earnings for Q1.
Heading into reporting season, investors remained sceptical about the longevity of the rally in risk assets. Having seen an impressive rebound from the lows of 2022, there was an ongoing sense that this was simply a 'bear market' rally that would turn into a fresh push to the downside as economic data continued to weaken and a recession got closer.
Earnings Caution
Earnings estimates reflected this caution, having been cut back as earnings season approached, and with around 15% of the S&P 500 laying out negative guidance it is easy to see why bearishness prevails, even after the rebound in stock markets since October.
Indeed, surveys of fund managers point towards a continued drop in allocations to US stocks, a reflection of the declines of 2022 and ongoing concerns about valuations and the outlook.
Initial earnings reports from banks like JPMorgan have not borne out the general pessimism seen in markets. The stock rose rapidly in the wake of its earnings in mid-April, as it was revealed that deposit levels had increased and profits had surged.
Other banks also reported improved profits, and crucially, no sign of a resurgence of March's banking turmoil.
Trading Out Of Hours
Earnings season offers a chance for traders to take advantage of IG's Out of Hours trading offering, with the ability to take positions on major stocks like JPMorgan outside of cash market hours.
With stocks making big moves pre- and post-market thanks to earnings news, traders with IG are well-placed to take advantage of the newsflow during busy periods such as earnings season. A full list of 'all sessions' stocks can be found here: IG After Hours Trading.
While the outlook for the year remains uncertain [when isn't it?], it does look as if stock markets are poised for further gains.
Low expectations for earnings can be a good thing for those looking for upside in equities, since it allows for positive surprises that can boost stock prices.
In addition, with big institutions still sceptical about the durability of the rally in US markets (and in equities generally), further rallies might bring in more 'big money' as managers scramble to improve their performance by putting money to work.
2022's valuation-driven falls seem to have abated for now, and while a recession is still a distinct possibility, for the moment it looks like equities could have more upside, especially given that this is a pre-election year, traditionally the most bullish one for US equities.
Spread bets and CFDs are complex instruments and come with a high risk of losing money rapidly due to leverage. 75% of retail investor accounts lose money when trading spread bets and CFDs with this provider. You should consider whether you understand how spread bets and CFDs work, and whether you can afford to take the high risk of losing your money.