The Silver market has not really participated in the rise of equities in the last 2 years or so, but has recently seen significant selling pressure, with prices approaching the bottom of the 2 year trading range established post the COVID pandemic.
USD Pressure On Precious Metals Waning
In the last month, the US Dollar has been extremely strong, which dampens demand for precious metals in general, but it does look as if the Dollar bulls are getting close to exhaustion point.
It is not clear who the next marginal buyer of the Dollar will be in the short/medium term, which should provide a tailwind for both Silver (and to a lesser extent Gold).
The ratio of the Gold/Silver price is now at 83.3 x [Simply divide the Gold price by that of Silver to get this ratio], which is the same level as the September 2020 peak, which marked the lows around $21.60- $22.
For reference, the ratio has been as low as 64x in February 2021 and as high as 84x in September 2020.
Weekly / Daily Support Levels
The weekly chart shows the wide trading range in operation since early 2020. In addition to the weekly support shown, there is also a daily support at $21.52, which represents the September 2021 lows.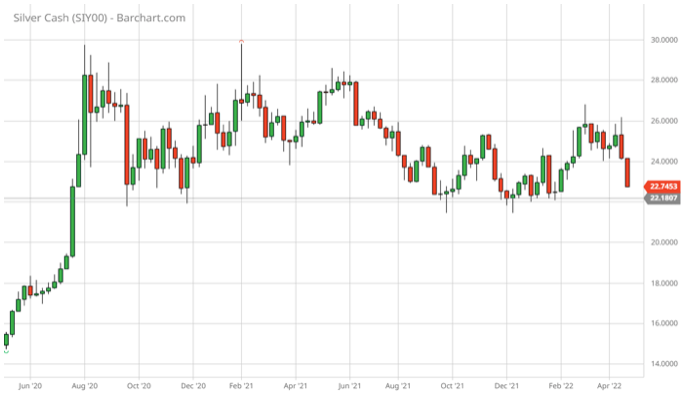 Trade Idea With Stop Loss
There may be low risk opportunity around $21.50-22, as it appears that downside momentum is starting to wane.
In addition, there are put options which expire at the end of May, with strike prices ranging from $21 to $25 which should act as further support, as dealers will likely try to defend them in the weeks ahead by buying Silver.
A stop loss should be set below $21.30 (on a daily closing basis- the chart above shows the support on a weekly close, which is more vulnerable to short term closes below that level) to guard against a full scale price breakdown, with a profit target of at least $26, with the prospect of considerably more, should the US Dollar start to see sustained selling.
At $22, this gives a risk to reward ratio of nearly 6x, though the higher price one pays for Silver, the lower this metric becomes.