Since the peak at the end of May, the Euro has fallen from a peak of €1.226 to a recent low point of €1.175 as better growth prospects in the US has deterred Euro bulls. But the US Dollar is struggling to maintain its upward momentum and a reversal (however brief) may be about to take place.
As can be seen below, speculators have also reversed course, with net long positions in the Euro of 31,244 in mid-January shrinking to -33740 (net shorts) as of 20/7/2.
As the orange bars below show, this bearishness is being driven by new shorts, which is a sign of strong bearish commitment, rather than long positions being sold.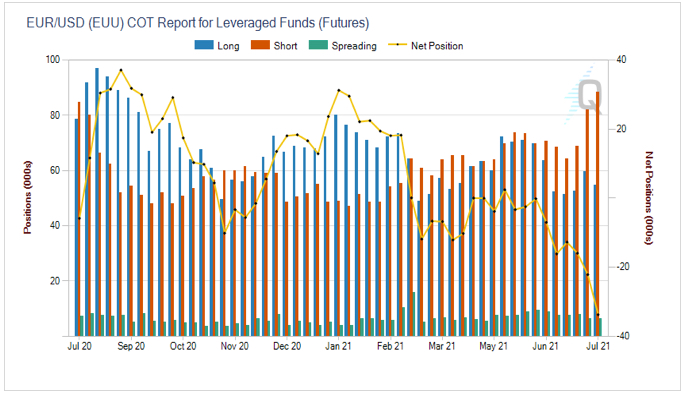 Speculative short positions are now at the same level as they were in June 2020, when the corresponding rate was €1.133, which suggests a high degree of pessimism concerning the European unit already "baked in" to the price
Recent Price Action
Meanwhile, prices have gone sideways since the start of July, suggesting the balance of forces between bulls and bears are broadly aligned.
At this stage an up-side breakout only needs a slight relaxation of bearish pressure to allow a decent rally to begin.
Once it does so, those shorts highlighted above will be under pressure to cover, providing fuel for the rise to continue.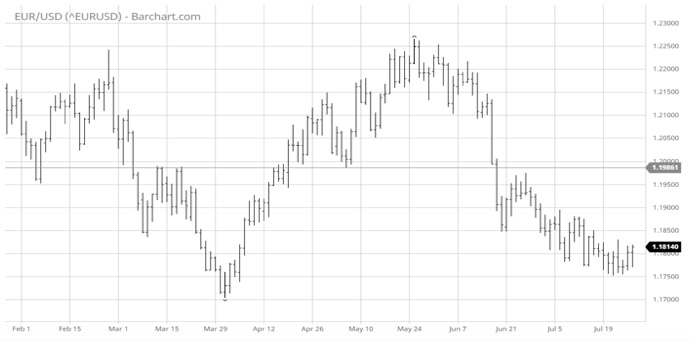 This chart shows the extent of the short term support for the Euro.
There is a large amount of open interest in the €1.17 put, which means that traders short this option stand to lose a lot of money should prices fall below that strike price.
Thus, they will try to defend 1.17 to ensure they keep the premium they received when the position was established- the option expires on the 6th August, at which point traders will collect the profits (and stop their price support at 1.17).
The balance of risks thus favour a long Euro position at present, ideally around €1.18, which would enable a tight stop loss below the €1.1704 lows of 31/3/21.
Short term, the maximum upside appears to be the horizontal line in the chart above (€1.19861), which corresponds to the short term highs of mid-March and the low point in early May and is also around the intraday highs of the last rally at the end of June.