After a stellar run since the start of the COVID Pandemic, Chinese shares have run into some selling pressure in 2021 so far. Having risen by around 79% from the March 2020 lows, the FTSE China A50 Index [1] has fallen nearly 30% from the February 2021 highs.
A50 Index Review
A combination of a perceived slowdown in economic growth, and a regulatory crack down on both the Technology and Education sectors has led to a loss in confidence, particularly from foreign investors.
But recent government suggestions of yet another large money injection into the economy mean that the Index itself has reached a potentially interesting juncture as prices appear to be forming an important low.
As the chart below shows, prices are looking to re-test the 14529 lows made in late July.
Given the recent news flow both in China and Western markets, this is not a surprise.
But the 14500 level may provide an excellent (and low risk) entry point for buyers. A marginal new low would be commonplace as the last longs are forced to capitulate and sell out.
Ideally a new low would be formed intra-day with a decent rally to close above that level.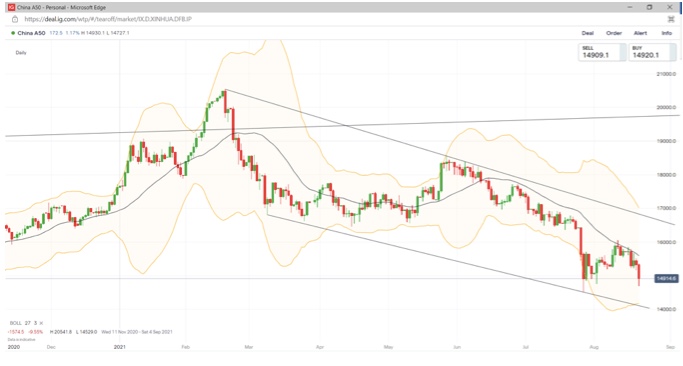 Source: IG Index.com
Stop Loss Levels
As usual, stop losses should be used, placed below 14,000 on a closing basis, with a short-term target of around 16600, being the top of the channel created since the February 2020 highs.
A break of this would be very bullish long-term, implying that the entire downtrend was a big correction, with an assault on the 20,500 highs likely in the months ahead.
The only problem is finding a way of playing this move; there are ETFs in both the US and Europe that track the Index, but they are not cheap and not very liquid; the best way to gain exposure is probably via spread betting firms, though one should bear in mind the width of bid-offer prices.
However, provided stop loss levels are honoured, this looks like a low risk buying opportunity for a market that has fallen out of favour in the last 6 months.
[1] The Index is an amalgam of both Shanghai and Shenzhen stocks, created in a joint venture with the FTSE Indices and Chinese market Index information providers. Its constituents are firms that issue A shares (those designed exclusively for local investors), which enables foreigners to gain access to these shares from which they had been hitherto excluded.