After reaching a low of $1.03 in the aftermath of the budget fiasco of September 2022, the Pound has rallied smartly, reaching a recent high of just below $1.32.
There has been a significant reversal to the downside in recent weeks, but as can be seen below, we are still in a clearly defined trend channel, with support around $1.222 this week.
Inflation Key
The latest UK Inflation numbers have revived hopes that Sterling interest rates have peaked, which would be sterling negative.
Whether that is true is debatable, but investors appear to have sold Sterling first and asked questions later (for now).
It is possible that the US too will go into recession soon and history suggests that when the world economy falters, investors tend to head to the relative safety of the Dollar.
In any event, it appears that the weakness currently being seen is more a reflection of USD strength, rather than Sterling weakness.
The latter currency is now very oversold and ripe for a short term (countertrend) bounce.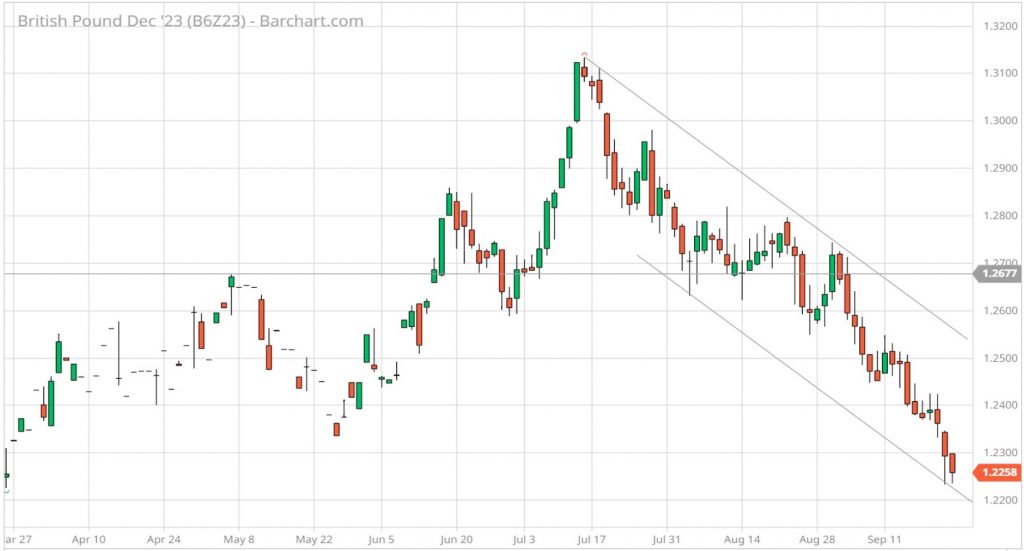 Investor positioning numbers do not offer much support either way, as conviction (as judged by open interest figures) is low at present for both speculators and asset managers.
But the chart offer a good short term entry point in the next few days, using a combination of futures AND options.
Trade Ideas
As of 22/9/23 the December Sterling/ Dollar contract is at $1.2250; buying that and simultaneously selling a $1.24 call at 112 gives a low risk entry point for an up-side bounce.
This implies a net Delta (exposure to Sterling upside) of around 0.607, meaning that for each Cent rise in Sterling, the position would be expected to gain around 43 points.
The position has a break-even of $1.2150.
Notice that the top of the channel will be around $1.25 next week-if the market rejects it, the position should be sold to take a short term profit, but if it breaks the position can be held to maturity (20th December) as profits are certain above $1.24.