It is not normal to see the way the 10 Year Gilt future has been trading recently, with volatility resembling a Technology stock of late.
I highlighted on 23/10/21 that a bounce was possible given the oversold nature of the market and the extremely aggressive interest rate (rise) assumptions being priced into the market.
One of the points made in the previous article (" it is possible that they will follow the strategy of Mark Carney, which was to talk tough on rate rises, but never actually deliver") came true as the BoE decided against a rate rise that had been largely expected.
Sterling dived and Gilts rose by more than 120 points at one stage, to easily surpass my 125.25 target- unfortunately, the rally was so fast that many traders would have been unable to get in on the rally, but as was said previously, it was a "counter-trend" rally, which implies that in the medium term, short positions should be favoured.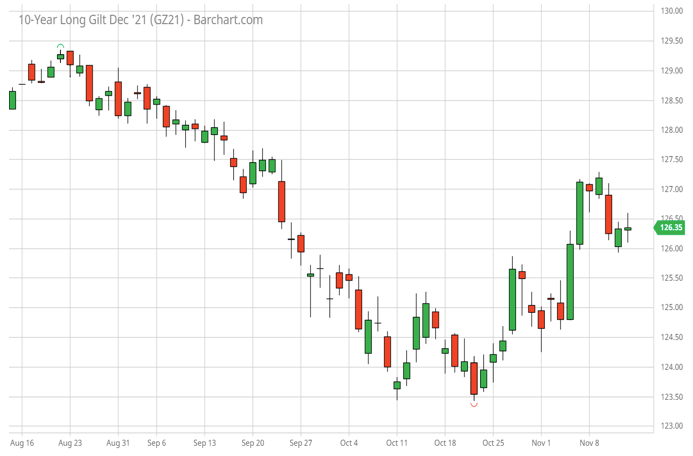 While the rally is clearly impressive, it makes little sense – the chart below shows inflation running way above the BoE's 2% target and even they admit it could reach 5% by next April.
So bondholders, who currently receive a yield of 0.82% for a 10-year cash Gilt are losing a huge amount of purchasing power [1]. For how much longer will they accept this?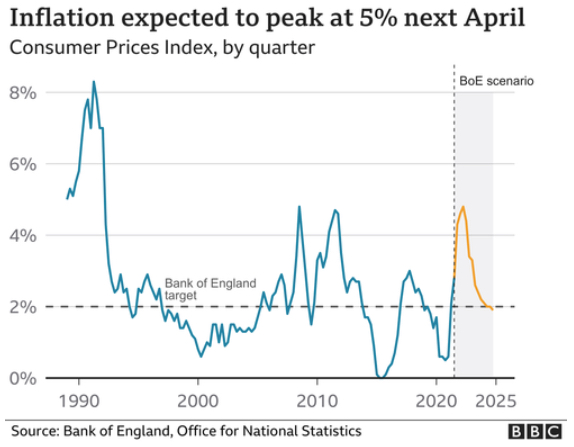 The market has seen a move up to a peak of 127.30 on Tuesday (9/11/21), but has since fallen back, implying that the short covering rally may be close to an end.
A rally that fails to exceed 126.70 will be a strong indication that prices are headed lower and so selling into this rally would seem to be a relatively low risk proposition.
Stop losses should be placed above the 127.30 level (with a little room for the market to "overshoot", meaning around 127.50 in the first instance) but this should be lowered once a clear peak has been seen.
The topping process may last a few days or so, so it may require a little patience for the set-up to occur, but with both trading technical AND fundamentals aligned, the move should be both swift and conclusive.
A break of the lows established in late October looks very likely and might lead to valuation problems for equities too.
[1] Even at 2% £100 invested in Gilts would be worth just £82.03 in real terms in a decade and just £67.56 if inflation remained at 4% for the same period.