We are just awaiting the ECB meeting, but it is assured we'll get a rate cut, and we should see the asset purchase run-rate increase to E30b.
The market has priced those measures in, so it will be about whether Lagarde can channel her inner Draghi and go further out the dovish spectrum with something we just weren't expecting. Let's see, but EURUSD is offered into the event.
The world watched today as Trump missed the mark by a longshot.
A 30-day travel ban for those travelling to the US from Europe has been met by condemnation from European officials, airline staff and the markets are feasting on it.
The measures make sense from a containment perspective, but it will only add to the economic damage.
The fact Trump gave us little on the fiscal level pulled the rug from the market at a time when it didn't need to be asked twice and we find S&P500 futures -5% having traded limit down, while EU equities getting smashed yet again, with EU Stoxx travel and leisure index down some 9%.
We've seen the MSCI world index fall into a bear market and talk on the street is that CTAs are shorting US equity futures in size, which makes sense these markets are trending lower now – But it adds weight that it's not just market makers shorting equity futures as they are negative gamma.
Either way, the moves have been fast, brutal and savage, as is the case in the bond market where yields are down hard here (the US 10yr sits at 70bp, -16bp), and we are now pricing in nearly 100bp of cuts for next weeks FOMC meeting.
The High yield credit CDS index is moving up 46bp and this is key for equity markets, and the credit markets are taking their lead from the fact crude is -5%.
The JPY is gaining against all G10 currencies (NOKJPY is 4.4% lower), despite headlines that the BoJ is going to announce more stimulus next week.
The market is basically screaming that they want a response from the Fed that isn't a just a deep cut – that's a given – they want a clear indication that they are going to look at buying corporate credit and even equities.
They can do it, even if would need changes through Congress, and when you have an ex-lawyer at the helm of the Fed, who better to push for this change.
Liquidity won't cure the virus, of course, but it will reduce vol again and when markets are in this level of panic it would help.
We need Trump to be a general. Step up and lead, get ahead of the curve and commit capital to the economy, as well as tackling the virus.
This could come at any stage, but until we hear that markets will sell risk in my opinion.
The question of the day, given the ferocity of the selling and level of panic, is are we near a bottom? I have heard it from all types of market participants – from pro's and from the greenest of investors.
This chart of the fear and greed cycle is the debate….where are we? I personally feel we are somewhere between 'desperation' and 'panic'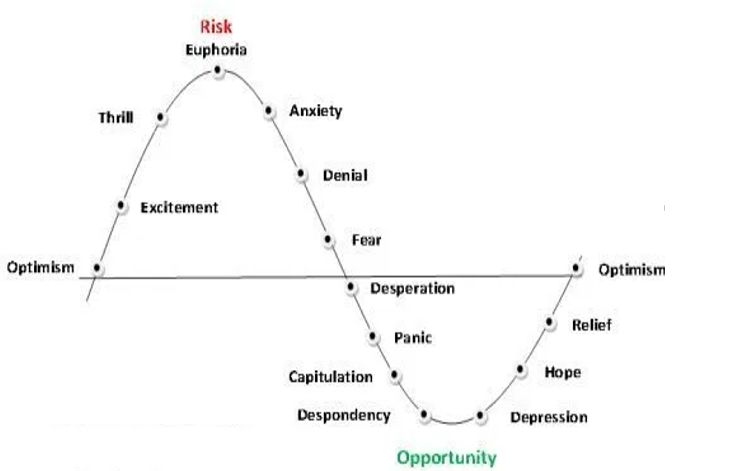 My own equity pessimistic model gives a strong level of pessimism priced. The amber coloured variables are very close to an extreme, and the vol measures are generally a good guide to how bearish the market is.
The fact S&P500 1-month puts trade at a 19 vols premium to calls speaks volumes, even if call volatility sits at a massive 49% and its not even cheap to buy upside structures.  The market is saying when the upside comes, it wont be 2%, but like 8-10%.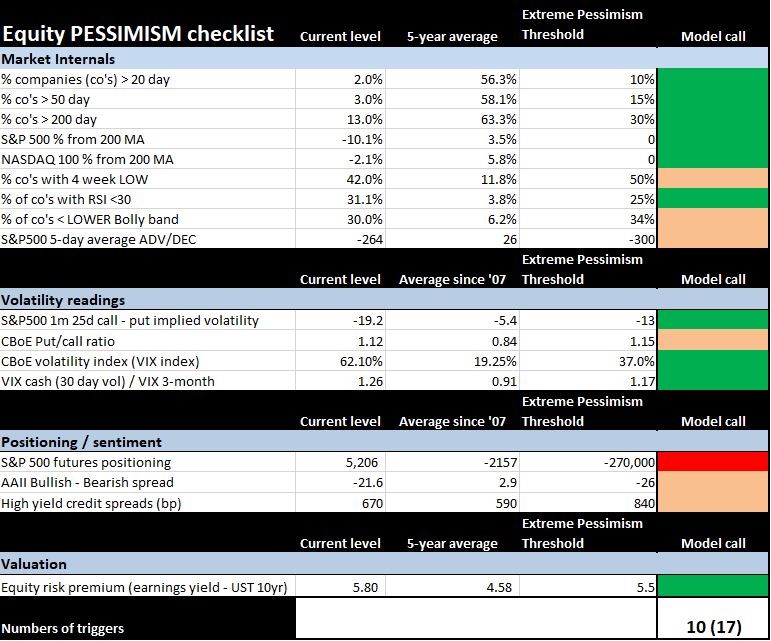 The Bloomberg 'fear and greed' indicator sits at a more extreme levels than the GFC now.

(Source: Bloomberg)
The Goldman Sachs global risk appetite indicator – a different methodology from the Bloomberg indicator.
It takes an average of multiple risk premia and risk-sensitive pairs trades markets (equities, vol, credit, bonds and FX) – Consider after moving below 2 z-score, the S&P500 is higher 91% of the time.

The Citigroup long- (yellow) and short-term (white) macro risk index. This has moved to the 100 percentile of the multi-year range. 100 is the max risk aversion. It only did this once in 2007.

This time could be different, and using extreme pessimism as a timing tool may not be as effective, especially as it feels to me that there is still a lot of news that needs to feed through markets that will affect our daily lives.
The markets have never really seen moves like this and its why these variables are flashing panic, fear and pessimism…but is this the time to buy…?
I guess that depends on your timeframe, but it feels like we are nearing that point. Price is what we trade.
Good luck to all