We close out the week on what is cold winter morning here in London, with the focus here falling on price action in the EUR and EU indices, with ECB head Lagarde speaking shortly. Based on this already released statement , the narrative isn't market-moving, but we stand to be surprised.
Eurozone Data
We've just seen German and French PMI data come out slightly better than forecast, in turn, causing EURUSD to push into 1.1087, although we've pulled back a touch.
The US-China trade deal continues to garner the headlines, which frustrates, but is part of the fabric we have had to operate in for over a year.
I have no conviction on USDCNH, although, I do see modest upside risks, with the Global Times suggesting China is looking at countermeasures against the HK human rights bill which Trump is widely expected to sign into law soon.
I guess, in appreciation there should be downside risks to US Treasury's and then USDJPY, and my earlier view to be long USDJPY through 109.33 is looking less and less likely.
Oil Markets
I have been drawn the oil markets, with WTI crude pushing into 58.39 and the highest since 23 September, and with a view that OPEC meet on 5 December and likely to push out its output agreement deep into 2020 , therefore crude shorts lack the confidence to hold.
USDCAD is holding in firm though, and at the least, the move in crude is halting the move back into 1.3350, which is the level traders are watching intently.
So, to keep it brief I'll send the weekly vol report on Monday, but for those who look at skew, we can see the markets have been better buyers of put vols in AUDUSD, although 1-week risk reversals still sit top range.

Gold
Gold interests, as sentiment is pretty dour, even if the skew is still positive, and we can see the pool of negative-yielding debt has started to move gingerly higher, which, along with real yield, is why traders were big buyers of gold In August-September. If the global bond market rallies from here (yields lower), then gold goes higher and vice versa.
(Gold – orange, total $ value of all bonds with a negative yield – yellow)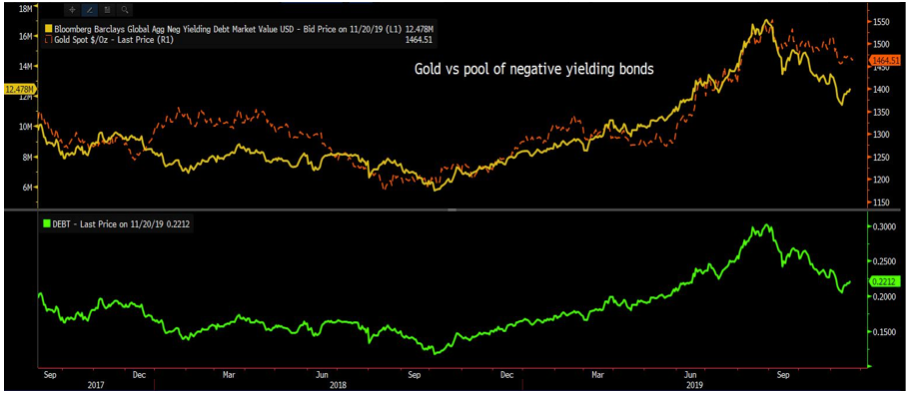 (source: Bloomberg)
Implied Rates
A quick look at how the rates markets is position as we head into the new week….all very neutral. As we look ahead the curve, we see we've basically got one more cut priced in and the markets have a firm wait and see approach priced.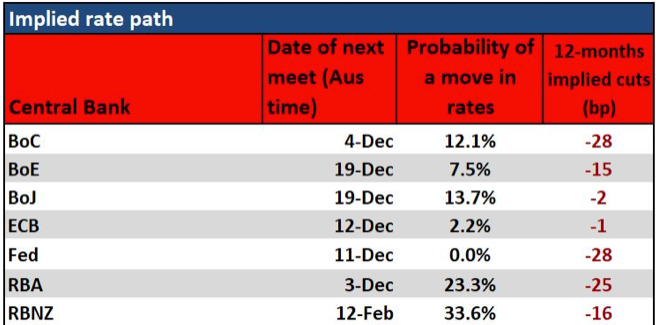 Data To Watch
I want to put the 2 December ISM manufacturing report on the radar, as the market is not only incredibly sensitive to this data point, and the recession callers see this as central to their thesis, but also because the market is expecting a snapback in this print.
There are so many different forward-looking indicators I can use but this is one I want to put out. We see the ISM manufacturing print (white), Semiconductors index (green) and South Korea new export orders (orange). So, if we don't see the expected snapback on 2 December and one questions the extent of confusion and worry this will cause. This should be on the radar.