Despite its 1.2% advance on Friday, oil commodities fell to below 62 USD a barrel on Monday amidst India's deteriorating COVID-19 crisis.
The oil market is being impacted greatly from India's recent virus flare-up, even though other nations present strong recovery statistics. This is mainly due to the fact that India is the world's third-largest oil consumer, behind the U.S. and China.
Being such a mitigating factor of this particular market meant that the country was expected to be a major driver of the commodity's recovery as economies reopened. Yet the country's current devastating health crisis is proving this a difficult feat.
Due to this, experts theorize that the consumption of diesel and gasoline in India is poised to plunge by as much as 20%, as major cities such as New Delhi and Mumbai shut down.
Motor-fuels are also expected to be hit by future stay-at-home measures which will impact not only private transportation but the public transportation sector as well.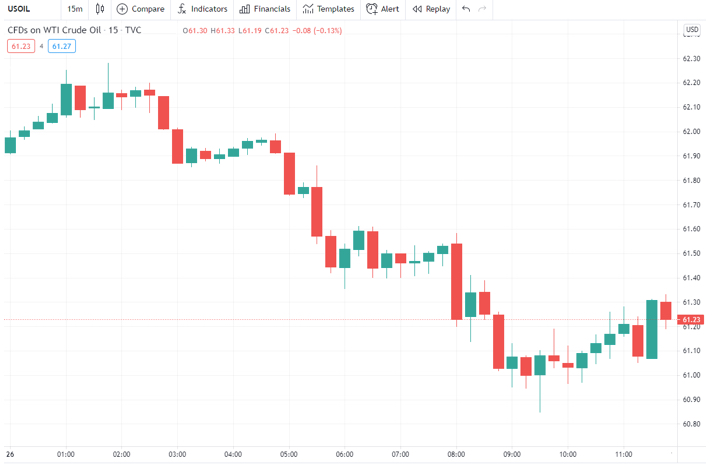 Refinery Pressure
All this has also put a strain on India's refineries as well.
Mangalore Refinery & Petrochemicals Ltd. have reduced its processing, while Indian Oil Corp. still has not presented a tender offer to purchase West African crude.
Overall, refinery runs may fall due to a reduction in demand which can lead to a build up of crude supply. This will ultimately impact future purchases down the line.
This strong impact on the global oil market is concerning some of the world's biggest oil producers.
The OPEC+ group had been counting to support crude oil prices with increased demand and to ease production cuts in the following months, by adding 2.14 million barrels a day to global supplies. Yet with the crisis mounting in the South Asian country, they might have to rethink their plans in their upcoming meeting later on this week.
Global Impact
Though the effects of India's pandemic crisis will not be limited to the South Asian nation alone.
Other nations are starting to ban air travel from India, which will impact international jet fuel demand. Additionally, oil producers in the Middle East may be at risk as well, as Indian officials intend to cut purchases from U.S. and Middle Eastern suppliers.
This is because of shipping times which can curb incubation periods of the virus, as it takes only five to six days to ship a cargo of crude from the Persian Gulf to India, compared with five to six weeks to ship from the Gulf of Mexico.
However, this change does not come as a surprise to experts, as India was already seeking alternatives to Saudi Arabian crude, as relations between the two countries soured over prices.
As such, a demand collapse will only accelerate this process.
LegacyFX
As a fully regulated and multi-award winning brokerage, LegacyFX understands the impact the COVID-19 pandemic has had on global markets such as this.
It offers to trade this energy commodity at a leverage of 1:100 with a minimum lot size of 0.1. This means that with every dollar movement, one would experience a 100 USD profit or loss on the smallest trade.
Since last week, oil has experienced a 2.32 USD price drop per barrel. As such, one would expect a 232 USD loss. Therefore, LegacyFX recommends to take advantage of this downturn.
Disclaimer: All content, pictures, links, and information published here are for informational purposes only and do not constitute an official opinion or call-to-action by LegacyFX. Opinions and information presented here may not coincide with other market reports and experts. Nothing presented should be construed as investment advice, recommendation, or suggestion to perform an action with a financial instrument. LegacyFX carries zero influence over any markets and signals. Therefore, LegacyFX cannot be held liable for nor guarantee any profits or losses.

Risk Warning: Trading Foreign Exchange (Forex) and Contracts for Difference ('CFDs') are complex financial products that are traded on margin. FX and CFDs carry a high level of risk since leverage can work both advantageously and disadvantageously. As a result, CFDs may not be suitable for all investors as loss of all invested capital may occur. One should not risk more than they are prepared to lose. Before deciding to trade, one must understand the risks involved, consider investment objectives, and level of experience. Seek independent advice, if necessary.
About LegacyFX: Years of professional experience in the financial markets has positioned LegacyFX as one of the most trusted and transparent brokers in the industry. LegacyFX has been providing a wide range of products and services for traders worldwide since 2017. The company strives to build trust through openness along with providing great products and services, by being compiled and fully regulated by multiple regulatory bodies. Overall, LegacyFX's main objective is to enhance financial transparency and offer greater client protection for its customers. Therefore, it endeavors to empower and educate its clients so they will receive the best returns of their investment through direct firsthand knowledge.