The Euro is once again the victim of a resurgent Dollar, as the prospect of 4 Fed Funds hikes in 2022 makes the US currency irresistible to traders. While the Fed talks hawkishly, the ECB remains the sole buyer of Eurozone sovereign bond issuance and has engineered negative nominal and real interest rates, with no sign of either a positive economic effect or a change in their monetary stance visible in the medium term.
The Euro has reacted negatively as one might expect, falling 11 (Euro) cents, equivalent to a 9% devaluation.
The chart below suggests that the Euro has been in a channel for most of the last 9 months and is now testing the lower end of that channel.
What happens next will be crucial for the long term prospects of the Euro. A sustained break below the lower channel boundary would suggest a decline to at least €1.095 and probably much lower.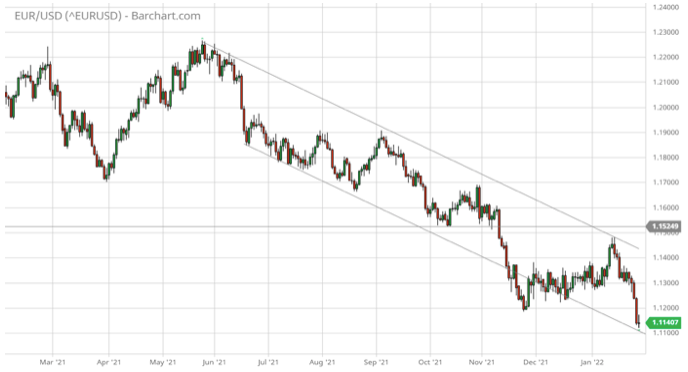 Fed Choices
But how likely is it that the Fed CAN raise interest rates to any significant extent?
The US Bond market is currently telling us that this will not be possible without causing a deep recession.
With US CPI Inflation currently running at an annualised rate of 7%, no bond investor would be buying US Treasuries at a yield of 1.77% (at the 10 year maturity) unless they were convinced that rate would fall sharply very soon.
As yet though, the foreign exchange market does not share that view, which may provide an opportunity.
The chart here shows the positioning of the 8 largest traders in Euro/Dollar. The net short positions have fallen continuously since May '21, halving up to the latest data (25/1/22), as they appear to be unwilling to chase this move lower in price terms.
This may be due to the large number of options positions due to expire on 4th February (c.20,000 between €1.11 and =1.13), which often acts to constrain price movements- once this expiry is out of the way, prices may be freer to move.
Trade Ideas
Given the potential downside risk, (€1.09) it may be better to use options to express a (mildly) bullish view.
A type of a Call Ladder position looks a low risk, but decent return strategy, which involves buying the €1.13 call for June 15th expiry, selling the €1.14 call and selling the €1.16 strike to leave a net cost of just 6.6 points, as per weekend option pricing. (Prices are 121.1, 80.3 and 34.2 respectively, as per I.G. Index).
Below €1.13, the loss is limited to 6.6 points, but profits rise to as high as 93.4 as long as the Euro does not exceed €1.16, giving a risk to reward ratio of over 14:1.
Losses only go above the initial option cost above €1.175, where the loss would be 56.6 points (all of these scenarios are based on the expiry date).
The strategy begins net short the Euro (delta is -6.5) but will gradually fall over time, unless the currency sees a sudden large move upwards (i.e. above €1.135) in the next week or so. But as returns are maximised above €1.14, the trader should be happy to see such a gain.