It has been a long time since a bullish Sterling position (versus the US Dollar) could be contemplated, but we may be nearing that point. As the chart below shows, we are nearing the (COVID) lows of March 2020, with the $1.1412 low point now within reach.
All the talk is of economic crisis as inflation is forecast to reach 22%, the UK is set to reach third world status as strikes, high oil prices and political and royal change grips the country.
When one hears these sorts of headlines, one knows that a low of some sort is nearby. None of these "forecasters" were bearish in June 2021, when Sterling was above $1.40; indeed they were all bullish then – so they can be classed as contrary indicators.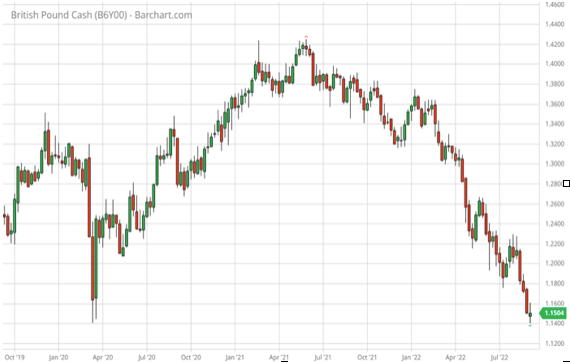 Speculative Trades
Interestingly, speculators have been getting increasingly bullish in the last month or so, nearly doubling their net long positions, to 45,500 contracts, which might provide the "fuel" for the last leg of the decline, as they finally give up on the currency.
This is why a break below the $1.141 level is very likely, to clear out the last bullish holdouts and provide a spring board for a sustainable rally.
The next major options expiration is on the 9th September, with expiration dates often providing the inflection point as open interest falls as a result of those options expiring.
It is normal for a market to achieve a new low for the move before any reversal takes place so we should be on guard for a low, possibly below $1.14.
Ideally the market would move to that new low and then reverse higher, to close above the previous day's opening point, (though that does not always occur).
So far, the market has made a new low of $1.1404 and reversed a little, but there has been little follow through above $1.155. It would be wise, in the absence of an obvious stop loss point, to wait for confirmation of the formation of an important low, which would be signalled by a close above $1.155.
Stops should then be placed above the last low point, with a view to raising them to break even as soon as possible. It is still likely that the lows have not been seen as of now, but that point is very close.