Heading Into 2020, Traders Divided on Expectations
At the end of every year, banks and various research shops like to release their forecasts and predictions for the upcoming year. These are really not much more than marketing material, as things continually change throughout the year and information flows in to alter these expectations and the confidence they have in them.
We have our own forecasts (example), but these are predicated on the long-term, not what they'll do by a specific date.
Nonetheless, it's interesting to see what traders think. We can see this, for example, through the futures markets, where we see the weighted-average opinion of all market participants through time (i.e., represented by a curve). The example below represents WTI crude oil.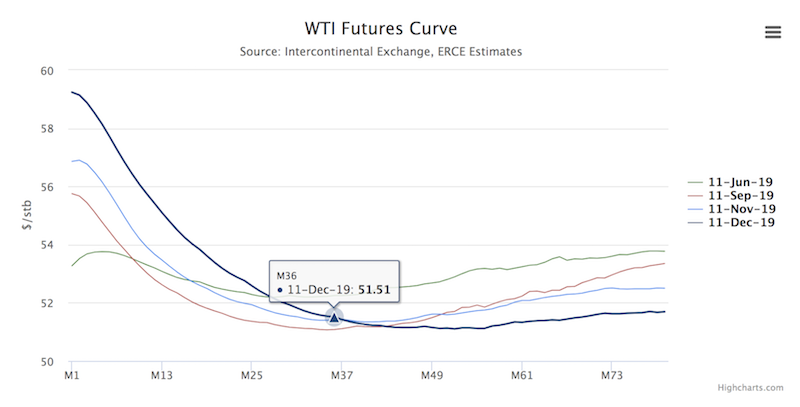 And we can also look at basic survey results, or go based on what they say. This is less objective, but there is value in survey and other "soft" data. Many economic indicators are based on this type of data to gauge forward expectations and help triangulate what the future is going to look like.
Are traders bullish, bearish, neutral?
Stocks in most parts of the world had a very good 2019. Monetary policy was overly restrictive in Q4 2018, leading to ~20 percent declines in US equity markets. Once the Fed walked back on these expectations, the discounted future changed. This was followed by three 25-bp rate cuts, which helped equities recover those losses and more. The S&P 500 is up 28 percent year-to-date in 2019 as this is written in the latter part of December.
Each month, Goldman Sachs delivers what they call a Marquee QuickPoll, which surveys various institutional clients to gauge what they think about asset prices and their general thoughts about the market.
Going into the new year, clients are not as bullish as they were as stock indices make new all-time highs in the US (because forward returns are lower the higher markets go). But 61 percent of investors still identify as bullish to neutral on asset prices.
Summary
Sentiment is broadly bifurcated, with 41 percent identifying as bullish on asset prices, 37 percent bearish, and 20 percent neutral. 2 percent didn't give a response or don't fall into one of those buckets.
Fifty-four percent were bullish last month. Fewer clients now expect a US recession in 2020 (down to 26 percent from 37 percent).
Trade
This poll was taken before the US and China figured out some limited agreement on trade flows. Nonetheless, 46 percent of traders expected either a deal or continuation of the status quo (39 percent) by March 2020.
10 percent expect an escalation in tensions and only 2 percent expect a removal of all tariffs.
Overall, traders feel optimistic on the trade front, which would be positive news for equities and bearish for fixed income (US Treasuries, in particular), holding all else equal.
Brexit and the Future of the UK
For December, UK politics were on the front burner. Forty-one percent of those surveyed had the UK election as the event they were most focused on in December.
Forty-three percent expect the GBP to trade higher. Half of those with this expectation (about 22 percent of all participants) believed the election outcome would be positive for the pound in the short-term only. The other half of pound bulls believed the rise in the GBP due to the election outcome would be a longer-term bullish event for the currency.