EUR/USD Outlook: The Euro Slides Amidst Strengthening Dollar
The Euro has fallen to 0.9951, representing a 0.9% decline, and bringing Europe's currency to its lowest trading levels in two decades. The region is tackling mounting economic pressures, with the Russia-Ukraine conflict sending the price of energy and food soaring, while extreme droughts are adding to the headwinds.
EUR/USD Testing Parity
Last month the EUR/USD looked on track to reach parity but selling pressure subsided and prices drew back by approximately 120 pips. Just two days later, on July 14th, parity looked to be on the cards again, but sellers fell short by around 50 pips.
But while for some EUR/USD parity is once again becoming a question of 'when' not 'if', it may be many months before it reaches that level.
If we rewind the clock to 2002; the tables were turned and the EUR/USD was becoming established and central banks were moving their reserves into the Euro. However, it took around six months to exceed the parity level, starting in June and coming to a head in December of the same year.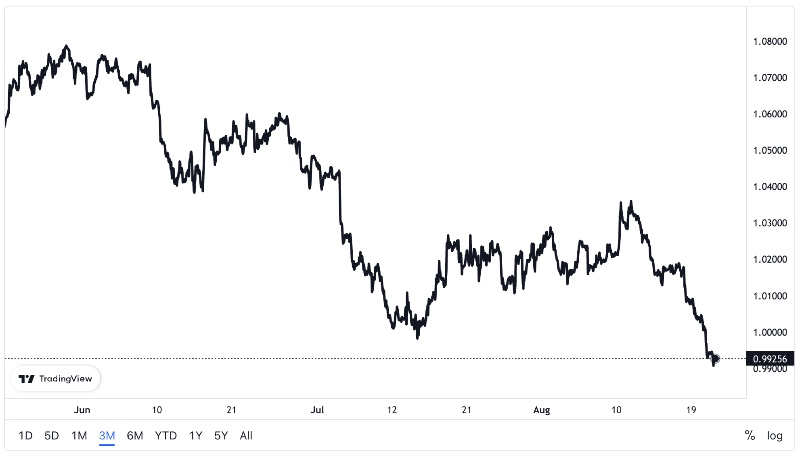 Winter Is Coming
The economic pressures on Europe are going to worsen this Winter. Gas prices are likely to continue rising while the European Central Bank (ECB) struggles to tackle inflation amidst a shaky economic environment.
In contrast, a divergence between the Fed and ECB, plus an upcoming announcement from the Fed's Chair, Jerome Powell, have helped bring the US Dollar Index above 109.00.
But as well as the US central bank aggressively raising interest rates to tackle inflation, many global investors have also been moving assets to the perceived safety of the United States to avoid the ambiguity in Europe.
Events This Week
Several major announcements should be on the calendar this week:
Tuesday – Germany, EMU Flash PMIs, EMU Advanced Consumer Confidence
Thursday – Germany Final Q2 GDP Growth Rate, Germany IFO Business Climate, ECB Accounts
For more insights into the EUR/USD, check out our trading guide. Alternatively, use our list of top forex brokers below to start trading today.