Commodity Markets Not Impressed By China's Increasing Funds Into Infrastructure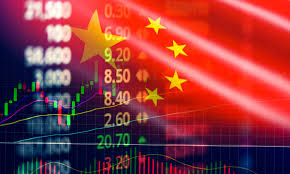 In late August, the Chinese State Council announced they were pumping an extra 300 billion yuan ($44 billion) into their infrastructure.
This follows the previous 300 billion yuan that they already invested back in June, but their decision has not left the commodity markets impressed.
Why China's Economy Is Stuck
The Chinese economy has struggled ever since COVID lockdowns, causing a real estate crisis that doesn't seem to be going away.
As a result, China's GDP growth estimates were cut this year to about 3% by investment banks.
Atilla Widnell, the managing director at Iron Ore Intelligence Consultancy stated: "Whilst the additional infrastructure stimulus was welcome news, high-frequency data continues to show us just how poor construction steel demand is in China."
Commodity markets were not impressed by the announcement, as they believe there is little point in pledging funds into an economy that cannot reap the benefits of it.
The iron ore and steel market of China continues to slow year on year with frequent COVID outbreaks, continued lockdowns and mass testing preventing the economy from growing any further.
As a result, it is believed that the lack of steel consumption will not recover until there is a shift in their current 'dynamic clearing strategy'.
A Country In Limbo
The decision of the Chinese council to invest more money into infrastructure is simply not going to solve anything until what they put into it can be spent on the materials they need.
As Al Munro, a broker at Marex stated: "Effectively, it is just even more money in the system with no one able to go out and spend it."
With the lack of money flowing into the economy, there is still a six-to-nine-month lag preventing the release of stimulus, leaving China stuck in limbo when it comes to its recovery.
ANZ research chief Raymond Yeung told CNBC: "The reality is the measures so far have failed to boost growth and excitement in the commodity market tends to be short lived."
This put China's issues into perspective, showing more needs to be done than just infrastructure spending.